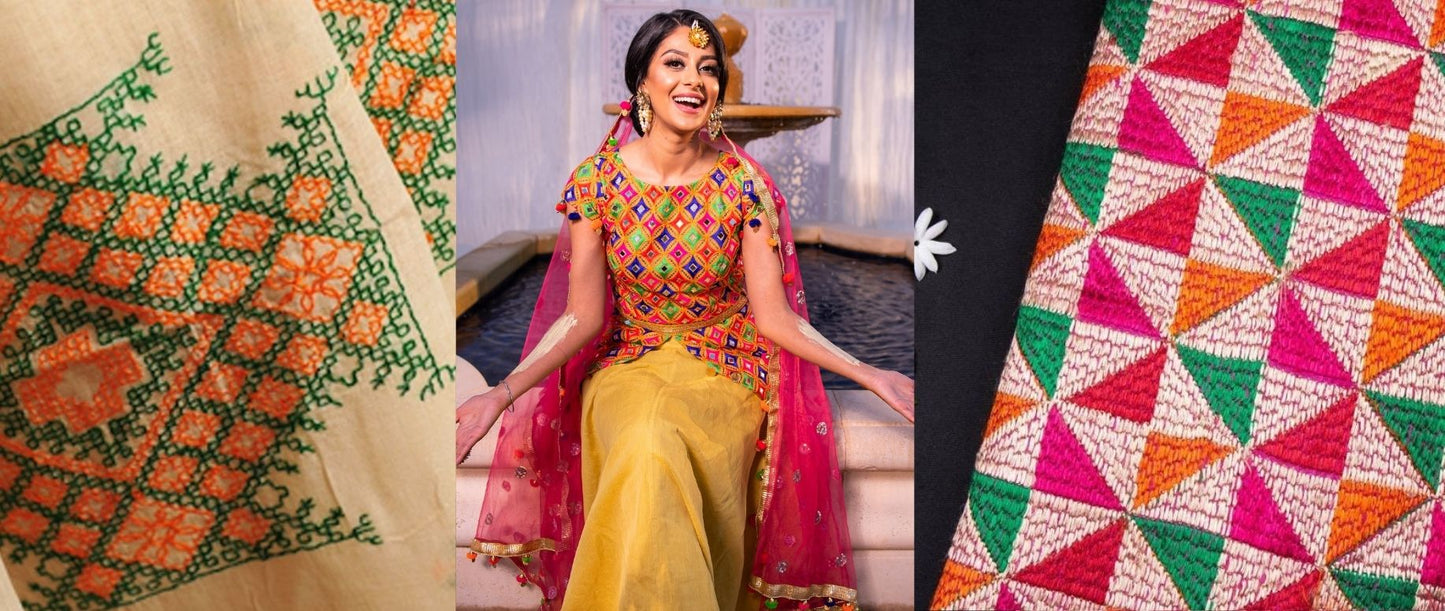 Stories of Indian Heritage & Culture – Embroideries of Indian States
Indian handicraft culture comes in innumerable forms but, one of the most prestigious remains its embroideries. The handcrafted embroidery and artforms root from various states & its delicate backstories age way past our time.
Artisans hold their share of tales and expertise passed down to them from their ancestral heritage. It's no shocker that India's embroidery is one of the most well-versed all over the globe. With various luxury brands approaching the local artisans respectively, be it couture or ready to wear. Straight up from parts of India to the global fashion runways.
Source -
Hastkala
If your heart is homebound to traditional Indian culture and its art, then you are at the right place. To each individual, heritage and culture can en route from various aspects. But what we do know is that it holds an embarking grip over everyone's heart, pride adorned. Let's dive deeper into each of India's very intricate indulgent artforms that rise from small parts of the country.
Embroidery from various parts of India
India has 28 states & 8 union territories, each of them have their beloved artforms. They home different kinds of paintings, tie-die, embroideries, and many more. We are sure you've seen a fair amount of Indian artforms at museums or maybe just watched your grandma flaunting her favorite embroidered saree. And what we also know is the fact that you couldn't help but go in awe of it. We have curated a few of the embroideries across India and the story that lies behind them. Do keep reading if you'd want to embrace Indian culture and its heritage.
Aari Embroidery – State of Gujrat
Aari embroidery originates in a place called Kutch from the state in Gujrat, India. The embroidery initially was practiced by Muslim communities there, which later outgrew all over India. This hand embroidery is practiced by many till the present day & it is still quite prominent in most bridal wear outfits.
Source - Aari Naari
This embroidery is handcrafted specifically with an Aari needle which looks quite similar to the one used for crochet but much sharper. The method of Aari embroidery is carried forward by first laying out the fabric in a frame to hold it intact. Then, the artisans go ahead and use the Aari needle to make motifs like peacock, floral, and various other motifs in a chain stitch-like method. They often ornate Aari with sequins, dabka, and beads that add a luxurious royal touch to the embroidery.
Source -
Keep me stylish
Phulkari Embroidery – State of Punjab
The word Phulkari translates floral handwork. It's a vibrant folk embroidery that origins from the state of Punjab, India. It's mostly handwork practiced by the women with long and short darn stitch. This embroidery fills up as a bright-colored geometrical patterned work over coarse cotton or khadi fabric.
Source - Itokri
Phulkari embroidery holds a sacred place in every Punjabi bride's heart. This embroidery is stitched with vibrant silk threads in a darn stitch manner on the wrong side of the cotton or khadi fabric. Initially, Phulkari was traditionally handmade by grandmothers to pass down to the next bride of the family in the form of a dupatta or shawl. But in recent times, this gracious hand embroidery has been making an appearance on shalwar kameez, dresses, etc. To make this already pretty embroidery even more glamourous, artisans use mirror work as ornamentation.
Click on image to view product details
Gota Embroidery – State of Rajasthan
Gota embroidery is also commonly known as Gota Patti handwork. This intricate applique work originates from the heart of Rajasthan. This art holds stories that come with great history and was once made only for the royal family for auspicious occasions.
Source - Pinterest
The gold and silver Gota applique work are done by hand stitching or hemming in various desired motifs. Firstly, this minimalistic yet luxurious embroidery, traced from a tracing sheet onto the fabric. Then chalked and then stitched as per the design, usually practiced on georgette, chiffon, or other lightweight fabrics. The artisans claim that their love for this art form would live forever despite being time-consuming & laborious work. But really though! Who wouldn't fall in love with this gorgeous embroidery?
Click on image to view product details
Kantha Embroidery – State of West Bengal
The embroidery of Kantha comes from various parts of India, such as Odisha & Bihar but is most prominent in West Bengal. The word Kantha translates to Patched cloth. As the name suggests, it is perhaps the most sustainable artform. This embroidery is usually practiced by the rural women of the ara, empowering them with employment.
Kantha embroidery is carried out by piling up torn & worn-out fabric, then quilted and embroidered. Artisans usually make blankets, mats, or a throw from the method of Kantha. Then it is beautifully embroidered in pretty colors in the forms of running, satin, darning & loops stitch. The practice that lies behind is perhaps the most well-thought practice. It comes in various types of motifs like floral, geometrical, or celestial designs.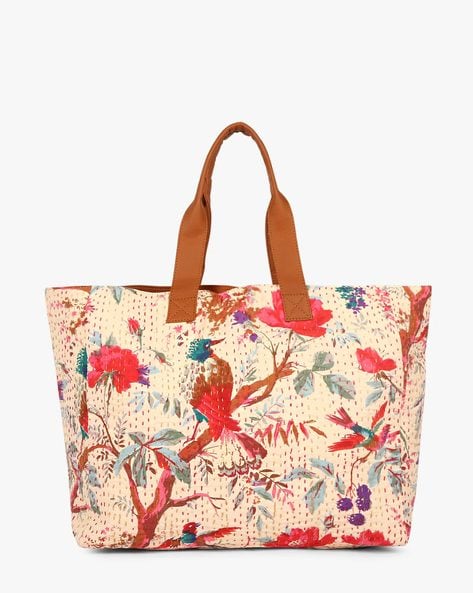 Source - Ajio
Chikankari Embroidery – State of Uttar Pradesh
This city of Lucknow from the state of Uttar Pradesh homes this beautiful Chikankari embroidery. The word Chikankari translates to beautiful embroidery. This embroidery is similar to shadow work, a herringbone stitch done on the wrong side of the fabric to create a shadow illusion on the right side.
This embroidery usually has floral motifs speaking for its Persian influence. In the earlier times, this embroidery was handcrafted mainly by using a white thread on muslin & cotton. But in recent times, due to the high demand, it's also available in sheer synthetic fabrics with various shaded thread work. The desired design motif is first printed using a block onto the fabric and is then handstitched. The stitching method used for Chikankari is usually herringbone stitch accompanied by back stitch, chain stitch, and hemstitch.
Click on image to view product details
Kasuti embroidery – State of Karnataka
This embroidery hails from Karnataka and is a beloved folk art practiced by rural women. Kasuti embroidery comes from the word Kai meaning hand & Suti meaning cotton.  As the name suggests, this embroidery is hand-stitched with utmost intricacy with a cotton thread.
The method used behind Kasuti is to draw out the desired design using charcoal and is then handstitched with a needle. This embroidery is time-consuming but is one of the most elegant artworks as its front & the back of the fabric is made sure to look the same after the embroidery. Its design motifs usually involve floral, animal, or temple-relevant designs. These motifs are generally of a contrasting shade handstitched on a dark shaded cloth.
Source - FabIndia
Kashida embroidery – Jammu & Kashmir
Kashida embroidery commonly also known as Kasida hails from the magical land of Jammu & Kashmir. This embroidery is one of the most demanded by Indian women despite it being on a pricier side. And why not? It is breathtaking! Be it shawls that have been passed down or buying one for ourselves, we have all fallen guilty to its beauty.
Kasida embroidery is very vibrant and colorful. Initially, this craft used to be implemented on a lighter shaded fabric. But lately, it is available on darker shade fabrics too. It's an artwork generally handcrafted by the men of Kashmir. The designs used for Kashida embroidery are usually nature-inspired motifs of birds, fruits, vegetables, florals, and animals. Warm winter wear fabric such as wool and silk are used for this art. The method stitch used for Kashmiri embroidery is a chain, satin, stem & darning stitch.
Click on image to view product details
Zardozi Embroidery – State of Madhya Pradesh
Zardozi or Zari embroidery is one of the most ancient and royal embroideries. This embroidery has a Mughal influence to it, which was brought in during the invasion. Zar translates to gold, whereas Dozi translates to embroidery. As the name suggests, this luxurious embroidery is handcrafted using gold, silver, or other metallic shaded threads.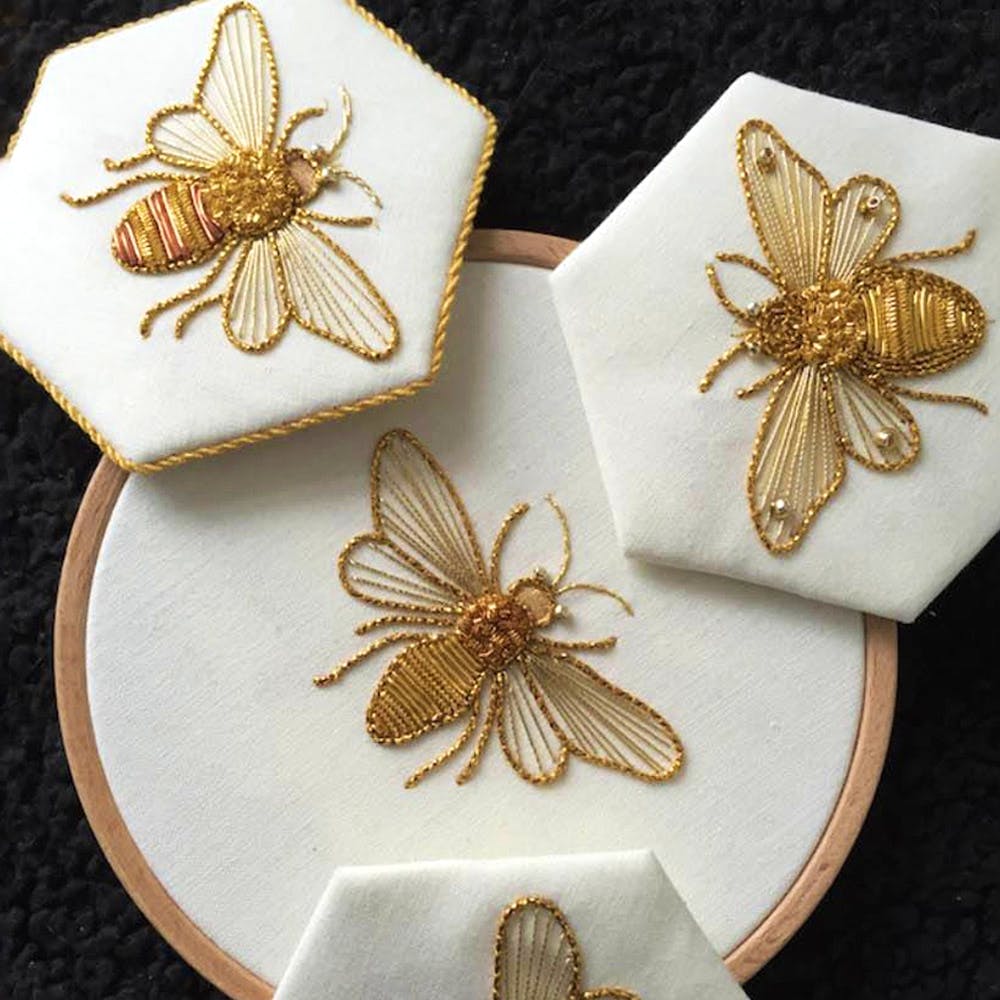 This beautiful embroidery, at times, is also done with sequins or bead embellishments. It is a heavy embroidery work crafted on fabric such as heavy silk & velvet. Zari work is also found in parts of India such as Lucknow & Gujrat but is most common in Bhopal, Uttar Pradesh. This embroidery is practiced most commonly by the Muslim communities of India. The motif such as geometrical, floral, and animal designs are most commonly seen in various satin, running & lain stem stitches.
Click on image to view product details
Toda Embroidery – State of Tamil Nadu
Toda embroidery hails from the queen of hills, the land of Nilgiris, Tamil Nadu. Locally this embroidery is called 'Pugur' meaning 'flower'. The intricate work of Toda is perfected and practiced by women of their community. It holds a very sacred place in the hearts of the Toda tribal community. They believe in using these shawls for occasions such as weddings & burials.
The materials used in the embroidery are coarse white cotton cloth, needle, woolen threads (in place of vegetable fibers used previously). A method of warp and weft counting is developed to create uniform patterns. The reverse stitch method is implemented for this process. The motifs of floral or nature-inspired are then worked out by counting the threads. Toda embroidery mainly consists of two colors such as black & red. While black indicates the underworld, the color red signifies the intermediate realm of Earth. The white color fabric used is believed to represent the celestial realm.
Conclusion
The traditions of Indian embroidery passed down to generations from years is what makes them exceptional. It is the only work of crafted art that is wearable & we believe every Indian must embrace it. Embracing these embroideries does not just help the artisans earn a living. But it also helps one promote the culture and beliefs of their homeland. It is about time we stop stealing our grandma's precious Pashmina shawls and get one of our own! If you have an interesting cultural story or item that's been passed down from generation to generation, do let us know! As always, we would love to hear from you.