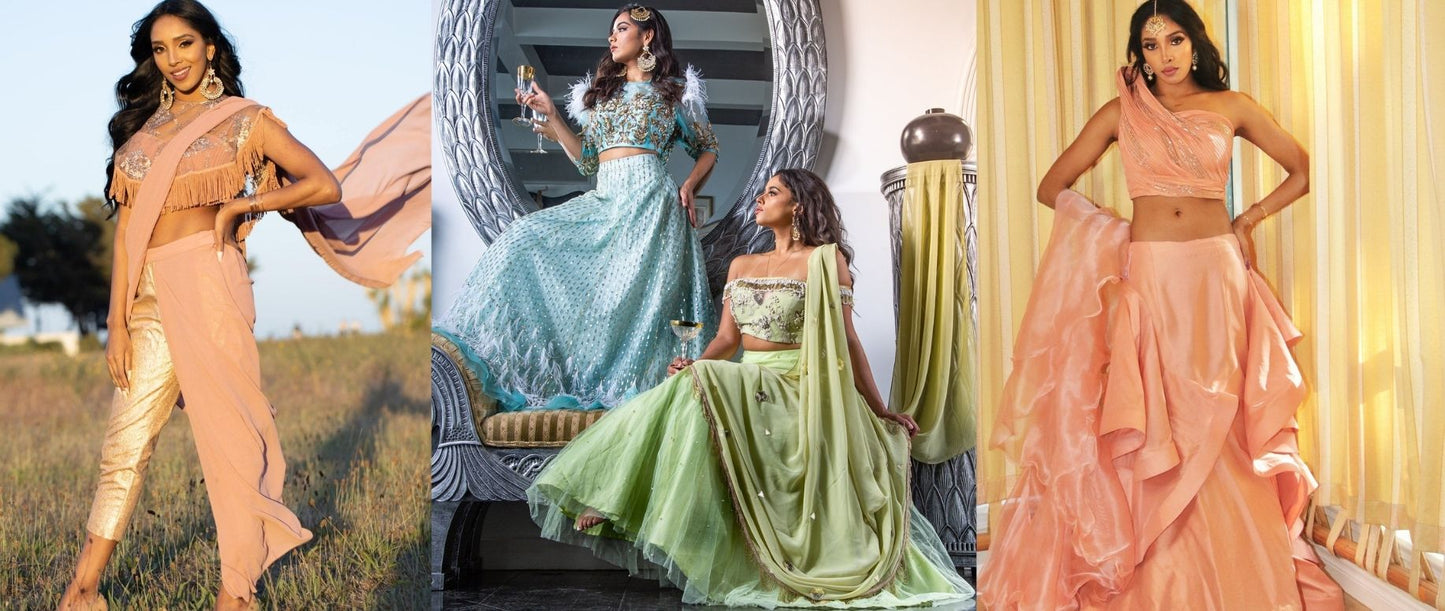 How Fashion Can Help Empower Womanhood
"Behind every successful women is a tribe of other successful women, who have her back"
How often do you come across this patriarchic world bashing womanhood? Women this, women that! Pretty often, we suppose. It's been quite a challenge for us feminine beings to make recognition for ourselves in industries. No matter which industry you belong to, we gentle feminine creatures have always faced judgment & opposition.
When we talk about homes, women have doted as the powerhouse. Right from growing up as a child until the beauty & power of giving birth to a being. We have witnessed the phenomenon of the purest form of nature. The strength and ability to be a feminine being is a blessing and isn't no fool's play. So why should it be any different from our work culture?
Over countless years, we've seen lady idols win over battles and premonitions in our society. Ladies have established their work and found recognition for the same. No one ever said it was easy for us women to live an independent life. But also, no one ever said it's impossible! Breaking barriers in this male dominating misogynistic world can be a tough challenge. But we as women love a challenge, don't we?
Source: Cosmopolitan 
When we speak about fashion, we set our standards high. Every person on this planet expects a female to know how to dress to impress. Often so, we women barely pay any attention to our style amidst our busy lives. But what if we told you that you need to stop doing that this minute. The sole reason behind it being the fact that fashion can play a major role in empowerment.
The fashion industry has seen it all! Be it controversies about standard body measures or unorthodox concepts. But what we fail to recognize is the growth it has been making over the years. Starting from breaking stereotypical body standards to acceptance of various races in our society. Fashion has undoubtedly changed quite a few things for the good.
Source: Fashion Revolution
Women of today are here to earn a name for their own, portraying an image in society. When we talk about the torment we go through, we've faced plenty. Even after which women of the rural have taken up their duty to earn and fight for their rights. Skillful artisans or modern-day 9 to 5, we have made a place in this society. It is only a matter of time we are awarded the same amount of respect and equality.
It is vital to understand the impact fashion has on mental state as well as physical. When you feel low, you cozy up in your PJs. But when you are perky, you pop up the brightest bomber in your closet. It is a small example of how fashion can help build you. So, let's go out there and take up our spots in this world because we've got no time to waste.
Women power dressing but the Indian way!
The woman rights had started way before our timeline. We can dive back into the 1940s with the iconic moment of 'We can do it – Rosie the Riveter.' Back in the day, it was to empower factory lady workers. This iconic moment was well recognized, with the polka dot headscarf and denim shirt. Women have loved to cosplay it over the years.
Source: Harper's Bazaar
But what about the Rosie's of today's time? Amidst the 2020 pandemic, apart from masks becoming our wardrobe staple. Allow us to remind you that fashion does play a vital role when it comes to empowerment. Be it building your confidence or being able to impress by what you wear. Let's talk about power dressing but for all the hardworking Indian women out there!
Source: Pinterest
Classic power pack Sarees – Sense of belonging
One can never go wrong with the classic saris. Everybody around the globe looks at sarees as a statement piece. There is no reason you shouldn't sport this goddess-like ensemble. Straight from the drapes right up until the pallu. It is sure to make you feel like an incarnation of time. As women of India, there is nothing like one has enough sarees. The various drape styles and looks are pretty endless and one of the most versatile pieces.
Source: HerZindagi
Saris are perhaps the most common go-to for Indian women. Be it Banaras silk or just a plain chiffon drape saree. It isn't just the most comfortable clothing for the women to function in but also has a tremendous empowering impact on culture. So why not adopt this angelic silhouette. This power piece doesn't just suit anyone but also makes every body type look flattering. Breaking crazy stereotype body measures because every woman out there is beautiful and rightly deserves to look so.
Luxurious yet power loaded Lenghas – Empowering beauty
Click on image to view product details
As women, we love ourselves a luxurious treat. Be it with our diamonds & pearls or even faux feather. And why shouldn't you be in for a big win? This one is for the boss women out there wanting the right pick for your ethnic business evening get-togethers. This beautiful pastel-shaded lehenga speaks volumes for you. We are sure that wearing such a lux ensemble wouldn't just help you make an impression. But can also help you seal your best deals.
Power padded shoulders – Way of self-expression
Sometimes you just need your clothing to do the talking & fashion can do that for you, when done right. It is an art of self-expression and communication without having to say anything aloud. Power shoulders do just that!

Click on image to view product details
Women of the globe have loved to use power-padded shoulders as a way of making a statement for ages. It can be for androgenous concepts of breaking the misogyny in this male-dominant world. When we speak about shoulder pads, the first thing that strikes your mind is blazers. Right? That could be the case if you love experimenting with ethnic fusional fashion. But if you are looking for an empowering look to make you stand out for a Desi affair. Then opt for these gracious yet powerful ensembles.
Click on image to view product details
Allow yourself to feel the pride and liberty of being a woman in a feminine way. It is no shocker that you have had your best career spotlight, it's time to let your fashion game rock it up for you!
Yes, Power suits but Desi – Cultural Significance
When you have an errand to attend but also need to fix up a quick professional appointment. It could be modern or Indian suits, both can work wonders. Get comfortable in your style & if you wish to opt for something comfortable yet classy, then suits are your pick. This traditional yet chic look with a long pastel tunic with flare and simple bottoms is divine. The intricate hand embroidery that runs all over the tunic is sure to make you feel empowered.
Click on image to view product details
You deserve to look like a million bucks & this ensemble delivers that. If you go big on culture, then this is an absolute go-to for you. The mark of significance and belonging this piece can give you is beyond anything.
Unorthodox & Out of the Box – Breaking stereotype
Women are subjected to oppression for quite a few unfortunate decades now. But, with things looking brighter at the end of the tunnel. Now is the time for you to spread out your wings and fly. If you are certain about making an empowering statement & breaking orthodox views. Then these modern yet ethnic fusional ensembles are meant for you. Nobody needs to tell you that you can look like a fashion diva while being a business boss lady because you can!
Click on image to view product details
Experimental clothing has had its ways of making an empowering impact over the years. But when you join the word womanhood to it. It's got a ring to it, hasn't it? The empowering impact modern yet ethnic clothing can have to liberate a woman is often undermined. Clothing is a way of celebration and self-expression & when it is out of the box. It is all the more powerful. Break barriers in this fusional pant saree silhouette and own up your runway. Since you are born a diva, my love!
Conclusion
Source: Unsplash
Always remember that clothing is liberating and a way of self-expression. Both of them combined only lead to empowerment. It is a way of celebrating womanhood so, why not embrace it? As long as one feels comfortable, confident, and out there to make a significant change in society, you are here for the big win. From women business tycoons to symbolic political leaders, us woman have made a name for ourselves. We still do have a long way to go. But where we are today is always better than where we were yesterday. It is only a matter of time we gain love, respect, and equality in society. We as women don't need anybody to stand up and speak on our behalf. We often tend to forget that we've got more power than we recognize. Realize your worth and your value because then, this world is your canvas to paint!