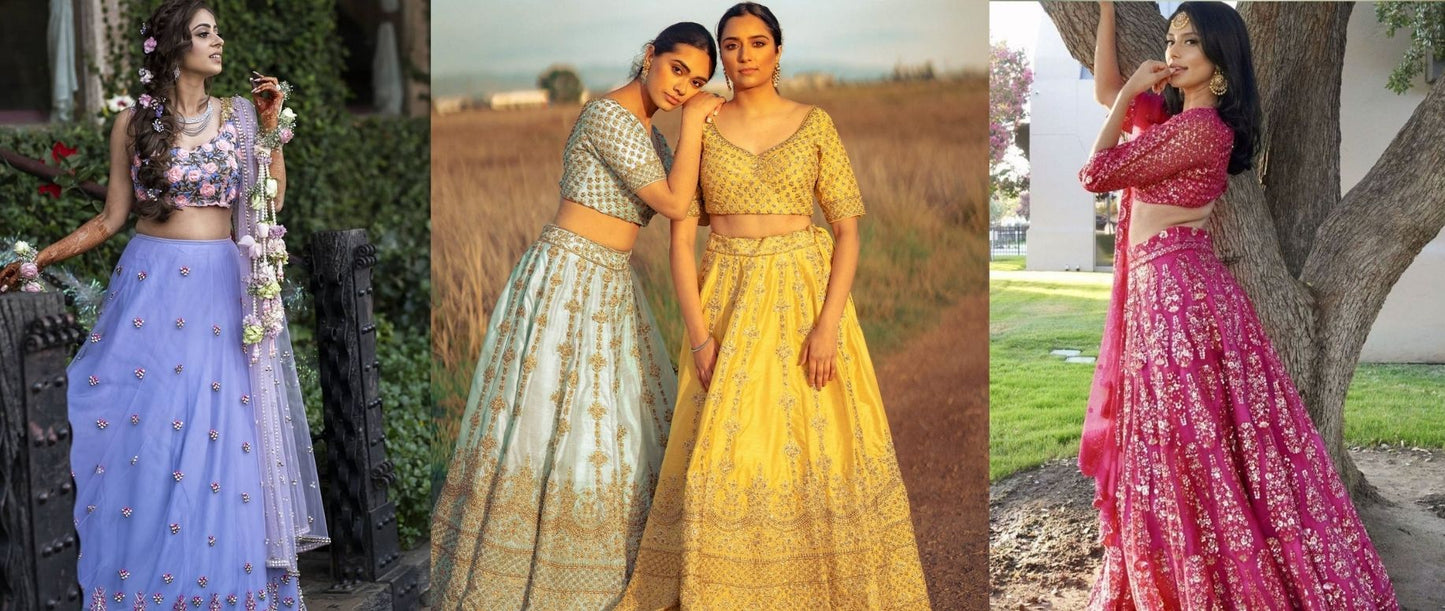 Indian Ethnic Fashion Guide for Petite Women - Do's & Don'ts
"We all come in different shapes and sizes and are perfect the way we are. But lets admit to the fact that short girls are super adorable and full of life. Petite women at times wish to look a little taller but find it difficult to pick the right elements. Most of the Indian women are petite so let's explore few of the fashion tricks for the strong short women out there"  
If you are a petite woman yourself, we are sure you've often found yourself in the dilemma of what to wear & what not to. It can be quite a task to figure out elements that can add vertical integrity to your physique. In an industry with brands offering their standard measurements, it's tricky for petite women to find themselves the right ensembles.
Source: Gagbrag
The tiniest of things can make a huge impact. Starting from patterns to jewelry, the pressure to balance your preference while not diminishing your length can be high! The majority of women's average height in India is 5'3. So, most of us do fall under the category of being petite. The real struggle begins when you wish to find suitable Indian ethnic wear for a wedding. We sure know that can be stressful but don't worry, you've come to the right place. Let's talk about the different elements that can play a role in adding a longitudinal height illusion. Right from the kind of jewelry, hairstyles to clothing, we've got you covered!
The right kind of jewelry for short ladies
Let's talk bling! If you have an event to attend, perhaps a wedding. It is crucial to accessories your look. As we all know, no ensemble is ever truly complete without the accessories. But finding the right kind of jewelry for short ladies can be a tough challenge. We bring you a few of the best-curated jewelry any petite woman can rock!
1. Multilayer Necklaces – Statements
Always remember to opt for multilayer pieces. They aren't just elegant but work wonders in adding length to your body. Anything from polki Kundan to pearls, you have all the liberty to pick what you wish. Just make sure your statement jewelry is a long piece and multilayered.
Click on image to view product details
We know that chokers are in trend but sorry that we have to break this with you, chokers aren't your best friend. Try to avoid chokers as much as possible because it tends to create an illusion of horizontal divide & we don't want that. If you still wish to wear a short statement, pick a high-rise neckpiece instead of a choker. But remember to always pair it up with a long necklace to create a vertical balance.
2. Dangle Earrings – Long & Delicate
It shouldn't be a surprise when we tell you that you need to stay away from broad studded earrings. We're sure you've noticed that chunky earrings can make you look shorter and bulkier. So, try to opt for long and delicate dangle earrings. They don't just add a vertical illusion to a petite women's physique but also make them look classy.
Click on image to view product details
Petite women usually tend to have shorter necks. So adding in a delicate dangle earring can work magic. Avoid chunky jhumki & broad earrings because they make short-height women look even more petite.
3. Rings & Bracelets – Thin width pieces
While picking out a suitable finger ring, bracelets or cuffs, make sure it's thin or medium width. The majority of the short ladies have tiny palm-size and fingers, so wearing something bulky could diminish your vertical integrity.
Source: Artemer
As far as the traditions are concerned, Indian culture usually calls in for bangles. There's no harm in adding in a couple of extra bangles but don't overdo it. Keep in mind that the cuff bracelet and the bangles are preferably thin or medium width. Picking up a chunky kadha or bracelet would only result in making your hands look chubbier.
Click on image to view product details
4. Waistband – Kamarband placement
Short ladies must usually avoid waist accessories such as Kamarband. But if you do want to sport it, then make sure to pick a thin kamarpatti. Opt for delicate chain dangle detail & avoid chunky designs like temple design waistbands.
Source: Snapdeal
Here's the focus point, the placement of the kamarpatti plays an important role. Remember to place the waistband on your naval or a little above it. If the kamarband is placed any lower than that, it could give out an illusion of a tinier torso, making you look short.
5. Matapatti – Balance it out
When you decide to add a matha patti or a maang tikka, it creates a vertical focus. What you need to keep in mind is to balance out by adding volume to your hair. You can put up your hair in a high bun or braid it loosely with flowers. Just make sure to add volume to your hair horizontally, creating a balance.
Source: Pinterest
The right kind of outfits for Petite women
1. Fabric pick – Light & Breezy
Selecting the right kind of fabrics is quite crucial. Pick out flowy and breezy sorts of fabric such as Crepe, Silk, Chiffon & Georgette. It would not just give you a form-fitted look but would also keep you comfy.
Source: Lifestyle Asia
Try to avoid heavy flare fabrics or stiff fabrics such as velvet or brocade. It would cut down your vertical integrity and make you look shorter.
2. Monotone colors – Singular shades
Colors speak volumes! Most people usually forget to pay attention to the suitable outfit color choices. No matter how trendy two shaded ensembles are, you must stick to monotonous outfits.
Source: Keep Me Stylish
Ethnic outfits of the same shade from top to bottom add in longitudinal integrity, making you look tall. Singular colored ethnic ensembles are perfect for petite women. Whereas outfits with a different color on top and bottom create a horizontal divider, making you look shorter.
3. Delicate motifs – Minimal prints & embroidery
Be it a print or embroidery, go for something that has a tiny & delicate motif. Bigger the motifs, it could make the outfit look broader and give out a horizontal illusion. But since we're looking to add in vertical illusion, opt for something minimalistic. Also, why wouldn't you? Minimalist motifs are an evergreen trend, almost like they are never too much nor too little.
Click on image to view product details
We recommend you select linear style elements and vertical motif designs. Avoid heavy embroidery like brocade or big floral prints because they can break your longitudinal illusion.
4. Necklines & Sleeves – V-cut & Mid length
As far as necklines are concerned. V-cut, sweetheart, or square necklines are the best choice for petite women. Since short women usually tend to have shorter necks, it's always great to show off your collar bone. Avoid high neck blouses or dresses because this can steal away your length.
When it comes to sleeves, we'd recommend you to stick to mid-length or elbow-length sleeves. It would show off your wrist, adding vertical integrity. Make sure to avoid short cap sleeves or structured sleeves as it could make you look broader.
5. Borders & Waistband – Narrow designs
Broad borders can be trendy, but it would be a great decision if you stay away from them. A huge borderline and waistline create a horizontal divider in your silhouette. The ladies that fall under the shorter side need to avoid that. So opt for either no border or a narrow border & waistline. It could help you diminish a horizontal broadness allowing you to look taller.

Source: K4Fashion
6. Drapery – Longitudinal elements
Drapes are our favorite element! It can be so intriguing as it holds the capability to change the look of an entire ensemble. As much as it does glamorize an outfit, it can also ruin it when you don't do it right. Petite women need to remember a few tips about drapery, be it sarees, half-saree or anarkalis. Always remember to keep your dupatta draped vertically on one of your shoulders. Avoid taking the drape over your head or across your neck because that can cut down your length.
Source: Wedding Wire
Due to cultural reasons, if you do have to drape your dupatta over your head, then make sure to add linear elements. You can do that by putting one side of the border in the front & the other at the back. It is going to create a balance and wouldn't make you look as short.
7. Silhoutte Pattern – Fit & Flare
If you wish to slay a lehenga and look tall, then keep these additional tips in mind. Other than neckline, sleeves & the other points mentioned prior, there are a few things left. Make sure the upper bodice is a cropped blouse while you wear the lehenga above the navel. It creates an illusion at your waistline, making your lower torso look longer than the upper body. By doing this, any short-height woman can add an illusion of vertical integrity to their appearance.
Another valuable tip would be that you need to avoid ballgown kind of flare and opt for fit and flared skirts. Gored paneled or A-Line skirts are your best option. We also recommend you to ditch the cancan underlining as this could throw horizontal focus rather than vertical.
Kurtas are one of the most versatile ethnic pieces that are perfect to be styled with anything. But sometimes, they can have a major setback on short ladies if not paired right. Don't worry! We have a few recommendations for that as well.
Source: Fashor
Firstly we think petite women should opt for a kurta with a high side slit or center slit. It brings in vertical length making one look taller. Secondly, vertical printed stripes can do wonders. Linear print= lines on any ensemble automatically create a longitudinal illusion. Thirdly, pair up your straight kurta with a crop vest jacket. It could help you draw focus to your upper bodice, creating an illusion on an elongated lower torso.
Let's talk about the comfiest yet elegant outfit, the suits & Anarkali. The length of the kurta or an Anarkali is quite critical for all the petite ladies. If you wish to wear a kurta suit, it would be suitable for you to wear a long length kurta with leggings or cigarette pants. Keeping the kurta long would draw attention to the vertical division of the fabric creating length. The bottoms like cigarette pants or leggings are already form-fitted, making your legs look slender and long.
Click on image to view product details
At the same time, when it comes to Anarkali pick them wisely and keep them full length. Try and avoid a waistline definition, as that can diminish vertical length. Opt for a straight cut instead of Choli cut Anarkali and notice how it can make a drastic linear change.
Source: Ninecolours
Short-height women are usually told not to wear wide-legged pants as it makes them look shorter. But what if we told you that you could rock them only with a few basic rules? Every petite women's focus should be on creating vertical integrity. Pair a short kurta over a medium flared palazzo & that could add a lot of lengths. If the kurta had a side-high slit or a front slit, it would make your legs look longer.
Source: Nykaa Fashion
Finally coming down to the classic sharara's, petite women have the liberty to experiment. A short-height woman can pull off a cropped blouse or a short kurta over a sharara. In both cases, one could achieve the illusion of height.
Conclusion
Every human comes in different shapes and sizes.  Learn to love yourself for the way you are. Often petite women wish to look a tad bit taller but let us remind you that you are perfect the way you are. At times height concerns can cause self-esteem issues. The suggestions made by us can naturally add an illusion of height to your physique. So, for those who were looking out for tips, we hope our recommendations helped you out. Moreover, always remember that your confidence and smile are your best accessories so, flaunt them!