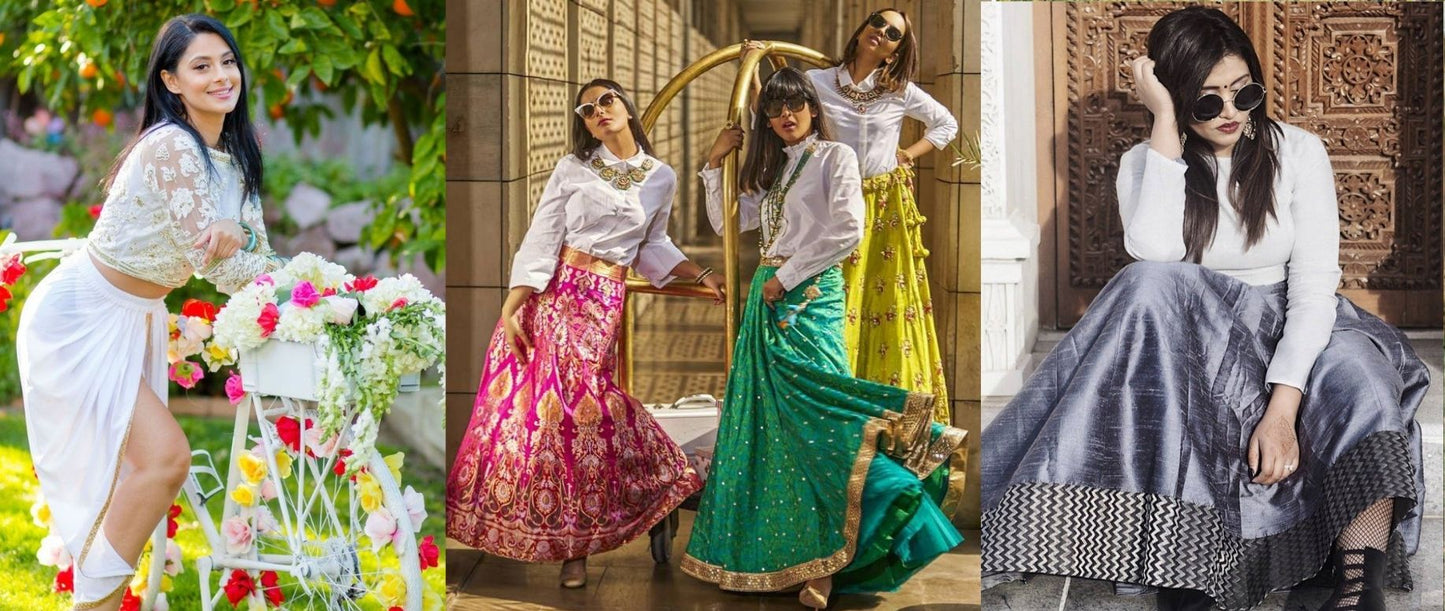 Modern Approach to Indian Ethnic Wear - Fashion Fusion
Wearing Indian fusional fashion  is like wearing centuries worth of traditions and culture but with a contemporary twist.
When we speak about contemporary fashion, there is no rule book. The world of fashion is your playground! As we all know, traditional Indian ethnic wear is timeless. But, wouldn't it be unfair not to take advantage of the liberty to experiment with contemporary fashion? With the world slowly pacing back to its speed in 2021, modern fashion elements over traditional wear have gotten increasingly popular!
Being bold and unique with your choice of fashion can speak volumes. However, as classy as ethnic wear all by itself seems, it can get quite monotonous. Be it to celebrate the union of two individuals or pop champagne over success. You have got to dress to impress!
Source: MagicPin
The amalgamation between Indian ethnic wear and western wear vogue is quite intriguing. It gives any fashion enthusiast a new perspective & access to endless exploration. Fusional fashion cannot just help one pick up their fashion game. But it also helps in expressing yourself better. Building individuality & confidence while keeping your wardrobe play up to notch!
Source: BP Guide India
Top 10 Modern Twists to Ethnic wear – Fusional Indian Fashion
When we talk about ethnic wear fusions, the possibilities are limitless. Just remember to never over do your looks and you are good to go. Be it bohemian chic with black metal jewelry over Indo-western pieces or breezy blazer cape elements over your saree. You name it boo! We've got you covered.
1. Crop tops over Lehenga
So, first up on the list has got to be a classic. What better than comfy crop tops over your lehenga or saree? This look isn't just modern chic but is also one of the most comfortable looks. Fashion has always got to be comfortable and effortless.
Click on image to view product details
Go ahead and ditch your blouses, because really, we understand repeating outfits might not be your thing. Grab your classic crop top. It can be of any neckline cut or shade of color. Pleat those graceful dupattas or pallu's & you have your look!
Source: Trendy Gifts
2. Corset over Palazzo Lehenga
Corsets have been in for a hot minute now & it seems like they are here to stay. It all started with the corset belts, eventually catching on to the full-blown classic corsets. You see them everywhere, don't you? And why shouldn't you? These gorgeous pieces complement a women's body in the most flattering ways. They might sound painful to you. But, allow us to tell you that these modern cosets don't necessarily come with metal boning but rather a fiber one. So less painful, more glam!
Click on image to view product details
3. Leather jacket over Sari
The look might sound a little over the top but, trust us it is as rad as it sounds. And, if you have the kinks for edgy and badass elements when it comes to your fashion. Then you've got to experiment with this look. It's perfect for anyone with a Rockstar persona attending a contemporary affair. This number on the list might not be the most conservatives abiding look. But what's fashion if it isn't a tad bit experimental?
Source: Vagabomb
4. Asymmetric elements over kurta
Who doesn't love a good play with the patterns and cuts? Asymmetric elements have always been known for adding a modern twist to Indian ethnic wear. The style elements could be an asymmetric neckline, drape, or sleeves. They always make one stand apart in the crowd, adding a sense of unique elegance to traditional Indian wear. 
Click on image to view product details
5. Pants under Saree
Click on image to view product details
This fusional ensemble is a must-try on the list. It is perhaps the most comfortable way to sport a saree. How often do you hear yourself complaining about the underlining saree skirt? It can get quite fussy. Don't you agree? So, what if we asked you to ditch them and opt for comfy pants instead? 
Source: Krutikanaskar
It isn't just undoubtedly one of the most convenient looks but is also unique and modern. One could also experiment with denim pants paired over a blouse and finished with a dupatta. Pants paired under a saree can sure add a modern twist to any ethnic wear.
6. Slit Dhoti under Blouse
Click on image to view product details
The slit element over skirts, lehenga and gown have been done before. But the slit statement can never go out of style. From the cocktail parties, right up till the red carpet. We all adore the slit style element, something about it makes any ensemble feminine & elegant. If you love experimenting into something unique and just as surreal, we have the slit dhoti for you. Dhoti pants with a slit is such a classic way to add a cotemporary touch to your ethnic Indian wear. Try it for yourself!
7. Blazer or overcoat over ethnic saree
Source: Shaadiwish
Be it cape jackets, coats, or blazers. These outerwear ensembles have the power to glam up any look in less than a minute. Who doesn't love layering up their ensemble? We sure do! Go ahead and pick out your favorites jacket and pair it over an Indian ethnic ensemble. This look isn't just sophisticated and sweet but is one of the best picks for winter ethnic wear. It has the ability to keep you warm yet making you look like a gem.
Source: Vogue
8.
 

Versatile shirt over ethnic skirt

Pairing a solid color formal shirt over a printed classy ethnic skirt lehenga can never go wrong! It is one of the finest examples of contemporary meeting ethnic fashion. The best part about this pick is that it's super versatile and can be pulled off by anyone for any occasion. When in doubt, opt for this number & you are good to go!
Source: Weddingsonly
9. Indian prints over dresses
Don't we all love prints being the true Indians that we are? We find our hearts fluttering at paisley and block prints. So, why not add them to your skater dresses. Lately, Indo-western dresses have been super in trend. If you are feeling a little experimental, then go ahead & get your mom's old sari stitched up to a dress. This look is breathtaking and is sure to lure anyone into the world of Indo-western wear.
Source: Pinterest
10. Black metal jewelry
Last but not least, we have classy black metal jewelry. These evergreen statement pieces go perfectly well with almost any ensemble. It carries the subtle essence of Indian influence to it. When paired with western wear, this gorgeous jewelry adds an ethnic twist to the world of modern wear. They are an absolute wardrobe essential.
Source: Seelatest
Conclusion
The beauty of Indian ethnic wear can never be compared to anything else. It holds a timeless & everlasting essence to it. Fashion can come to you in various ways and experimental factors. Go ahead and shoot your shot at adding a modern touch to ethnic Indian wear. These top ten list of suggestions can change anyone's fashion game. Do let us know if you love these picks.