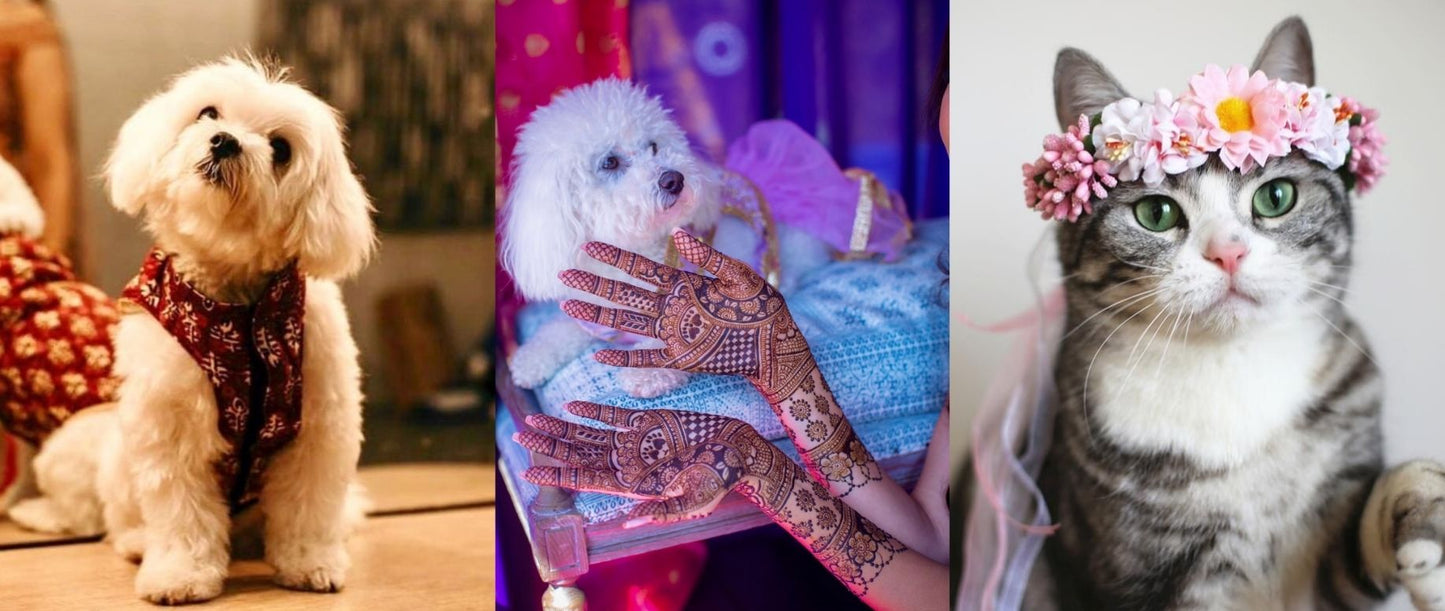 How To Dress Up Your Pets – Indian Wedding Edition
Life with pets undeniably justifies to quality life. Where things don't seem so bad anymore, adding colors, giving us a purpose & validating responsibility.
 As the universal truth remains, pets are humans' best friends & there is no denying that. The purity of the intentions our furry friends have towards their master can warm up anyone's heart. The bond shared between a human and their pet is the kind of love that can't be framed into a sentence. If life permitted, we would take them on trips, adventures and keep them for a lifetime. So, when your big day hits the charts, why should one leave out their pets from this special occasion.
We as Indians are known for going extravagant at our Shaadi, giving it the name 'Big Fat Indian Weddings.' Making it all the more a reason for you to include your canine at this royal affair. Lately, people are finding various ways to include their pets on special occasions. Be it them walking down the aisle, celebratory pet appearances, or baby showers. The world of Instagram reels has been flooded with adorable pet videos with various costumes too.
You could include your pet in innumerable ways at your Indian bridal affair. Floral garlands/mala as pet collars for Sangeet & Mehndi or pet sherwani/lehenga are another great option for the big day. If you want to include your pet at your Indian bridal occasion but yet keep them comfortable, keep reading.
Things to keep in mind:
Source: Dog Express
Before you step any further, a pet owner must consider the following things to keep your pet comfortable. It could be for your cat or your dog, the factors can apply to all of your fur buddies.
Prepare your pet for pet outfits. For starters, a bow tie could work wonders, eventually getting them used to other pet clothes.
Observe your pet's behavior towards pet clothing. Few pets fit in with sheer comfort but, few might end up feeling anxious over it.
Pick the right kind of pet accessories according to your pet's size. You don't want your pet drowning in a swampy pet sherwani!
Choose the right kind of pet clothing for your pet for the occasion.
Make sure to be thoughtful about the seasons. Pet lehengas and sherwanis are excellent for winters. Whereas for summers, you could stick to pet bow ties, bandanas, or collars.
How to measure your pet:
First things first, you need to figure out the right kind of costume sizing for their pet. All you would need is a pen and paper, a measuring tape and a reference to the B Anu pet sizing chart.
Neck Measurement – Take off your pet's collar, get a soft flexible measuring tape and measure the circumference of your pet's neck. It could vary widely depending on the size of your pet.
Measure the back length – Use the measuring tape from the collar area of your pet's neck up leading up till the base of the tail. This length measurement would help you understand the back length of your pet for their costumes.
Measure the girth width – The width of the girth measurement can be taken measuring the circumference of your pets' chest. This area lies right behind their front legs.
Source:
My Dog Flower
Always keep in mind to add an extra 2 inches to the original measure of your pet's body. After you've noted down the measurement, take the reference B Anu Design size chart to understand what category your pet falls under. The measurements can vary widely when it comes to a cat's size chart compared to a dog's size chart. Each of these chart's ranges starting from XS to XL based on the size of your pet.
Pet Outfit Ideas for Indian Weddings
Be it a cat or a dog, one cannot take their eyes of how adorable they are. Pet costumes are an add-on compliment to our adorable furry friends. Are you going bonkers as to how you could dress up your pet for your bridal event? Don't worry because we have you covered. 
1. Flower Garland or Crown
The best and the friendliest way to dress up your pet is to put a floral garland or crown over them. Make sure to pick not allergic and pet-friendly flowers. It could be a great way to include your pet at your Sangeet or Mehendi. If your pet's behavior indicates them being anxious about costumes, this is the best possible alternative.
2. Zardozi Bow-tie
Another pet accessory that your pet could rock would be the Zardozi bow-ties that can match your bridal ensemble. It is another alternative to pet costumes if you notice your pet indicating anxiousness. Zardozi bow-ties are excellent Indian pet apparel making your pet look cute. It is also a perfect pick if your pet belongs to the teeny tiny category.
3. Collar or Bandana
When we speak about neck accessories for pets, the most charming pick would be a customized collar or a bandana. It is yet another summer inclined pet clothing option. If you are going to have your bridal gala in these hot months then it'd be better if you kept your pet's outfit super minimal. Customizable bandana and collars aren't just fun but can also be matched to your lehenga & sherwani.
Source: Ubuy India
4. Pet Sweater
This is the best winter pick for your canines and paws. You can never go wrong when it comes to a pet's sweater. The fit is adorable and the functionality does the job to keep them warm. If you have a winter wedding up your sleeve, then this option with a pair of booties is just the thing you need!

Source: Only Cat Shirts
5. Pet Sherwani
Cat/Dog sherwani are the new talk of the town! The delightful sight of your buddy in an Indian ethnic pet outfit is sure to warm hearts. Be it brocade pet sherwani or custom pet sherwani, the vision captivity would remain the same. When it comes to our pet's comfort, this choice remains best for springs or winters. You could opt for mesh or netted pet sherwanis for the summer bridal occasions.
Click on image to view product details
6. Pet Lehenga
This is for all the female fur babies out there! Our felines & poodles are nothing less than a queen themselves. So, why not dress them up like one? Pet lehengas are one of the sweetest options for ethnic Indian pet apparel. This cute pet clothing is perfect for any bridal occasion. Tulle trains add the cherry on the top to this pick. We can also get them customized to match your sherwani or lengha at our customized pet apparel section.
Click on image to view product details
Conclusion
Puppy eyes or cat purrs, one cannot get enough of it! When it comes to pet clothing & accessories for weddings, its always a great way to keep your cats or dogs involved in the shenanigans. But furthermore, always remember that your pets comfort should be your first priority.