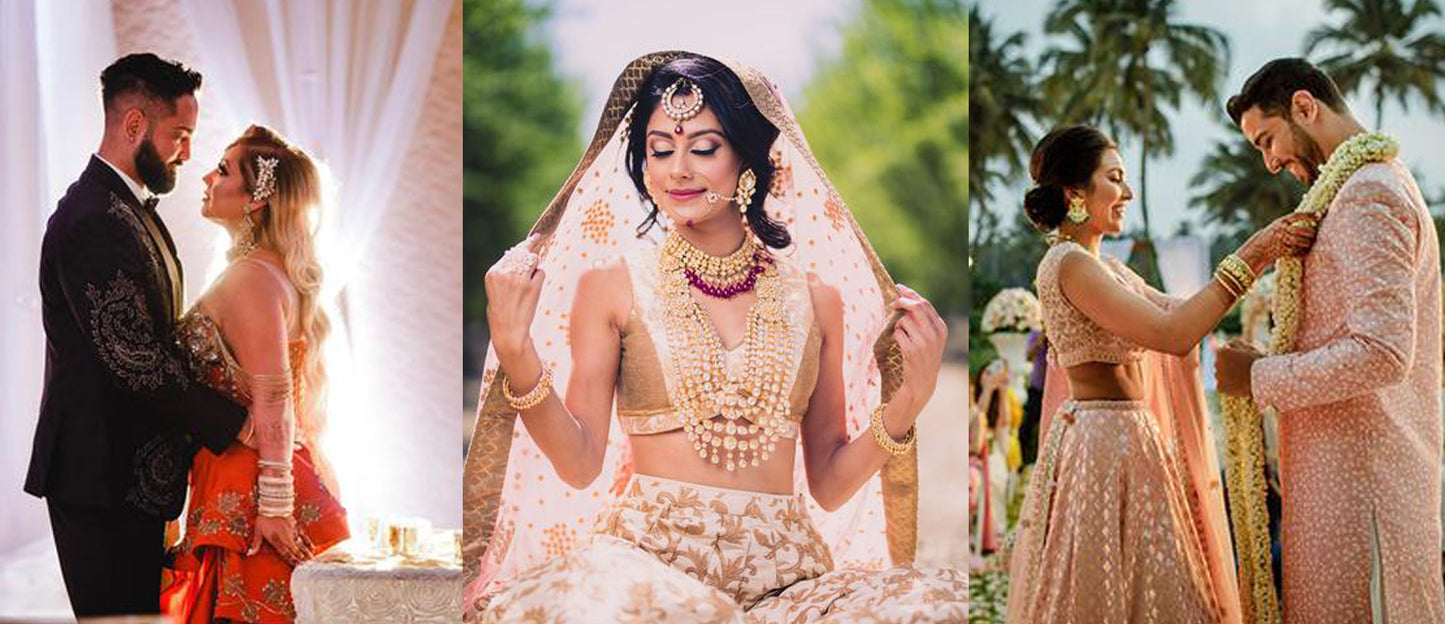 Your Guide to have the Perfect Small Intimate Lockdown Indian Wedding: COVID-19 Weddings (2020)
The bridal trend is moving towards minimalism and so is the fate of big fat Indian weddings. COVID-19 is going to change the future of Indian weddings converting them to small intimate gatherings. Here's our guide to make it possible for you to have a corona-safe wedding in 2020.
We know this must be a rare concern of us at the time of this global pandemic, but has anyone wondered how people who were having their weddings in these dreadful months of COVID-19 are coping with it? Indian weddings have a lot of investment put into them.
And it's not just the monetary investment that is involved. Couples have been looking forward to the day years or months in advance with a lot of expectations. Besides, dates in Indian weddings are of immense importance and something they can't afford to miss out on.
We're here for the save with some great COVID-19 lockdown wedding ideas.
COVID-19 Wedding Limits and Stories
We are not the only ones thinking about it. The governments have too. Though lots of COVID-19 wedding restrictions have been put up, a few alternatives have been introduced. Many states have given permissions to virtual and drive-thru nuptials which are now considered as legal marriages in many countries including India, Brazil, Indonesia, and the USA. 
Kirti Agarwal and Avinash Singh Bagri have become viral on the internet due to their virtual wedding that happened over Zoom call with around 80 virtual attendants.
They were able to make it possible with the help of Shaadi.com, an Indian matrimony site which is running the virtual wedding campaign for carrying out nuptials of couples who can't afford a delay in their marriage in spite of the COVID-19 wedding restrictions and limits. 
Around 20 people have registered around the country for such virtual weddings. But more than 30k have canceled or postponed their weddings to uncertainty. 
Some countries have given permission to smaller sized weddings as long as they practice the social distancing norms like 50 people weddings and 30 people weddings in India and the 10 people weddings in the UK (allowed from 10 June).
These rules are going to change but what is going to stay stable in the future of weddings across the world now is that they are going to be intimate affairs or micro weddings.
This is something uncommon for our rather lavish Indian weddings where you can't imagine less than a thousand guests. But this pandemic and the lockdown have changed a few things for a longer period of time. Micro weddings are going to become a trend that is not going to end any soon and impact both the years 2020 and 2021. 
In fact, as governments will start giving relaxations in the lockdown restrictions, they are going to allow intimate/micro weddings. And it's important that these are done the right way to ensure fun with safety. 
Here's our guidebook for holding the perfect intimate 50-people Indian wedding ceremony for holding a marriage during and after the COVID-19 lockdown. 
Small Intimate Weddings Trend during and post COVID-19 Lockdown and its benefits
This micro wedding trend involving marriages in an intimate setting is not something new. Many celebrated couples have tied the knot in a small wedding ceremony with their close ones. 
The trend was given life by the celebrated couple Virat Kohli and Anushka Sharma when they got married in Tuscany in the attendance of just 40 guests!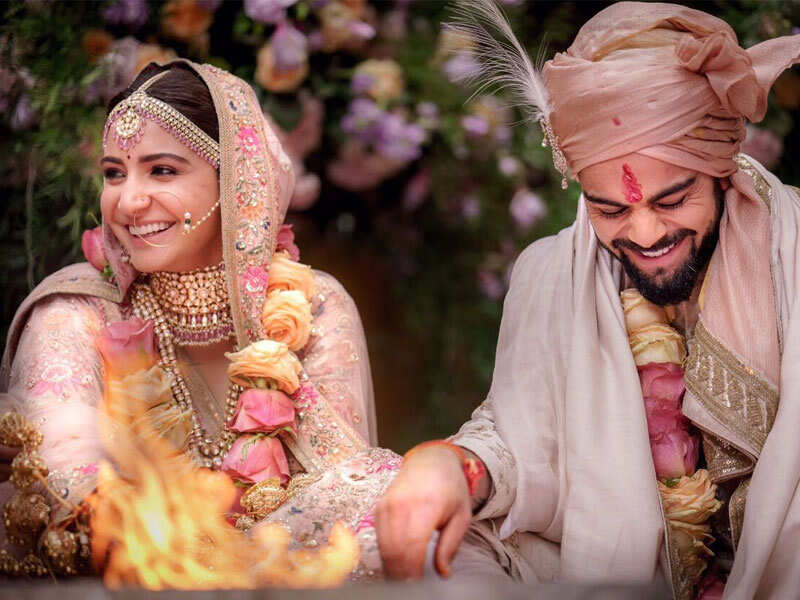 Actor and fitness enthusiast Milind Soman also got married in a small intimate gathering.
This is not without reason. Though many of us who are happy with the usual big fat Indian weddings might not find the idea of a small wedding ceremony appealing, it has several benefits:
Pocket-friendly Wedding 
A small wedding means a pocket-friendly wedding. Gone are the days when it was alright to spend the savings of your life into a marriage. These days the money can be used for a better cause.
Especially at such uncertain times, we must be careful about our budget and savings. Many business have been affected and many will be impacted in the near future. This year is not for lavish spending.
An intimate wedding ensures fun with the people who actually care for you at a very small budget. Get inspired by Sanaa who managed to have a happy wedding with a budget of just 5 lakhs! 
Better Photoshoots 
Believe it or not, couples get really impacted while posing for their wedding photographs in a big wedding with too many people around making them awkward.
They also get really lethargic by the time they get to have their personalized photoshoot. This might happen because of the endless posing on stage with the several relatives many of which they hardly recognize. A small wedding promises genuine pictures full of love and real smiles.
Enhanced Guest Experience 
If you have a smaller number of guests, you're not only paying less for the food and other things but also you can have the best for them. Your wedding menu can contain items keeping in mind the taste of your guests.
You can get creative here and even name each dish after the person you chose it for. This kind of quality personalized service can be the best experience which was impossible with a grand wedding ceremony. 
Less drama, More happiness 
Ever looked at a relative and thought how much you don't want to see them spoiling your fun on your D-day? It's possible with an intimate wedding ceremony. You'll see your parents enjoying themselves instead of exchanging greetings and ensuring that each guest had their food.
You'll even see how close your immediate families get on the day and how your in-laws gel better with your parents. You'll end up falling more in love with your family, in-laws, and most importantly your significant other. 
Your Dream Wedding 
It can be an extravagant wedding destination or honeymoon location, a celebrity performance or a dream bridal dress, you can budget for the same by cutting the costs of your wedding and having an intimate one instead.
At this time, a destination wedding or a celeb performance or even a luxuriant venue might sound inaccessible but it might become possible to have something like this later this year when the situation is better.
Personalization
You can implement various creative ideas for personalizing everything about your wedding. From personalized gift hampers to an amazing photo booth, everything is possible at this kinda wedding. 
Zero Stress 
You don't need to worry about the way you are looking for 8 hours straight. You don't need to carry the weight of a very heavy lehenga with huge drapes. You can have a minimal bridal outfit and minimalist makeup ending up looking stunning along with being comfortable. You can get drunk and break off the dance floor and not worry about anyone judging you as everyone there is a part of your family.
Now that we have enough reasons for holding a small intimate wedding, let's see how we can organize one safely in a pandemic-struck world.
COVID-19 Lockdown Wedding Ideas and Organization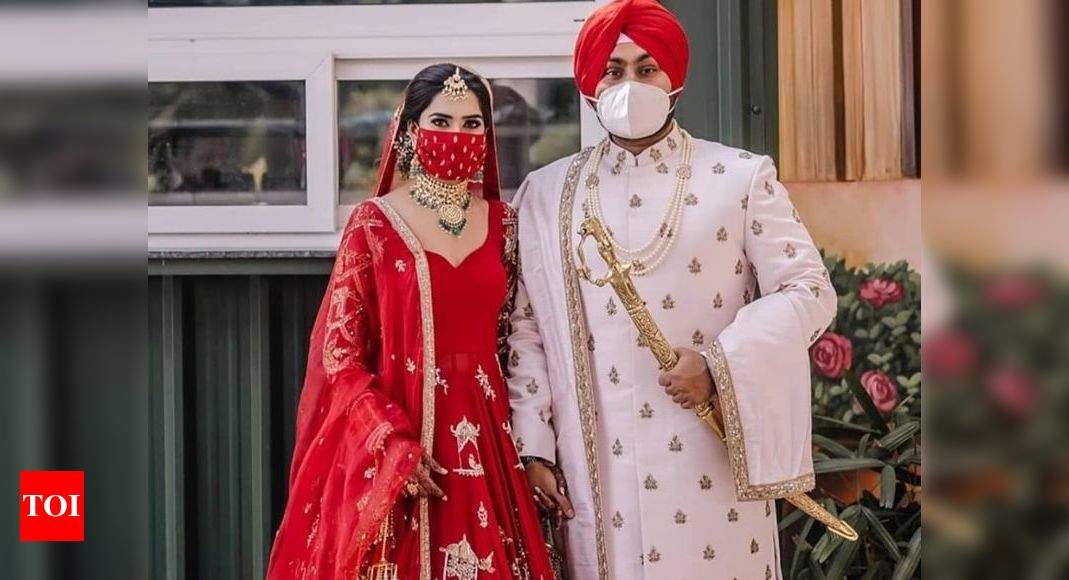 You have a big responsibility on your head if you plan to get wed through the time of this pandemic. You'd be expected to make proper arrangements to ensure everyone's safety and inform your guests about the same so that they don't panic to participate in your celebration. 
Not only through the time of the spread of corona, but also later when this dreadful time is over, these things will be taken care of more than they have ever been. 
Let's see how we can do this right.
The perfect 50-people (or less) wedding Venue:
It's recommended at this time that you have your wedding at a place with ample room for your guests so that they can easily practice social distancing. If different households are coming together for your wedding party, they are likely to practice their own healthy social distancing from each other for which it's important that they are not stuffed in a small space. However small the number of guests is, choose a venue keeping this in mind.
You are also responsible for carrying out the sanitization of your venue before starting with any decor. This should be done with hospital-grade floor cleaners and surface disinfectants.
Your Own Home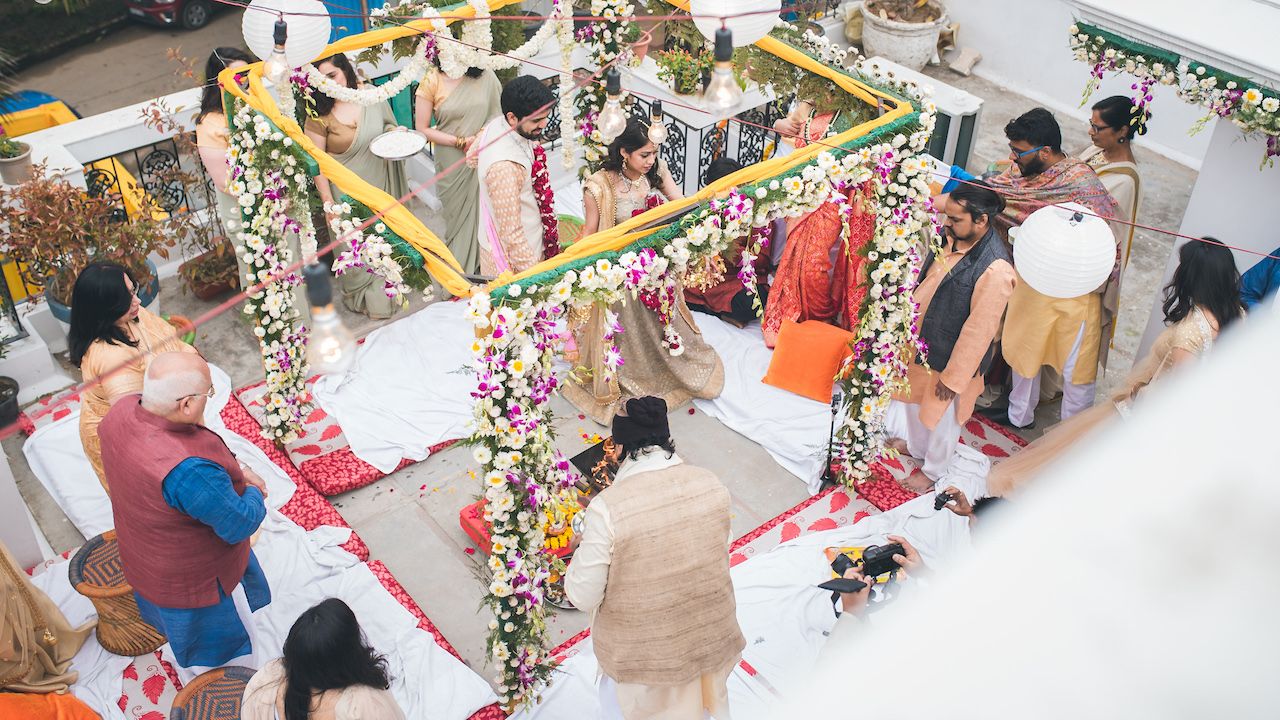 The best place to have a wedding at this time is your own home. If your house has the capacity of holding the number of guests you are having (50 or less), you should go for it as at your home you can ensure the safety of yourself and the guests. The whole sanitization process and hygiene checks will be done by you and your immediate family. 
You can have your pheras on the terrace or in the backyard. The mehndi or sangeet ceremony can be held in the garden. 
Airbnb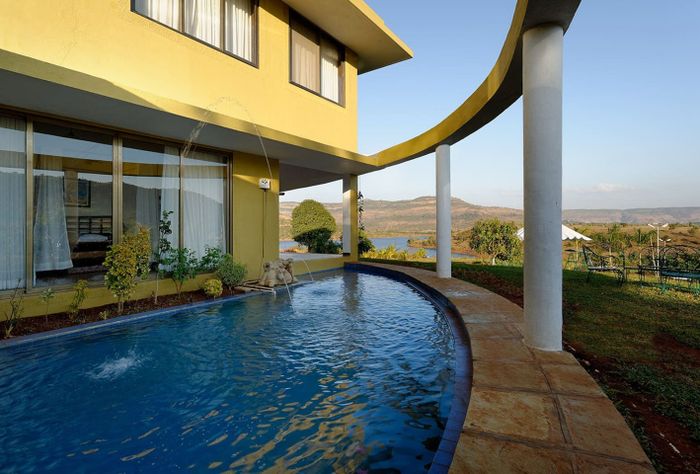 Rent a bungalow or villa with a pool by the side, if your home is not the ideal place for your perfect intimate wedding.
Your city must have some stunning Airbnbs for sure. They ensure sanitization of the location and if you're skeptical about it you can get it done yourself once you choose the right place. 
Community Halls 
At this time, you must access a place that is not open to many people. Community halls are exactly that. They are great for holding smaller functions and thus can serve perfectly as your wedding venue. You can keep a check on the safety of the place as its hardly accessible to huge crowds. 
Sanitary measures for a corona-free wedding during and after COVID-19 lockdown
Even if we discover a vaccine, this year won't see even a single wedding where some sort of sanitization and protective measures are not being taken and that's for the good. It's better to be safe than sorry. Here are the things you can do to make your wedding corona-free/pandemic-proof:
The Dress Code
Keep your COVID-19 wedding masks and gloves ready for this day. There's no way to escape that. 
The bride can wear a mask matching her attire and gloves of the same color. B Anu Designs is already inventing bridal masks that match the attire of our brides so that it looks more like a stylish plugin than the necessity of this time. 
The same goes for the groom. 
Inform your guests about the same in the invitation cards and even if you receive any guests without the PPE, arrange for them at your wedding party beforehand. 
You can get creative here and get customized PPE kits arranged for your guests with some designer masks that they will love. B Anu Designs creates sequin, brocade, and embellished masks suitable for such occasions. 
The staff
Talk to your vendors or caterers beforehand about the safety measures being taken by them for the wedding party. Ensure that the staff at your wedding is having temperature checks, sanitizing their hands, and using PPE kits. 
Make sure they have the least contact points with the guests throughout the function.
Ask the caterers how they clean their rented items.
Food Safety
The sanitation standards of the food being prepared must be taken into consideration by the caterers and even you. Proper food temperatures must be ensured. The staff is specially trained for ensuring such safety standards.
It's advised that instead of having a buffet, you must shift to plated meals option as it ensures the least points of contact with the food. 
Sanitation Facilities

This is also a question to be discussed with your caterers and vendors. Suggest them to install contactless faucets and sanitization stations at the wedding party for the use of family and staff members. 
Wipes and sanitizers must be omnipresent at the party and your guests should be advised to make use of these frequently. 
The staff must ensure hyper-vigilance in case of sanitization and you must ensure that they do so. 
Seating Arrangement
Who sits with whom would have been a very flexible concern for you if you were conducting a small intimate wedding with your loved ones in a world that hadn't seen this contagious pandemic. 
In a corona-affected or a post-pandemic world, this question would be of the utmost concern. You'd have to decide the seating according to the household everyone is divided into. Special attention should be given to younger children and old family members. They should not be seated with a member who travels daily to work or comes from a different household. 
Ensure the distance of six feet in the seating arrangement and if you have more than ten guests ensure that each table doesn't have more than 8 people dining at a time. This can be only ensured in a place with ample space for the guests. 
Guest Etiquette
Your guests must be informed beforehand about the kind of wedding being organized. They would not only appreciate but end up feeling safe with your corona-proof arrangements. 
Mention in their invitations the kind of arrangements you have made and how they are expected to behave for the utmost safety of themselves and the others. 
Though they'd be excited to see each other, it would be best if they exchange a contactless greeting like Namaste instead of exchanging hugs and shaking hands.
Everyone's hands should be sanitized at the entrance and the guests without a mask and gloves should be provided with PPE kits at the entrance only. 
Signboards can be inserted from place to place to remind guests of the social distancing etiquette they should follow at the party.
Dance Floors
What's an Indian wedding without some rocking music and dance? Though the whole family would want to dance together, instead of having a common dance floor at your wedding, you should arrange for satellite dance floors. This means smaller dance floors bigger in number. This would reduce the chances of any overcrowing. You can get creative with the arrangement here having more than a single DJ.
Screening
If there is something that is making our life easier during this pandemic, it is technology. The post-pandemic wedding trend comes in hand with the creative use of technology.
Instead of having a screening of a huge Indian wedding to the guests far off the stage, the modern intimate weddings will see a live screening of the wedding being done for the special guests who can't be there at the marriage due to lockdown restrictions or some risk factors. 
This can be done for your old family members or relatives living far off. 
Minimalistic Weddings
When you're not having too many guests there won't be any need of doing too much decoration or arranging for a lot of variety in the menus. Plus, the point of having such a marriage is to ensure safety and save money. 
You don't have to go for a heavy red traditional bridal lehenga and choose for more minimalistic modern Indian bridal wear and jewelry. 
Read Also: Modern Indian Minimalist Lehengas for the Brides of Today: 50 People Weddings (2020)
For decoration, instead of wasting a lot of money on lighting and electricity, go for fresh flowers and have a daytime wedding. The trend has seen its emerge and it's not going to stop as it's an intelligent modern choice. 
An Eco-friendly Indian Wedding Approach
Minimalistic small intimate weddings or 50-people weddings have a lot of benefits along with being eco-friendly. 
At this time, the last thing our environment wants is more plastic waste and wastage of resources. 
By using fresh flowers for decoration, you'll ensure a check upon the baseless use of electricity. 
Similarly, instead of using single-use plastics for serving the wedding food, make use of cutlery that is environment-friendly. It's possible with such a small number of guests. 
Instead of throwing away the leftover food, give it away to the needy ones ensuring that it's consumed. 
Also, don't get the invitations printed. Send e-invites mentioning all the details of your wedding. It's economical and environment-friendly.
Conclusion
So instead of having an indefinite wait to the date you can hold your big fat Indian wedding, try having a smaller intimate wedding ceremony with your loved ones. It's not only a safe option in a corona-struck world but would be a preferable option for any upcoming weddings this and the next year.
We are responsible to keep our sanity at the time of such madness and that can happen only when we have accepted our fate and moved on with life. We'd have to learn to live with this disease making sure we and our loved ones are safe. This can be done only by moving on in life with a careful approach in mind. Moving on means going back to work, continuing with the grocery shopping, and even getting married if you had planned but with full application of all the safety precautions you know of.  
Looking for the perfect bridal wear or jewelry for your intimate lockdown wedding? We have got you with our diverse bridal collection and jewelry. Or already have your dream wedding outfit and jewelry in mind? We'll customize it to reality for you. 
Stay safe, stay happy!
*Image Courtesy: Pinterest, paransinghphotography.com, weddingz.in, shaadi.com, Virat Kohli Instagram, www.straitstimes.com, Weddingwire, WeddingSutra, signs.com, pxfuel.com, bellethemagazine.com