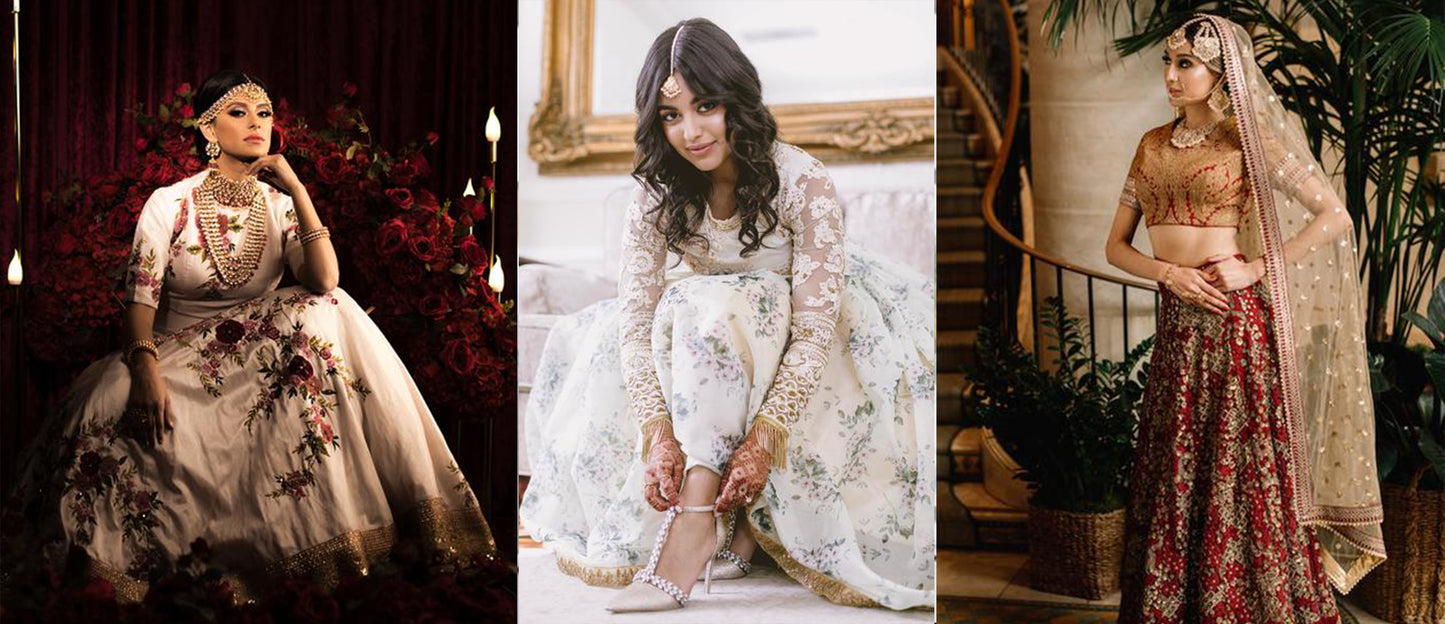 Modern Indian Minimalist Lehengas for the Brides of Today: 50 People Weddings (2020)
CDC has announced that weddings are not going to be a gathering of more than 50 people now. Make the best out of this opportunity by trying out some trendy bridal lehengas which can not only make you look stunning but are also keep you comfortable so that you can dance the night out at your wedding. 
CDC has announced that weddings are not going to be a gathering of more than 50 people now. We all hate the news but it's not completely bad. 
It's an opportunity to have a more intimate marriage where you'd be free to experiment whether it's with the kind of wedding party you are organizing or the kind of Indian wedding wear you plan to don. 
The gossip aunty won't be there most probably giving you the complete freedom of being yourself and wear a modern bridal lehenga which is not only comfortable but also embraces your personality through its style and colors. 
Also, minimalism is the new trend in bridal lehengas of 2020. 
So let's kick out the customary heavy red bridal lehenga and try some latest Indian bridal lehenga designs for the minimal bridal look perfect for an intimate 50 people wedding. 
Have a look at our perfect bridal lehenga collection for the new age bride of 2020:
Go Trendy with a Floral Bridal Lehenga
No one would disagree when we say that brides are killing it in floral print bridal lehengas. And when such embroidery is on a color as serene as ivory white, you are not a step away from becoming the ideal modern bride clad in the perfect minimalist bridal lehenga choli. 
Hira
If you are in the right white bridal attire, you won't look less than an angel who fell straight from heaven to the mandap. B Anu Bride Hira has proven this statement right. 
There is subtle threadwork and little gold sequin embroidery over the blouse of this exquisite lehenga choli set. The statement sleeves have golden fringes on the edge to accentuate its beauty. 
The skirt has printed floral patterns all over making for the perfect Indian lehenga for a bride looking for a minimal modern bridal look. 
Why be all white when you can be as stunning in a multi-color ensemble? 
Nothing is as trendy as two shade drapes this wedding season. Here the two silk drapes are in contrasting green and red perfectly complementing the bridal outfit.
The blouse is intricately embroidered with floral motifs and sequins to make for a statement. But at the same time, the same embroidery on the lehenga skirt directs attention. 
Slay it in a Royal Blue Bridal Lehenga
What can be a better way of modernizing your Indian bridal lehenga than to have an off-beat blouse and color? This blue bridal lehenga is blessed with both. 
The velvet lehenga is perfect for winter weddings with its pearl-embellished navy blue color. The blouse is an off-shoulder one with an attached dupatta. 
Royal blue is the new entrant to the list of trending bridal lehenga colors for the new age bride who thrives for the best modern bridal look through exquisite colors and minimal embellishments. 
This blue bridal lehenga has been designed keeping this in mind. The blouse has been curated in a distinct tank top style with the perfect use of pink and gold hues in the decoration. 
It has a contrast color dupatta with tassels to set the perfect bridal outfit trend we all have been waiting for.
The Rebel Bride Lehenga
Banarasi silk or brocade is just perfect for bridal lehengas. But why not replace the customary embroidered red brocade lehenga with something unconventional?
This is for the rebel brides. Perfect black with golden embroidery! It's also really lightweight if you want to dance the night out at your wedding.
In fact, Manpreet Toor herself did a dance number wearing this lehenga. 
Pair it with black goggles to complete the rebel bride look. 
The perfect Bridal Lehenga with a twist for the Minimalist Bride
Spread your winges at your D-day with this stunning peach lehenga with minimalist embroidery and an attached drape that makes up the statement sleeves. 
A sheer cover has been put on the silk lehenga skirt and rose petals have ornated the hem of the skirt to provide the elegant embellishment we need to make the perfect modern Indian lehenga. 
The Blushy Bride in Blends of Pink Pastels and Gold
We can simply add pink lehengas to the list of customary Indian bridal wear colors like red and maroon. But not all pinks are the same! 
For instance, baby pink doesn't count as customary and when blended with the priceless gold, it can't be overlooked. 
The elegance of this lehenga is reflected through the pink pastel and golden embroidery which makes it the perfect match for a minimalist bride. 
For this one, instead of using gold for embroidery, a blend of pink pastel and gold was created to make this stunning Indian wedding lehenga for the bride. 
Coming to blends of gold, how about this lehenga with a blend of gold and ivory? This one also has a double drape setting with a heavily embellished gold drape and a pink dupatta with subtle gold motifs all over. 
When paired with the perfect jewelry you're sure going to be the show-stealer at your D-day with the perfect modern Indian wedding attire. 
Go Off-beat in a Saree Lehenga
If you want to set a statement by wearing something completely off-beat at your wedding day, this gold calico green off-shoulder saree lehenga with a layered hem is all you need.
Both the skirt and the blouse of this set are created in a very unique style. That's what makes for a unique Indian lehenga for a modern bride!
Embrace the Color of Wedding Season - Mint Bridal Lehenga
Mint is the flavor of the Indian wedding season. It has a really refreshing vibe to it which makes it an amazing color to be used in modern Indian wedding dresses. 
This set features a mint green embroidered skirt with a gold sequin blouse and embellished gold dupatta to make it the perfect modern Indian wedding outfit for the bride.
This Indian wedding lehenga is all mint green with golden embroidery for the bride who wants to set a statement with this color. The bridal Indian lehenga choli comes with an embroidered net dupatta in a gold hue to complement it. 
The Minimal Red Bridal Lehenga
 Well, well! We know we mentioned before how red bridal lehengas are way too customary and how we'd be talking about the new age styles and colors here. But minimalism is one essential element of the modern bridal outfit trend of 2020 and this lehenga is everything the trend reflects.
The gold thread work on the brocade blouse defines a class and gives the red bridal lehenga a completely different look. The intricate embroidery on the lehenga skirt is perfectly suiting the blouse. That's the bridal attire a minimalist bride who loves red needs! 
Wondering where to get these lehengas or have your dream wedding outfit already in mind? Visit our Bridal lehengas page or give us a custom order. We'd be glad to make your D-day merrier! 
What's your take on the 50-people wedding ceremony? Do you like the idea or are you affected by it? Share your thoughts about it with us and get a chance to feature in our Instagram stories. Comment below as we'd love to know!