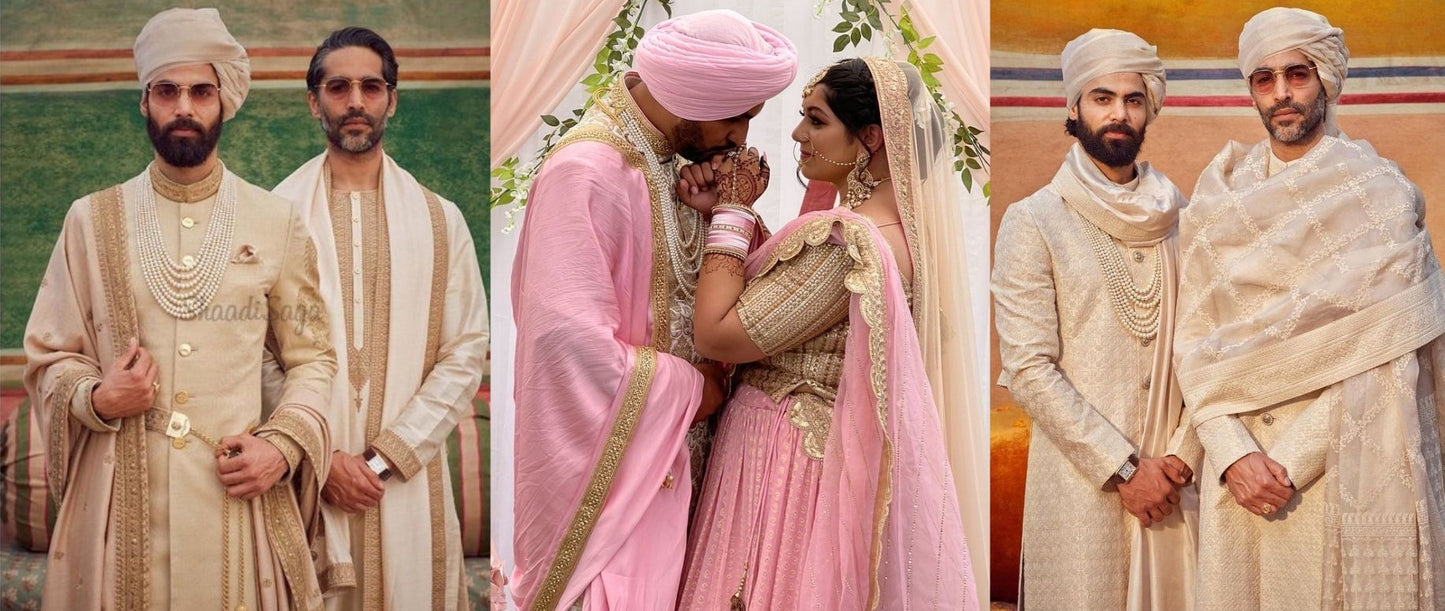 Indian Bridal Groom's Fashion - Men's Trend Chart for 2021
The spinning gears of Indian fashion trends speak on behalf of the handcrafted stories of love, culture, and heritage.
Indian Grooms of today have been stung by the fashion bee now more than ever, post-pandemic. The choices have not just been mindful but also personalized. Tailored custom-made or bespoke designs are now opted by most of the groom-to-be this 2021. Brides walking down the aisle, stealing the limelight are no longer the only fashion parade to look forward to. Our groom's wear trends also come in full swing this season.
Click on image to view product details
We cannot help but notice that the Indian bridal men's fashion has been evolving with time. The grooms of today have been more experimental with patterns and styles. The color wheel of fashion has spun & indicators have landed on the pastels & brighter shades this year. We expect to see more Indo-western elements, as well as a touch of layers to the traditional groom's ensembles this 2021.
Fashion Tips for Men's Bridalwear
The recent pandemic had brought in many intimate celebrity weddings this year but with an exquisite fashion sense. We could jot down a few of the celebrity groom looks as an inspiration to the forecast for this year's fashion. 
Source: Zoom TV
A ton of pastel shades, layering, classic brocades, and embroideries have surfaced this season. Let's ditch the darker tones this year and try and stick to the bright and bold hues. Indo-western outfits and drape elements over the classic looks can work wonders for you. 
Source: Vogue India
1. Cozy Layer Elements
This one is for all the men out there that love to layer up their looks. You could go all out this season when it comes to layering your traditional sherwani. Shawls and vests have now become the new aid to break the spell of boredom from a basic kurta look. 

Source: Sabyasachi
2. Bold Floral Prints
Why should girls have all the fun? Florals can make any Dulha look dapper for his big bridal day. The prints can range from small motifs to big & bold designs. As long as it's floral, you can do no wrong this 2021. Grooms of today could opt for various options ranging from floral sherwani or vest. The options range as wide as the number of fishes in the ocean. 
Source: ShaadiWish
3. Royal Manarkali 
Ever since Ranveer Singh had first sported a Manarkali for his Mehndi ceremony. This trend has only gotten perkier over time. Men's Anarkali version called Manarkali has been the hottest fashion trend for grooms. Men that don't shy away from a risky fashion statement should most definitely opt for this look. Go all out grooving to the royal shenanigans of your big day!
Source: I Knock Fashion
4. Indo-western Patterns
Who doesn't love a good fusion of Indo-western ensemble? We sure do! If you are someone that has a fever for fusional wear, then this one is for you. Pick traditional sets precisely drafted based on western ensemble patterning. The sherwani could be as Desi as it gets. But you could opt for double-breasted, crisscross, or overlapping patterns to add a touch of modernity to your traditional groom's wear this 2021.
Click on image to view product details
5. Color Block Vest's
If you love a good color block element in your ensemble, then you should go ahead and pick yourself a bold-colored vest. This year of 2021 has been all about pulling through looks and breaking the fashion limitations set for men. Add a pop of color to your wardrobe this year. 
Source: Shilpa Ahuja
6. Multi-layer Jewelry
Who said jewelry isn't for men? You could perk up any bridal look when you have the right kind of jewelry to pair. This year has seen multiple trends vary but having a multi-layer necklace for men's bridal wear is a classic look. Go ahead and pamper yourself with a gorgeous groom's necklace this 2021.
Click on image to view product details
7. Safa & Kalgi
Source: WedMeGood
Do you consider yourself to be a typical Desi Munda? Then this traditional piece of men's bridal accessory is a must-have. Safa and Pagdi don't just hold a cultural value. But are also one of the hottest trendsetters this year in men's bridal fashion. Opt for the right comfortable Safa and bejewel it with gorgeous Kalgi jewelry. It is an absolute go-to for any fashionable groom getting married this 2021.
Click on image to view product details
Conclusion
Source: Newzyfy
Weddings are as remarkable as it gets. It isn't just a mere occasion but rather an oath of togetherness & promises, unity of culture & practices but most important celebration of life & the epitome happiness. We all deserve a chance to be celebrated & we might as well look dapper while doing so. Knock out all the mediocre old looks with your stylish choice of men's bridal fashion this 2021.