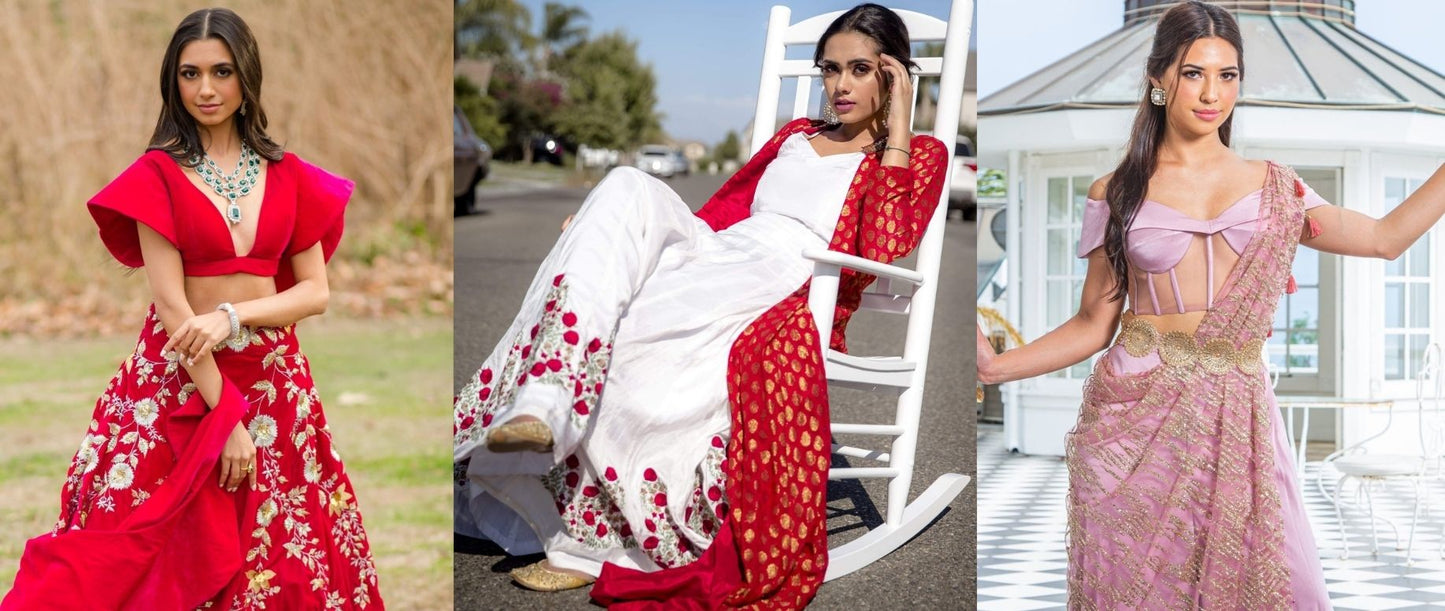 How To Dress Up According To Your Body Type?
In today's world, beauty is about self-acceptance and being comfortable in your own skin. We all as humans come in different shapes and sizes and that's what makes each individual special and unique in their own way. So let's find some ethnic wear that is created especally for your body type!
In today's world, beauty is about self-acceptance and being comfortable in your own skin. We all as humans come in different shapes and sizes and that's what makes each individual special and unique in their own way!
Souce - SKIMS

Every person has their perspective towards beauty standards but it's important to remember each body type is unique and graceful. We often struggle with self-esteem and critically judge our choice of style. If you have ever found yourself in this state of mind, then you certainly aren't alone.
We feel this way because we all have different body types and not every outfit is designed to suit all sorts of body shapes. Fashion trends changes every now and then and there is no denying that! However, what we need to keep in mind is to look for an outfit that not only does justice to our fashion sense but also compliments our body type.
Source - SKIMS
People most often don't know the different kinds of body types and have a tough time figuring out what category they belong to. In turn, they end up wearing clothes that don't compliment them. Well, we are here to save you from such issues. Here is a quick guide about different body types, to understand the perfect composition between what suits your body best, combined with your personal taste.
FLATTERING WAYS TO DRESS YOUR BODY TYPE
1. Pear body type (Triangular shaped)
Well, a pear shaped body can also be called a triangular shaped body. You can figure out if your body falls under this category or not in a few easy steps.
Source - Heather Chesky
A pear shaped or a triangular shaped body generally has a waist wider than the bust. In such a body shape, the hips are fuller and the arms or shoulders are lighter comparatively to the hips and thighs. Basically, the under waistline body looks heavier than the upper torso and the waistline is not much defined.
What to wear on a pear shaped body?
Well now that we know what body parts are broader in a pear shaped body and which are thinner, it is easier to pick up your perfect clothes. Just keep in mind not to wear something that highlights your thighs and hips more. Instead, opt for clothes that cover up the broader areas and draw attention to the upper body instead.
When it comes to the colors palette, brighter colors are more suitable for a pear shaped body as compared to darker colors like black and brown. Here are some of the best Indian outfits that would look super flattering on a pear or triangle shaped body type.

Click on image to view product details

Anarkalis or suits are an excellent choice for those who have a pear shaped body. This bright pink shaded suit with an off shoulder detail draws attention to the upper body. Just like how an anarkali would hug your upper torso. On the other hand, the flared palazzo or a skirt on the bottom takes away the emphasis from your thighs and hips adding an elegant touch. Bright colors such as yellow, pink or orange are a great pick for a triangular body type. 
Click on image to view product details
Structured blouses like the one above serves the purpose of balancing out a pear shaped body perfectly well. This would allow you to highlighting your shoulder line adding a broder illusion. While on the bottom the flared skirt takes away focus from your fuller hips. Fit and flare dresses and gowns, A-line dresses, slim fit pants, longer tops resembling a frock or a long shirt are some of the best outfit options for a pear shaped body. 
2. Straight body type (Rectangular shaped)
Source - Heather Chesky
As the name suggests, such bodies are not very well defined. The straight or the rectangle shaped bodies generally lack curves. The hipline,  shoulders and the waist measurement of such body types are generally straight without any curves. Such body type is also called an athletic body type.
What to wear on a rectangular shaped body?
When you have a straight body figure, it is totally up to you what body area you want to highlight. For instance, if you want to highlight your bust, wear something that fits your bust perfectly and also cinches up your waist. For example, wearing a corset is an amazing idea for those who have a straight body type.
Click on image to view product details
This red kaftan with a gorgeous belt is the perfect choice for a straight body type. The off shoulder style will emphasize your upper torso giving you a flattering look. On the other hand, the embroidered belt would create an illusion of a minimized and curvier waist providing a hourglass shape. The slit sleeves kaftan adds drama and would do wonders for you if you carry it the right way.
Click on image to view product details
This is another stunning piece from B Anu designs that will look fabulous on a straight body type. As we have mentioned, corsets are one of the best picks to enhance curves on a straight figure. This pastel attire is just perfect with an exquisite corset blouse and flared skirt. Additionally, the intricate waistband will help you highlight your body shape by adding definition.
Some other options for a straight body figure include A line dresses, wrap around tops and dresses, flared or pleated pants, puffed sleeved upper wear and anything else that adds volume to one of your body parts.
3. Apple body type (Circular shaped)
Well, this body type generally is associated with being curvier. You can say that you have an apple shaped body type if you are curvier with a less or no defined waistline. The shoulders, busts, hips and thighs are fuller and curvier. Such body figures generally have relatively heavier busts than other body types.
Source - Heather Chesky
What to wear on an apple shaped body?
Now if you feel that you belong to this body type category, then make one thing very clear. It is never bad to have heavy bust or thunder thighs. If you must know, most skinny girls dream to have such curves. All you need to do is pick the right kind of clothes and you are good to go!
It isn't a great choice to wear clothes that highlight your torso if you have an apple shaped body. Rather opt for outfits that add vertical intergrity to your body with features such as V-neckline or keyhole neckline. Jackets or other kinds of layering are also a good alternatice to serve your purpose of covering any extra curves that you are trying to avoid.
Click on image to view product details
This white lehenga with a red jacket is your appropriate choice for a wedding function or a festival. Who doesn't love wearing a lehenga? But, curvy girls generally tend to feel a little insecure when it comes to a lehenga as it exposes their tummy. But with a jacket as this one, it serves the purpose by adding balance and grace. So, get geared up to flaunt your very own fashion statement with this gorgeous jacket lehenga.
Click on image to view product details
Another chic and stylish alternative would be Shalwar Kameez or Anarkali. The straight cut shalwar usually tends to take away focus from your heavier torso. Keep in mind to avoid tight legged pants as that would only make your lower body leaner than it already is. If you still chose to wear a tight fitted bottoms then make sure you pair it with a long kurta. The best option would be pants with flare so that it would balance out your body. 
4. Hourglass body type (Balanced shape)
Source - Heather Chesky
Well, this is the most desired body shape among girls. You can consider yourself to have an hourglass body figure if your bust and hips measure almost the same. Also, in such body figures, the body looks curvier and you will have a well defined waist line.
What to wear on an hourglass shaped body?
For the hourglass figure, fitted outfits are perfect. They highlight this balanced body shape in the perfect way. It is safe to say that most outfits on an hourglass figure seem flattering. If you represent this category, then girl you can consider yourself super fortunate! As per the beauty standards this is the most desired body shape since it has a striking balance between the upper and lower body with a sinched waist. You can wear a peplum top, wrap around top/dress, V neckline, high waisted skinny or bell bottom jeans, etc,.
Click on image to view product details
The dhoti set will look extremely gorgeous on an hourglass body figure. The slit detailing in the dhoti is sure to add a steamy vibe. The top is just the right option for an hourglass figure as lace sleeves would best define the shape of your upper torso.
Click on image to view product details
This particular flared palazzo top set would be a great option for those with an hourglass body shape. The spaghetti straps and the corset bodice would highlight the well defined shoulders and the sinched waistline. Whereas, the sharara like pallazo would be a great ethnic alternative to a westenized bell bottom enchancing the curves. 
5. Strawberry body type (Inverted triangle shaped)
Strawberry body or more commonly knows as an inverted triangle is quite opposite to that of a pear shaped body type. Women with this kind of body shape tend to have heavier and broader shoulder line.
Source - Heather Chesky
While their hips and waistline seem to be comparitively leaner. Such body type resembles the shape of the alphabet "V", with little to almost no defined waistline. 
What to wear on an inverted triangle shaped body?

Ladies with this particular body type swear by dresses that add vertical integrity. One can create such illusion by opting for vertical stripes or with various necklines such as halter, V-neck or scoop neckline. We also encourage you to try out different types of outfits that accentuate your hipline with designs that include a wrap or a peplum feature.
Click on image to view product details
This particular gown would be the perfect example for an outfit supporting the suitablility for an inverted triangle body type. We highly recommend you to preferablly opt for darker shaded ensembles. Avoid layering your upper body and opt for outfit with layering or peplum below the waistline. The halter neckline as well as the layered bottom bodice of this silhouttes makes it an ideal pick for the straberry body shape.
Click on image to view product details
What's better than a classic pair of Sharara suit or Dhoti? Another ideal pick would surely include ensembles such as Sharara pant or a Dhoti. We say that because these particular outfits draw attention to your lower torso with their flowy feature. This helps you draw balance between your shoulder line and your hips giving out an illusion of an hourglass.


Conclusion:
Source: Banana Kick

As unique as we ought to be, we as humans have set up beauty barriers over time stating what is and isn't pretty. Break the stereotype and adore your body irrelevant of the shape and size. You are beautiful as you are and do not require any alteration. We all come in different shades, shapes and authenticity, each to its own. As important as understanding your body type may be, it is just as important for you to accept & embrace it. What is beauty or fashion without confidence? Love your body no matter what type it may be categories into and embrace these fashion tips.
Do let us know what you think of these suggestions and how they worked out for you. We always love to hear from our virtual family!