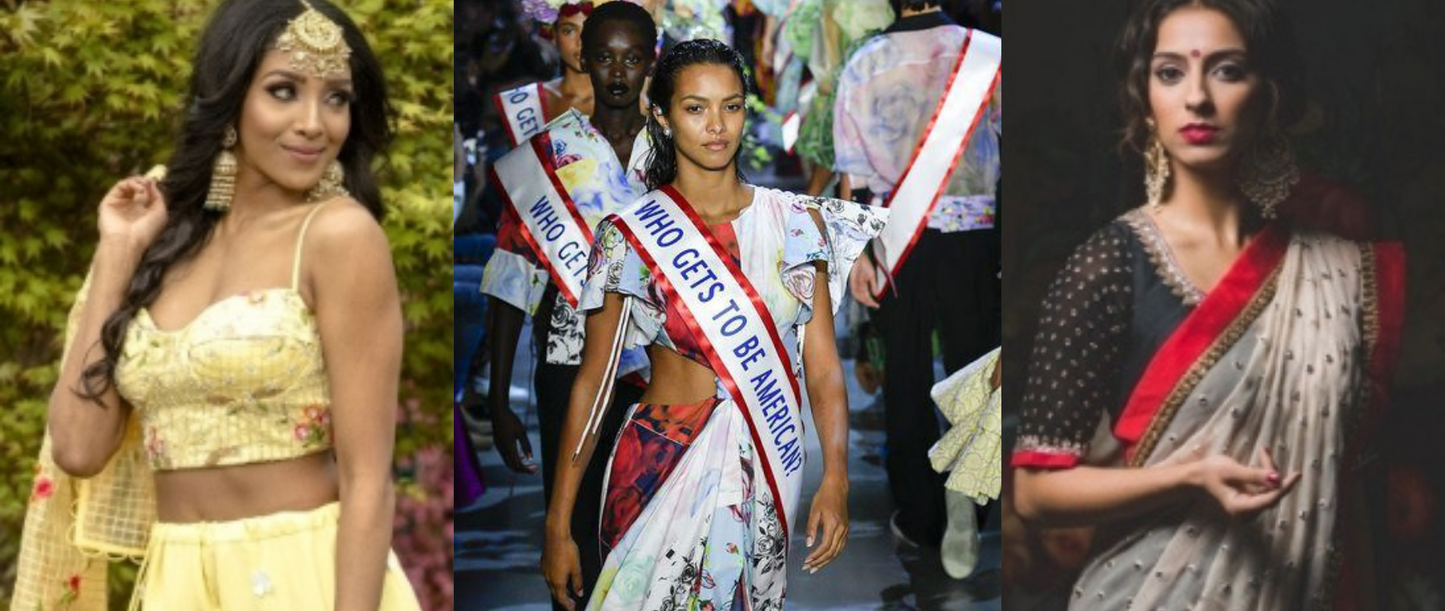 Fight Anti-Asian Hate Crimes & Racism this 2021 by Embracing the Beauty of Indian Fashion
The pandemic acted as the tide that washed away all the thinga wrong with the system, people and the governments. One of them was the ever-existing embedded hate and stereotypes against the people of color. Along with the various ways of fighting racism, we can't underestimate the power of fashion here which has acted as an adamant force to call out such issues. 
The pandemic acted as the tidal wave that evoked all the things wrong with the system, people and the governments. One of them was the ever-existing embedded hate and stereotypes against the people of color. Along with the various ways of fighting racism, we can't underestimate the power of fashion here which has acted as an adamant force to call out such issues. 


When the world was affected by the deadly COVID-19 pandemic, none of us ever assumed that it would propel anti-Asian hate crimes and racism. When former US President Donald Trump used the word 'China Virus' to describe the coronavirus, the situation aggravated resulting in a wave of hate and xenophobia against the Asians.
Anti-Asian Hate Crimes & Racism in 2020 & 2021
Just when we thought that the pandemic was the worst kind of hit humankind can take, we saw a rise in racial bullying making matters worse. "Is this really what we have come down to?" Twitter reckoned. "NBC News" reported that the anti-Asian hate crimes increased by a whopping 150% in the US, and most of them happening in Los Angeles & New York. While the reports from "The Guardian" state that there have been nearly 3800 anti-Asian hate crimes amidst the pandemic, a major chunk being verbal abuses.
Even after the UN General Secretary has advised governments across the world to fight against this 'Virus of Hate', there hasn't been any improvement in the situation. Even after this statement, at least a hundred violent physical hate crimes against Asians have been reported in the US.
In an article on CNN, Nepali-American fashion designer "Prabal Gurung" says that the fear-mongering and xenophobia against Asians were such that he made his mother go on a walk wearing a blonde wig.
Role of Fashion Industry against Anti-Asian Racism
Fashion designers and models have raised their voices against the growing hate crimes against Asians. Philip Lim, Anna Sui, Jason Wu, Tao Okamoto, Rejina Pyo, and Prabal Gurung are a few of them who have been vocal about this raging issue. These individuals have highlighted this issue on social media and urged their followers to stand up against these hate crimes.
The message of standing up against racism & hate crimes towards Asians was to be communicated across the US. These led to a movement of 'Stop Asian Hate'. A movement where large gatherings occurred to protest against racism and hate crimes against Asians. Protesters took this situation up even amidst the grave danger of the pandemic while wearing protective gear, throws emphasis on how serious this situation was.
The role of the fashion industry in this movement has been vital. Be it the fashion influencers from the microblogging sites, or famous fashion personalities; they played an important role in spreading the message to the masses. The protests caught media attention as many famous individuals from the fashion industry joined the protest.
The protests spread like a wildfire, and eventually, a bill was passed to fight the anti-Asian hate crimes. According to this new bill, a new department would be established to deal with the hate crimes related to, or caused due to the COVID-19. Moreover, the bill ensures an improvement in the collection of hate crime data and also setting up hate crime hotlines.
Fashion can revolutionize the world. The amalgamation of different cultures, races, religions can be expressed through it. What's more? If we need to eradicate the anti-Asian hatred, then the best way is by accepting Asian fashion. 
What is Ethnic Fashion?
Ethnic fashion is a representation of an ethnic group. They can be termed as the traditional wear of an ethnic group. In the earlier days, only the people belonging to the ethnic group used to sport their ethnic wear, and that too during their festivals. But, in the early 90s and 2000s, ethnic fashion became more than a tradition.
Many fashion designers started to take inspiration from the traditional garments from India, China, Japan, Indonesia, Middle East, Latin America, Native Americans, and other nomadic tribes. The fusion of western fashion with these ethnic garments gave birth to ethnic fashion. For example, look at this lehenga. The western touch to the Indian ethnicity makes it look entrancing.
Nepali American Fashion Designer Prabal Gurung expresses his thoughts over ethnic fashion,
"Fashion inspired by minority cultures, or rooted in the heritage of a minority designer's heritage, maybe tokenized as 'exotic' or 'ethnic' or disparaged in hushed tones as 'tacky and garish.' Tone-deaf campaigns and racist garments are often created because there are no people of color in the room that feel empowered enough to stop them from going ahead."
Is 'Ethnic Fashion' a derogatory term?
No, not really. The introduction of ethnic fashion was to celebrate the uniqueness and beauty of the ethnic groups. Ethnic fashion is a strong reflection of the culture and tradition of ethnic groups. Wearing ethnic garments will showcase that you're celebrating their culture and value their tradition.
 Can ethnic fashion unite different cultures?
Under these tough circumstances, where the people of color are facing discrimination in the US, ethnic fashion will unite us! The protests of Black Lives Matter & Stop Asian Hate are to fight against discrimination and racism. Accepting ethnic fashion will symbolize that you value and respect their culture and tradition. Moreover, who wouldn't like to look sassy and classy!
Click on image to view product details


What is Indian Fashion?
India is a land of diverse cultures. There is a popular phrase that sums up the cultural diversity of India. 'Kos-kos par badle paani, chaar kos par baani' . It translates to 'Just as water changes its taste after every mile, language (dialect) changes after every four miles.' So, you can imagine how diverse Indian fashion would be!!
From Punjabi juttis to Kancheepuram Saris, or the Pashmina Cashmere (Type of wool procured from goats) Shawls from Kashmir to the Ahimsa Silk (Silkworms aren't killed in the cocoon stage) Saris from North-East India. The diversity in Indian fashion will have a piece for everyone. We would be primarily focusing on and discussing women's clothing, jewelry, and accessories.
Indian Dresses, Clothing, and Garments for Women:
1. Lenghas:
Depending upon where you live in India, it is known as langa, lacha, pavadai, ghagra, and many more. In simpler terms, lehengas are long skirts. What makes them look beautiful? Different styles and patterns of embroidery!!
Click on image to view product details
B Anu Designs offer a wide range of lehengas from traditional embroidered lehengas to stylish indo-western ones.
2. Kaftans:
The arrival of Islam in India also influenced Indian fashion. Kaftans being a primary inclusion in the Indian fashion. Kaftans especially made up of Pashmina Cashmere were once regarded as a symbol of royalty. If you're fed up with your usual monokini and bikini at the beaches, then you need to get your hands on these kaftans.
Click on image to view product details

3. Dhoti Pants:
Click on image to view product details
The western influence on Indian fashion gave rise to dhoti pants. Dhoti Pants bring in the flavor of elegance. You can pair it with crop tops, shirts, or trousers.
4. Anarkali Suits:
Anarkali suit was named after a courtesan in Mughal Emperor Akbar's court. It can be described as a long frock-type dress with a long ankle-length bottom (though a few can be floor-length too). Anarkali suits are well-known for highlighting the beauty of a women's structure. Anarkali suits usually are tight-fitted from the top and are loose towards the bottom.
Click on image to view product details
5. Saris:
They are widely popular and worn across India. Saris are a three-piece garment set, which includes a lengthy unstitched drape, blouse or bodice, and a petticoat (can be a lehenga too). There are several (more than 100) draping styles of the saris. So, you can accordingly choose the most comfortable draping style! 
Click on image to view product details
Indian Jewelry:
Just like clothing, diversity exists in Indian jewelry too! Different designs and types of jewelry make Indian jewelry much more beautiful!
1. Bracelets & Bangles:
Click on image to view product details
If you're planning to decorate your wrists, then what's better than bangles? Bangles are traditionally worn by women in the Indian sub-continent. If you're one of those who likes to sport indo-western jewelry, then consider that the cuff bracelets are just made for you.
2. Necklaces, Earrings & Tikka Sets:
Click on image to view product details
The elegance and class that a necklace brings to a woman are beyond comparison. When combined with the tikka sets that comprise maang tikka (a type of forehead jewelry) and earrings, the true glamour of a woman can be expressed.
3. Rings and Nose rings:
If you're fond of rings, then do try the contemporary traditional polki work rings. They are fashionable and quite attractive with beautiful stones embedded. Also, if you're into piercings and stuff, then trust me, you will surely love the noserings! Nose rings are very common in the Indian subcontinent, and it won't be a shocker if this becomes a trend in the US soon!
Other accessories:
Click on image to view product details
These accessories include beautifully embroidered Punjabi juttis, heavily embroidered shawls, attractive potli bags, and many more. The essence of the Indian subcontinent in these accessories will add-on to your mesmerizing look.
Why should you embrace Indian Fashion?
Not only will this mean that you're against anti-Asian hate crimes and racism but it will also mean that you respect and adore the Asian cultures. Moreover, you cannot deny the fact that Indian fashion is super unique, elegant and to die for! From the royal and regal look to a sassy and chic look, Indian fashion offers you just about everything!
If you're fascinated by embellishments and embroidery, then Indian fashion will surely be a part of your wardrobe. Also, if you're a bit skeptical and not sure about trying the ethnic wear, then go for the Indo-Western fusion clothing. B Anu Designs offers you Indo-western fusion as well as gowns inspired by Indian fashion.
Conclusion:
Indian fashion is an amalgamation of diverse cultures representing the plural state of the US. Donning Indian wear will make you look much more elegant and regal, not to forget that they are extremely comfortable.
B Anu Designs offers not only readymade Indian ethnic wear and Indo-Western fusion but also provides customizations to the readymade designs. You can also completely customize your order at B Anu Designs.