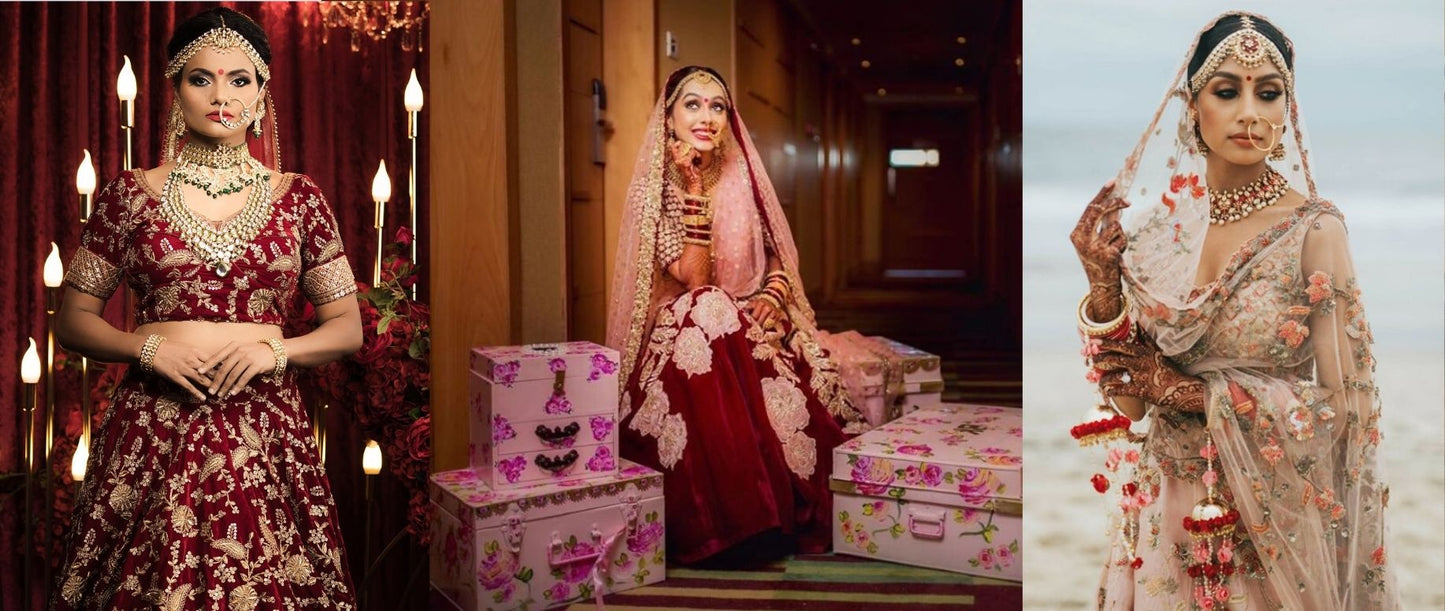 How To Preserve Wedding Dress - Modern Indian Bridalwear
Indian Bridal dresses are more than just a piece of clothing; they embody sentiment and dreams. Wouldn't it be lovely to be able to preserve bridal wear till the end of time?
Fashion guide to storing your Indian bridalwear
To any bride, a bridal ensemble is more than a game of dress-up; it is a symbol of sentimental worth. The bridal fantasy begins with selecting appropriate fabric and ends with the essence of the needlework you wish to restrict. It's all part of a well-thought-out fantasy brought to reality by a group of well-wishers.
A few brides may like a traditional heavy red bridal lehenga, while others are adamant about avoiding the stereotype. In either case, most women intend to keep their bridal gowns immaculate for a long time. In either case, the majority of women intend to keep their bridal gowns immaculate for an extended period of time.
So, what does a bride do with her dream lehenga post her marriage? Does the term wedding dress preservation ring any bell? Well, it's all about how you store a wedding dress. In today's time, we don't just have bridal store experts & preserve services. But with the right kind of information, you could store your lehenga yourself!
Source: WedMeGood
Our forefathers followed an old practice of passing down Indian bridal heirlooms from one generation to the next. Only to return more assertive in today's time, not only because of the cultural significance but also because of the value of sustainability.
Given the fact that bridal wear consists of intricate embroidery and delicate trims, it could be quite a task to care for them. Often, brides tend to transform their wedding lehenga into a reconstructed ensemble. However, if you are one of the many who would like to care for and preserve your bridalwear for the long haul, you are at the right place.
Source: Get your venue
Preserving lehenga is not all about storage. There is a lot more to it. It starts right from selecting the fabric, embellishments, trims & laces. They are quite a few things you should be considering before your splurge your bucks on the available preserving clothing services or even if you plan to maintain it yourself. Let's begin by discussing different ways you could wind up staining your priceless Indian bridal lengha.
What to look out for:
Fabric wrinkles
Make up stains
Food stains
Molds
Oxidization
Indian bridal affairs are as grand as they get! There is no surprise that you might unintentionally wind-up having staining or crumpling up your lehenga. Unfortunately, since desi weddings are festive-like events, it's almost inescapable. Certain kinds of textiles might be particularly obstinate when it comes to stain removal.
As a result, choosing the proper fabric for your bridal silhouette is crucial. Allow us to guide you through the nitty-gritty of the fabric materials that work well for preservation.
Source: Wedding Wire
Durable bridal fabrics that can be preserved:
1. Polyester
Synthetic fibres are recognised to be far more durable than natural fibres. It is due to the fact that synthetics are artificial fibres that go through chemical synthesis. As a result, there is little doubt that synthetics are easier to preserve. Polyester is one such synthetic that can withstand wrinkling and is exceptionally durable.
Designers like Amit Agarwal have found a way to use polyester in the most opulent way possible. These gorgeous yet edgy lehengas exemplify modern Indian bridalwear.
Source: Amit Agarwal
The polyester bridal dress is indeed an excellent option for brides since they are not just long-lasting but also have plenty of other advantages. This synthetic fabric is highly wrinkly and stain resistant as well as lightweight. It is an absolute doer, especially for spring summer weddings.
Cleaning:
However, it is incredibly vital always to check the care label attached to your bridal ensemble when it comes to cleaning. If you ask us how to remove old stains from polyester? Then we would recommend soaking your polyester bridal dress in lukewarm water and avoiding scrubbing it. Leaving a polyester wedding dress in lukewarm water would help you lift the stains without fraying the fabric.
2. Georgette
What better fabric than georgette for bridal wear? Today's brides love themselves a gorgeous bridal ensemble that is luxurious & lightweight. Georgette fabric is one such material that would be an ideal pick for your special day. It is not just weightless & breathable, but it is also a long-lasting fabric.
The various ranges of georgette fabric combined with diverse fibres such as silk or synthetic have their distinct advantages. We have witnessed the beauty of this fabric across their collections, whether it is an Elie Saab bridal dress or a Manish Malhotra wedding lehenga.
Source: Manish Malhotra 
Not only are Contemporary Indian bridal dresses made up of feather-light georgette, but they may also be preserved and stored. They resist creases and work well with dyes.
Cleaning:
If you wonder how to take care of georgette fabric, we have a solution for you. Follow these measures before hiring dry cleaning services if you stain your delicately embroidered georgette wedding lengha. Soak your bridal gown in cold water with detergent after letting it lie for a bit to allow the detergent to lift the stains. After which, gently rinse the clothing in a delicate manner.
3. Banaras
Katan silk, commonly known as Banaras, is one of India's finest kinds of silk. It is a yarn fabric made by twisting different silk filaments from the wefts and warps to create a robust and resilient material. Even when it comes to legacy, Banaras lehengas and sarees have a high worth. It is not only long-lasting but also a luxurious fabric for any bride.
Source: India TV News
Veteran actress Sharmila Tagore was handed the Pataudi's Banaras bridal heirloom by her mother-in-law, Begum Sajida Sultan of Bhopal. Later, it passed down the intricate preserved Banaras dress to Kareena Kapoor, her daughter-in-law. For many people, the tradition of conserving heirlooms holds a considerable amount of sentimental value. Designer Ritu Kumar reworked on retaining this stunning gold Banaras fabric and revitalized the embellishments.
Source: Vogue India
Cleaning:
Detergent on Banaras outfit is a big no-no! Banarasi silk tends to be particularly delicate & using detergent would break down its yarns. If you wish to clean out tiny stains off your wedding lehenga, soaking it in plain water is your best option. Banarasi wedding dresses require a good amount of care because of which dry cleaning is your go-to.
4. Velvet
Click on image to view product details
As we all know, velvet for bridal dresses is perhaps one of the most popular fabric materials selected by brides. Its lustrous sheen and soft-feeling attributes are unrivalled. But do not let its luxurious look deceive you when it comes to its durability. Velvet is one of the tough & durable synthetics.
Due to its weave similarities to the rug weave, it leaves no loose or raised weave structure, making it impossible to fray. However, maintaining a synthetic velvet is much easier than the cotton blend. Modern velvet bridal lengha is our favorite, especially for winter weddings.
Click on image to view product details
Cleaning:
If you wish to handwash velvet bridal cloth to gently remove minute stains, before visiting the dry cleaners. Then let us tell you that it could be done within the limitations mentioned on your care label. But be sure to never use fabric softener or bleach over your Indian bridal velvet lehenga since it might result in the fabric losing its original sheen and softness.
5. Satin
When it comes to long-lasting textiles, satin is another excellent choice. Satin lehengas and sarees have a tendency to resist wrinkles. This gives you the benefit when it comes to preserving wedding dresses. Since there would be no creases, it would reduce the chances of breakage of the yarns. Another reason satin is highly durable is due to its long filament fibres.
Source: Siya Fashion
Like most synthetic fabrics, satin can also be blended with various fibres such as nylon & silk. It is a perfect & durable fabric for winter weddings.
Cleaning:
It is usually recommended that oxygen-based cleaners work best to get rid of stains on satin bridal outfits. A scoop of cleaner could be filled into a spray dispenser & then one could spray the stains and let them sit for a limited specified period.
How to Preserve Embroidery on bridal wear?
Using high-quality embroidery thread - the better the quality of the threadwork. The more durable your embroidery is, the less likely it will fray over time.
Make sure to knot the embroidery ends to secure the stitch – Often so, you may find embroidered threads hanging loose over time. It is sometimes due to loosening knotting of the stitch ends.
Make sure to have embroidery stabilizer - Using embroidery protect sheets at the back of the fabric. Many designers tend to use adhesive tissue right underneath to embroidered work. However, it is concealed between the base and the outer fabric. So, always make sure to bind your embroidery ends.
Handwashing minute stains and never using a washing machine – This could be only done solely based on the type of fabric your bridal wear is based upon. Ensure always to read the wash label and follow as specified to preserve the wedding dress & its needlework. If this method could work, it would increase the lifetime of modern Indian bridalwear.
Avoid using the dryer since heat can damage embroidery fibres - Heat tends to burn off synthetic fibres and embroidery fibres. So, at all costs, avoid putting your bridal gown in the dryer.
Make sure to use nonmetallic embellishments – The handwork such as bungle beads consists of aluminum coating to give a reflective illusion of glam. As glamourous as metallic-based embellishments may seem, they are highly likely to oxidize and ruin the wedding gown over time.
Is wedding dress preservation worth it?
Totally! Wedding dress preservation might initially sound a little too hectic, but it is worth it. No matter how you decide to modify it in the future, the vintage elements will always have a special touch on bridal dresses. It isn't just all about the vintage aesthetic but also the sentimental value.
Source: Wedding forward
How to clean a wedding dress at home?
Care/Wash for your bridal wear:
Soft bristle brush – Clean lace and needlework with soft bristle brushes to remove minute dust particles. We often overlook the tiny details, such as cleaning the trims and embroidery. However, when it comes to storing wedding lehengas, it is critical not to neglect this process.
Dry cleaning without delay – Most contemporary Indian bridal wear comes with its own set of care instructions. It isn't a tag you want to overlook in order to keep your Indian bridal lengha intact and clean for the long haul. The first step would be to do the wedding dress cleaning and boxing. Dry cleaning your bridal attire as soon as possible is the safest approach to clean it. You could employ a reputable company, but putting it off would cause invisible stains to become tenacious over time.
Do not use chemical bleach – Using chemical bleach is never an excellent option for wedding lenghas. Bleach is a strong chemical that has the tendency to break down yarn fibres which may cause the wedding dress to thin out. Bleaching a wedding dress may also lead to damaging the embellishments and embroidery.
Steaming the fabric – When it comes to cleaning and preservation, most materials can be steamed. However, only add this procedure if the care label specifies it.
Low heat Ironing it to avoid wrinkles – Most people avoid ironing their wedding gowns because the heat from the iron might cause the yarns to snap. However, to prevent creases, we recommend ironing your wedding lehenga. However, only follow the care instructions and do so in a low heat setting.
Packaging of bridal lehenga:
Folding it properly - may seem insignificant, but if you plan on storing wedding lehenga in a laying flat instead of hanging it. Then, this step is quite essential. Folding the lehenga the wrong way may lead to creasing and falling off the opulent embellishments. Wedding dress packing style is one of the most crucial aspects to preserving bridalwear.
Using tissue sheets – While packing a modern Indian bridal lehenga, it is crucial to use tissue sheets. These sheets are to avoid rupture of the embellishments. Sometimes, the beadworks could fade or could end up pulling out threads on the fabric. As a result, it is quite a crucial step when it comes to preserving bridal lehenga.
When selecting tissue sheets, double-check that they are acid-free. The majority of cleaning firms utilise inexpensive tissue sheets, which might cause your bridal lehenga to be yellow. So, when it comes to packing Indian wedding dress, make sure to verify that.
Never use cheap plastic dry cleaners bags – Never store your lehenga in a plastic bag provided by the dry cleaners. You might instead store it in an archival box. If you are concerned that your bridal gown will oxidise or become yellow, opt for polypropylene storage boxes to keep your fabric safe and adequately preserved.
Separate storage for each component – When it comes to modern Indian bridal fashion, the ensemble is likely to have more than two garment components. Brides frequently make the mistake of putting all of the clothing components in the same box. However, we strongly advise you to store your wedding gown in distinct packing. It would help prevent your bridal ensemble from fraying or causing the embellishments to fall off or pull the fabric.
Storage for wedding dress:
Dark storage - We generally recommend that bridal lehengas or sarees be kept in a clean, cool, and dark environment. Few materials, such as velvet, must be stored in crates and then placed in a dark storeroom to prevent the rich colour from fading.
Lay it down - When it comes to preserving wedding lehenga, lying the cloth down rather than hanging it is the finest option rather than hanging your garment. This way, you wouldn't pull and loosen the bridal dresses weave. However, if you still find it convenient to hang it, we ask you to do it the right way and with great care.
Airtight packaging – It is usually preferable to keep your bridal saree or lehenga in airtight packaging since it would prevent oxidizing. This way, you could also always retain the color over the long haul.
Allow the fabric to breathe – Make sure to take out your Indian ethnic bridalwear to feed on some air. This step is essential as it would allow the bridal attire to breathe. A little sunlight should also be fine in an inspected time limit. This could help in avoiding any moulds in the bridalwear.
Storage services – Storing wedding lehenga can be quite a task, and sometimes you may not have the required space for it. This is when we recommend you to keep your bridal wear with a bridalwear preserve specialist. But, to avoid any exchange mishaps with other bridal dresses there, double-check its acid-free packaging and placements.
Storage & Preserve Services
Always seek advice from a preservation specialist – Be sure to consult a wedding preservationist. There are quite a few services out there that could provide you with great expertise when it comes to storing & preserving wedding lehenga. It would be the ideal alternative for you, particularly if you intend to store the wedding dress yourself.
Source: Vinesoftheyarravalley
Hiring bridal storage & preserving services - If you can't do it yourself, you could always hire expert services for superior storage facilities. The specialist would know how to keep your bridal gowns and have the appropriate storage facilities.
Conclusion
Most brides hope that their bridal gowns will be passed on to future generations as heirlooms. Not only because of its sentimental importance but also because of the love that went into every weave of their wedding gown. It isn't a very sustainable way to bridalwear, but it is also a thoughtful gesture. If you intend to keep your wedding gown or if you have an heirloom that has been passed down to you. Please tell us about it; we'd love to hear from you!