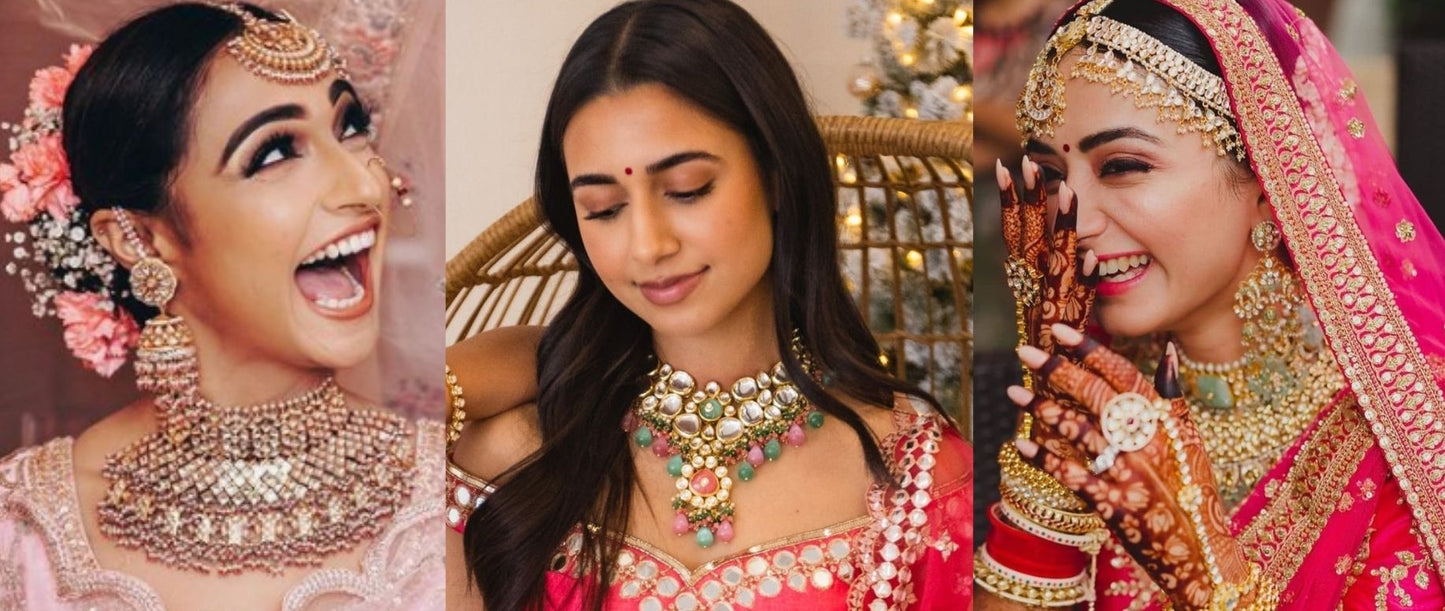 Latest Jewelry Trends 2022 For All The Beautiful Indian Brides!
Indian Jewelry is more than just a piece of metal; it's personal. It reflects personality while holding stories, some ancestry, or some emotional values.
Indian Bridal Jewelry with Modern Elements for 2022!
The emerging new decade has seen quite a bit of everything—fresh trends flowing with fabric switch-ups & silhouette adaptations running around the clock. But wedding jewelry for bride takes the lead in keeping the process of change a tad bit subtle. The bling game has always been valuable & personal to many, more so for the bride-to-be than the rest.
Click on image to view product details
The bridal entourage is always left in the wedding blues, with extravagant wedding planning, desi food or bridal ensembles. But we are all well versed that finding the right kind of Indian wedding jewelry sets for brides can be challenging. Indian bridal jewelry has consistently been recognized as having a classic traditional undertone. But this year of 2022 calls for a modernistic touch to the conservative heavy Indian jewelry styles.
Souce: Shades Photography 
What to look out for?
Emerald chokers
Pastel color necklace
Extravagant heavy choker
Multilayer maharani haar
Temple coin chokers
Victorian linked chain
Top Picks for Bridalwear Jewelry 2022!
Source: Shades Photography
One cannot afford to go wrong when picking contemporary Indian bridal jewelry sets online. But it does get difficult to bling up yet keep up with the jewelry trends. That is where we hop in, providing all the help you'd need by guiding you through the South Asian jewelry!
Emerald Lady Jewelry - Chokers
Click on image to view product details
What's classier than the reign of emeralds in a women's life? Emeralds, often referred to as 'The Jewel of Kings', has been a favorite for all the urban day queens all over the globe. 
Click on image to view product details
They have been in the spotlight for many years, and 2022 will be no different. From the finest-crafted chalk emerald to the Mughal emeralds, they never cease to evoke their royalty.
Click on image to view product details
Emerald Choker is one such piece that has seen the hall of fame this bridal season. Among the Indian brides, this gemstone has exuberated as the winner here to stay.
Color-pop jewelry – Pastel tone necklace
Nothing can shake the Pastel haven! If we take things back to the early 2000's pastels were shrugged off for being too subtle. Only for it to come back, having all the brides ditch the stereotype and fall head over heels for the once classified tones of subtlety.
Click on image to view product details
Last year was all about the runway celebrating the light-hued silhouettes. This year, it's safe to say that 2022 brides are waiting to deck up in the pastel-shaded gemstones. Kundan Jadau choker or a Polki multilayer necklace, the precious pastel gem drops are an absolute go-to!
Click on image to view product details
Heavy jewelry – Wide Choker Necklace
Indian bridal dreams are laid out based on the laws of going big or going home. Just as Indian brides of today love modern, minimal jewelry for their daily wear, they also have their hearts set on extravagant pieces for weddings.
Click on image to view product details
Heavy jewelry chain seems to be in demand for the brides of 2022. With Indian women choosing to go bold with their jewelry, these handcrafted B Anu Designs jewelry covers the latest jewelry charts. Heavy chokers are more likely to get more extravagant. So, gear up for these luxurious trendsetters coming in hot!
Click on image to view product details
Layered Jewelry – Maharani Haar
From dresses to jewelry, we all love a good dose of layers, don't we? Regal Multilayer necklaces have been an opulent bridal choice blending fashion with convention. It's easier to layer with a single piece five-strand ornament than to wear multiple pieces. Don't you agree?
Click on image to view product details
You could go ahead with a multi-layered pearl necklace or a layered ruby necklace. One can never go wrong with it. These handcrafted ornaments are a perfect choice for modern Indian brides.
Source: Shaadiwish
Temple jewelry – Gold coin choker
This one is for the South Indian bride that adores traditional jewelry. The intricacies of temple bridal jewelry are far more elaborate this year than in the past. Conservative jewelry with coin motifs can be the desi bridal fashion's most significant game-changer. Since they are here in the form of coin chokers, brides are more likely to continue falling irrevocably in love with them.
Click on image to view product details
Cluster pearls & coin necklace is a must-have this bridal season! Without any second guessing, we can all agree that these versatile elements are sure to complement any bridal ensemble.
Source: Kattam
Victorian Jewelry – Link chain
We are all aware that the Cuban linked chain has been the talk of the decade in street style fashion. So has the Victorian style jewelry, being adored by brides over the years. But what if we told you they are both here to level up the bridal jewelry game for 2022? Only for both to get bigger & bolder!
Click on image to view product details
Expect to see ladies in Kundan studded Linked chains this season with a graceful hint of the Victorian touch. At B Anu Designs, we believe in bolder elements, handcrafting the finest jewelry with the newest approach.
Click on image to view product details

Conclusion:
This bridal season's latest trendsetters are leaning to be opulent & extravagant all at once. You could be a beautiful bride-to-be or the fun-loving friend at your best friend's wedding. These bridal jewelry sets could look flattering on everything. If you have a bridal occasion to attend, we would love to know which one of these bridal jewelry floats your boat? So, go ahead and rock these gems and do let us know in the comments below.