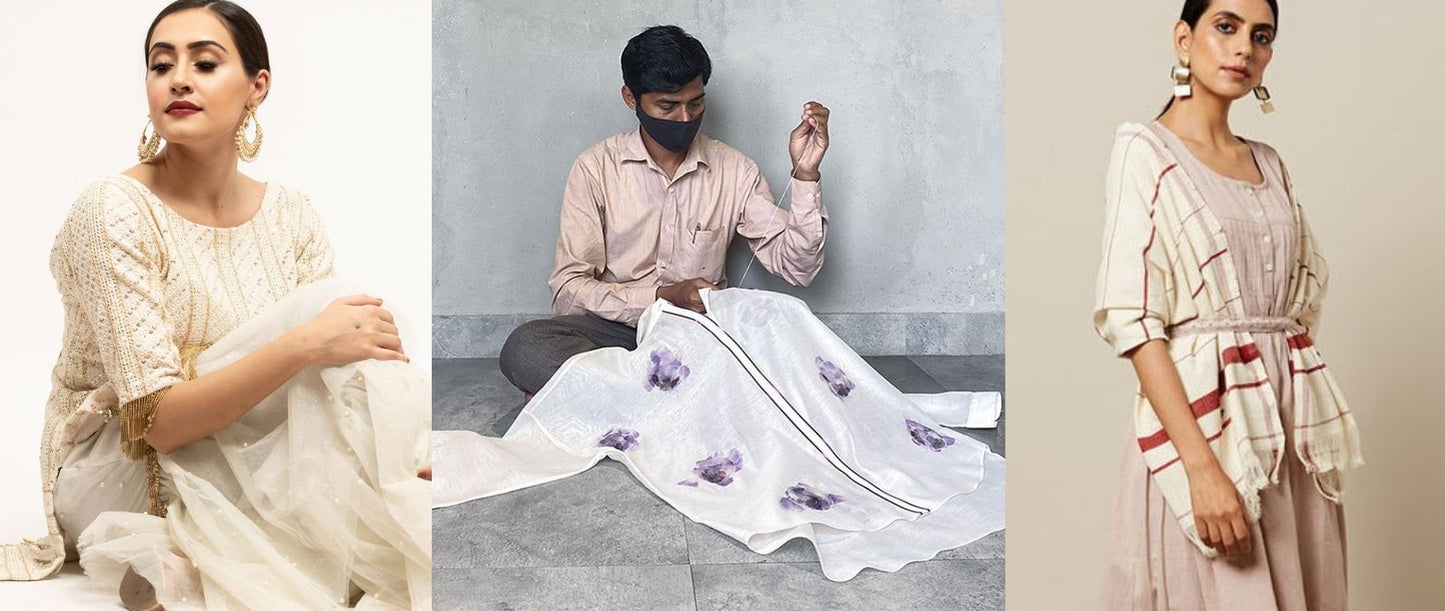 Ethical Fashion Sustainability - Empower Artisans & Local Businesses During The Pandemic
Today, we find ourselves reminiscing the hazy memories of our once lived convenient and privileged lifestyle. It's safe to say that the pandemic has been a living nightmare for humankind. With the increasing rate of unemployment and incurred losses, it has taken a major toll on small-scale fashion businesses and local artisans. How does the ethnic fashion industry which is generally abundant in the form of small-scale businesses ensure the protection of environment at such times?
Find out now!
Today, we find ourselves reminiscing the hazy memories of our once lived convenient and privileged lifestyle. It's safe to say that the pandemic has been a living nightmare for humankind. With the increasing rate of unemployment and incurred losses, it has taken a major toll on small-scale fashion businesses and local artisans.
In a world full of unpredicted scenarios, we still hang on to every bit of faith left in us with hopes of reliving our quality of life just the way it rolled out before this pandemic. Thus, leaving us with a hopeful yet exhaustive gaze towards a better tomorrow.Our new normal of staying in and using our digital aids to our convenience has become a way of life. With nearly all sectors shifting online in the last two years, it's no secret that our economy has had a sweeping impact.
Source: Quartz
When it comes to the fashion industry and its receding production numbers, it was long overdue for our globe to adopt sustainability. This pandemic has been a dooming factor to most industries with all the associated losses. However, the sole optimistic perspective towards it would be that it fell through as an eye-opener. To understand why it's crucial to adopt sustainable ways now, more than ever before.
What is Sustainability & why do we need it?
Sustainability is a term that refers to a conscious way to live, preserve, and endure eco-friendly habits throughout our lifetime. It is an intentional realization of the importance of sustainable living for a better tomorrow for generations to come. The terminology these days often so is thrown around, printed onto every article, and embedded onto brands aesthetic visual image. How often is it credible and not just a fancy term to tag?
Source:
Eloquentia Magazine
The ongoing pandemic and its saddening factors have only made the quality of life worse. The small-scale business has seen quite a decline in its runs, stealing most of the artisans' livelihoods. Alarming calls of nature with an increase in apparel waste have been threatening. The piling of landfills due to excess fabric wastage and leftover stock each year has only made the situation worse over time.
Source:
New Indian Express

At this pace, adopting an eco-friendly lifestyle and promoting sustainability is our responsibility and not just a fancy terminology. Sustainability starts with you, at home! Then it is followed by the businesses resulting in a broad spread realization. It can be as simple as supporting your local business and subconsciously making someone's livelihood better. If there's anything we have learned through these challenging times, it's that it has taught humankind to work as a tight-knit by supporting each other in every possible way. Then why not help the less privileged artisans & the small-scale businesses?
How can you adopt a Sustainable Lifestyle?
Adopting sustainability is each entity's responsibility as it is something one can have control over. It is as easy as maintaining a tab over what and how you consume a product without leaving any carbon footprints. The small measures we are about to discuss with you are mere steps towards being a responsible citizen.
1. Minimal yet Quality Buying - Less is More!
It can be as simple as limiting your purchases towards classic pieces of good quality. We are all aware of the damage fast fashion brands have over the environment. Buy less but better! Make a habit of making purchases from the store next door. In recent times, the small-scale local business has taken the worst hit of all. Lending your hand by making local purchases from these businesses would not just help them recover, but you would also be taking sustainable steps. 
Source: Green Dreamer
The impact of buying from a small-scale business and not from a mass production fast-fashion brand has tremendous benefits. It would not just avoid excessive production, would also be custom-made or one of a kind in limited numbers. Small scale business often tends to source quality sustainable fabric as they don't usually have to worry about the excessive production costs. It means that your purchase locally would result in minimal yet quality buying.
2. Donate or Resell - Mindful Living!
We are sure that you often find yourself guilty of not ever wearing a few purchases that lie in the corner of your closet. Maybe it doesn't fit you right or, perhaps you don't like the shade of the apparel. What can you do about these regretful purchases? Donate or resell! Social media has become the epitome of modern marketing amidst the pandemic, buying and selling at the convenience of your doorstep. In recent times, studies show exponential growth for second-handed clothing, also known as thrifting. 
Source: Good Housekeeping
The younger generations have widely accepted the culture of thrifting, understanding, and being mindful. Flood of virtual thrift stores online offers to resell clothes giving us the benefit of adopting sustainable living with convenience. The Gen-Z's have found ways to fill in for their pockets by thrifting & reselling their apparel while staying trendy. However, millennials often prefer donating over reselling because of the affordability. These tiny steps towards a sustainable & ethical lifestyle can make a gigantic difference over time, taking down the possibility of landfills in large numbers.
3. Small-scale Businesses - Authentic Buys!
Unfortunately, the word sustainability is a term overused by brands in today's world but how legitimate are their claims? The fast-fashion brands have made developments by adding a sustainable collection to their line but is that enough?The best way to reshape our outlook on an organic lifestyle is to make purchases from credible small-scale businesses. The limited production rate and its knit team of skilled artisans make the process of consuming all the more organic in the fashion world.
Source: Pinterest
The benefits of buying from these businesses would also support the BTS team of skilled artisans, contributing to their work in these challenging times. Picking a local enterprise would also allow you to attentively chose quality over quantity. Most of the fashion labels amidst the pandemic have taken it up as their solemn duty to contribute to charities. Designer labels like Rahul Mishra & Amit Agarwal have emphasized the importance of eco-friendly living & artisan empowerment.
Source: Rahul Mishra
Design labels have often implemented the necessity of sustainability and followed organic growth over time. These labels haven't just educated the masses about sustainability but also practice ways of utilizing it. Few designers have gone to the appreciable extent of building their latest collections around sustainability and nature as their theme.
Another brilliant example of such a label would be Amit Agarwal's label. Over the past few years, Amit Agarwal has promoted sustainability by educating the masses in his design capability. Empowering locally skilled artisans through embroidering their names onto one of his collections & crediting them has been one of his practices. It is essential to know where your clothes come from and who makes them. Small-scale enterprises do just that!
Source: Amit Aggarwal
4. Charitable & Organic - Recycling Practices! 
Invest in sustainable brands that practice organic stages of recycling and reusing excess leftover fabrics. There are several ways to convert your brand purchases into eco-friendly buying. One such way is to invest in brands that take ecological measures. Like, making use of discarded fabric for the effective production of masks and other accessories. The utility of the remaining material can be used in techniques of cut & sew and patchwork.
Click on image to view product details
B Anu Design has been following such practices for a while now. We make sure we make the best out of the waste into constructing garment components such as yokes, borders, and masks. These positive initiatives are small measures we can take to adopt a sustainable lifestyle.
For each purchase of a mask, there's 15% that goes straight to charity! We'd like to believe ourselves to be a platform that would stand for purposes beyond profits. The power we have by pulling through few donation drives by making small gestures sure would go way a long way over time.
Click on image to view product details
Be attentive towards brands that proceed a percentage towards charitable organizations. I think we can all agree that maintaining a hundred percent sustainable rate is quite a challenge for the fashion industry. But the least we can do is use these initiatives as a stepping stone towards a better tomorrow. Let's ought to be responsible for taking these baby steps while we still can!
6. Natural Resources - Heirloom Utility!
We often tend to forget where we come from and the practices our ancestors have practiced. With technological development and urbanization, we are forgetful of our roots. But maybe we need to halt and take a good look. Remember the time your grandma spent most of her leisure time knitting or finding inventive natural innovations? We being fashion enthusiasts, need to realize that it was perhaps the most ecological practice. If you are a creative being, we encourage you to try out natural resource dying yourself or invest in one of these masterpieces.
Source: Amit Aggarwal 
The idea of passing on traditional heirloom roots way back to an organic livelihood. Do you have an ancestral Kada (handcuff) or perhaps a shawl that's delicately passed down to generations in your family? The best way to adopt sustainable living is to invest in quality organic brands and then pass it down to the next! We sure think that's the coolest way to keep our environmentally friendly checklist up the bar!
Empowering skilled Artisans & their work
If you think back, Indian culture best contributed to a sustainable lifestyle for decades up until affordable mass-production brands took over. Our heritage of embroideries and artforms practiced organic routines crafted by skilled artisans. However, the urban development has made it occasional for us to come across people who have no alterations to their art forms.
It's about high time we realize and preserve our sustainable cultural practices. The best kind of investment you could make is by buying quality clothing with traditional embellishments and embroideries. It would not just help you promote culture but would also result in retrieving someone's livelihood.
Source: D Source 
The last two years have gone in vain for the fashion industry & the ones to take the worst hit are those less fortunate. Our artisans! The pandemic has left behind a massive cut short of wages for the local establishments and skilled artisans. With the slow-paced stabilizing situation, part of the population remains unemployed.
Empower small businesses that encourage skilled artisans by buying their products. We are all aware of the labor-intensive work and abuse fast fashion brands have on artisans with their low wages. So pick wise while you shop! If you have the power to empower sustainable brands and their team of artisans, then why not? Allow us to suggest to you few such sustainable artforms!
1. Kantha Embroidery
One such artform to the origin's from Bengal has now slowly linked its ways throughout India. Kantha embroidery is one such sustainable technique practiced by skilled artisans. This embroidery is a way of utilizing discarded fabric to its best use by layering and patching. The artisans follow this cut & sew technique of Kantha to make anything from sarees to rugs. Further, beautifying it by stitching colorful single running stitch embroidery onto it.
Source: Elle 
2. Kotpad Weave
This sustainable form of fashion ordinated in Odisha is one of the rich traditions of handloom. It's a fabric made through cleaning and weaving yarns of cotton by skilled craftsmen. Eventually, it is processed and dyed naturally by utilizing cow dung, ash, castor oil, and roots of a locally grown Indian Madder tree. Artisans of Odisha who practice this tedious art still abide by it due to its eco-friendly factors.
Source: AJIO
3. Chikankari Embroidery
Chikankari is one of the most adorned embroideries of today! This embroidery originates from Lucknow and is a graceful art of stitching. The embroidery thread traditionally is of the same shade as that of the base fabric resulting in a replicated shadowy effect. Most of the artisans these days, practice Chikankari which aka Lucknowi Chikankari too.
Click on image to view product details
This beautiful piece is the perfect example of traditional Chikankari work & we cannot keep our eyes off of it! Empower the artisans by picking this cultural embroidery, not just to contribute to their livelihood but also to preserve this art form.
4. Kalamkari Work
If you are someone that digs block printed apparel, then what is better than opting for Kalamkari? This traditional form of printing first originated in the state of Andhra Pradesh. This intricate printing is procured through the use of chemical-free dyes. Artisans that practice this natural dying technique swear by the fact that it does not harm the environment. Its skin-friendly and allergy-free factor are all the more reasons for us to support it.
Source: Ayush Kejriwal
Understanding Sustainable Fabrics 
When you want to fix an issue, you usually dig into the roots & causes of a problematic resulting. Let us tell you that it's no different in the fashion industry too. As hard as it is to avoid a certain kind of fabric because of the lack of better alternatives, we can still take tiny conscious steps. Put your bucks into classic evergreen pieces that would be suitable for any occasion. 
1. Good Old Khadi
We hold a strong connection with a fabric such as Khadi for decades. This fabric signified self-reliance during the Indian fight for freedom, playing an indispensable practice in the early '20s. We have come a long way from then, but let us try and focus on its sustainable qualities. Khadi fabric, locally called Khaddar, is a natural fiber & a variant of cotton that is handspun. These organic fibers intertwined like warps & wefts to our homeland rich in culture. It is about time we understand its sustainable importance.
Click on image to view product details
Grab this Khadi lehenga before it sells out this season! Khadi is known for being a breathable & summer-friendly pick. The perfect combination of its luxurious drape & Butta embroidery sure is one of a kind.
2. Earthy Cotton
It's safe to say that cotton is the central source of various other ethical fabrics. Its sustainable and eco-friendly properties perhaps make it the obvious choice for everyone. This organic fabric doesn't go under any pesticides or chemicals processing, making it biodegradable. Ethical cotton can be an absolute favorite to many because of its breathability and absorbent properties.
Source: Nour Luxury
We are all well versed that cotton is the cash crop of India. This King of fabrics is the best ethical material for anyone trying to adapt to sustainability. A few of many organic cotton sub fabrics can be Chanderi, Jacquard, Canvas, etc.
Click on image to view product details
This Chanderi cotton Co-ord set gracefully balances elegance in the most modernistic approach. Who wouldn't want to keep up the fashion trend chart and be responsible? We sure know you would! The delicate hand embroidery on the transparent upper bodice makes it the best summer pick!
3. Heavenly Linen
Source: LBB
Linen is also another brilliant alternative example of sustainable fabrics. This fabric is first sourced out of flax seeds and then processed through techniques of ripping & retting. After all the processing, the yarns are then spun & woven into this sustainable material. Thus, making linen biodegradable and ethical. Its other beneficial properties include the fact that it's breathable and summer-friendly.
5. Dainty Silk
Silk production walks way back in time with old traditions all around the world. The cultivation of silkworms by feeding them on mulberry leaves and then producing silk, making this fabric sustainable. Silk is a biodegradable fabric making it ethically sustainable. Over the years, there have been various kinds of silk manufactured. Few such are raw silk, pure silk, Chanderi silk, etc. Recent developments have seen manufacturers put in the effort to produce silk in a cruelty-free manner. We sure have a long way to go but, an optimistic way to look at it is that we are now considerate than ever before!
Click on image to view product details
This ethnic set of white and red shapes itself around the concept of sustainability. The use of white pure silk fabric with red embroidered motifs compliments the red Khadi jacket. It is the perfect evergreen piece to dress up or down for any occasion.
6. Jute & Bamboo
One of the most classic ethical fabrics is the material made up of natural resources such as jute and bamboo. They come from cultivated plants that make these materials eco-friendly. It's one of the most affordable sustainable materials due to its cheap production cost. The sustainable properties that jute and bamboo have are beyond what we can imagine. Not only are they biodegradable, but they further have an enhanced soil fertility property. 
Source: MANGO
If you have the heart for anything Bohemian or rustic, then accessories made out of jute or bamboo are your must-have. They nearly never run out of style and can be paired with almost anything.
Alternative Solutions
1. Vegan Leather
Leather is partly sustainable but, it can never be cruelty-free. Right? Wrong! Researchers have made tremendous progress in finding an alternative replacement for this grunge-chic fabric. If you're someone that abides by the goth aesthetics but needs a cruelty-free substitute, then we have a solution.
Source: VEGEA
Have you ever heard of MuSkin (Mushroom) or Grape leather? These ethically inclined fabrics can be the next big alternative to natural & vegan leather. An Italian-based company 'Vegea' took it upon themselves to find a substitute for leather. They fruitfully did come up with grape leather, the future of sustainability. These fabrics sure do need waterproofing and a lot of processing to make them eco-friendly and sustainable. It sure does come with a hefty price tag due to the limited manufacturing but let us hope to turn that around over time.
2. Recycled Synthetics
Upcycling nylon and polyester has now become a great aid in reducing synthetic waste. The fishnets made of nylon lying on the ocean bed are now being compressed and recycled.  
Source: Levi's
Recycling plastic and synthetics can also be a great practice to divert plastic from ending up in landfills. Few brands like Levi's & Puma have taken the initiative of making the most out of waste. This initiative is to turn plastic bottle waste into processed denim and shoes, respectively.
Conclusion
We often misunderstand that adapting to sustainability is an expensive affair but, it doesn't always have to be. The minimal measures of ethical practices can go a long way! We firmly believe that it's our responsibility as human beings to take charge of our outrunning karma. We constantly need to put in efforts towards conscious and mindful steps to preserve & procure. It can be as small gestures of kindness to lend a hand to those in need amidst the pandemic. Always remember to do the rightful and contribute to the small business that practice charitable drives. Isn't it a win-win situation if you could contribute to an artisan's livelihood and embrace our heritage all at once? That's what we thought!
Are you someone that holds a knack for experimenting with sustainable fashion medium, or someone with insightful organic lifestyle hacks? Then please do let us know by commenting down below. As always, we would love to hear from you!