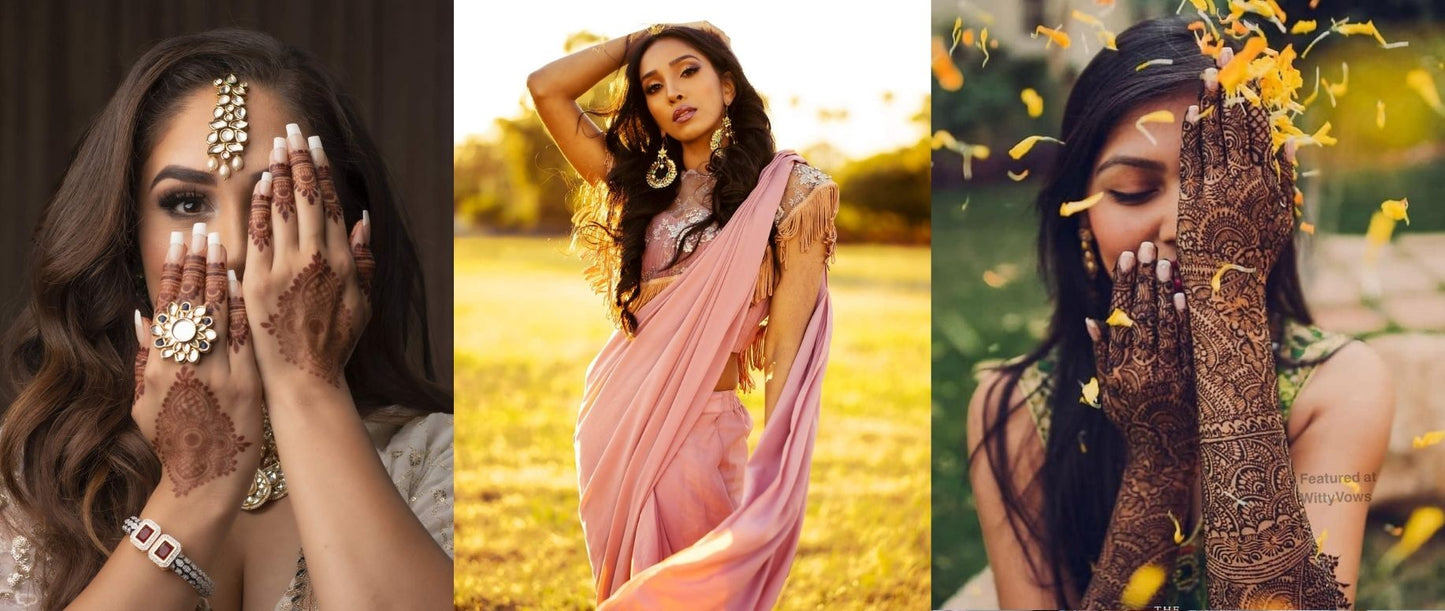 Bridal Mehendi Outfits and Jewelry Ideas this 2021
The joy of weddings in the Indian culture does not just revolve around the bride and groom. The vows of love that pull through with every family and friend's emotions threaded together. Along comes the joy, rituals, and deep cultural values in the abundance of celebration.
 We all know how Indian weddings can be taxing because of how long it lasts. Indian weddings mean endless rituals, countless fun moments, innumerable dishes that would never leave your taste buds unsatiated, and hours spent in decoration. One of those many functions or rituals in Indian weddings is Mehndi.
So, you would need a complete guide to Mehendi outfit ideas if you want to look stunning and dapper. However, these ideas aren't only for the woman-of-the-hour, the bride. All bridesmaids are also free to take away some ideas for outfits for the Mehendi ceremony.
Source: Vogue India
It's the official beginning to most of the bridal events. Th1is definitely calls for you to plan your attire for your Mehendi ceremony. With everybody's focus on you, you've got to be the eye candy in the room. So, why not look like a dream while you get ready to apply henna on your palms?
Source: Shaadi Dukaan
It doesn't matter if your taste buds tingle for modernistic fusion or vintage classics. Every pick ranging from sophisticated to edgy, we've got the fashion police verified for them all. We are here to give you some of the best Mehendi outfit ideas.
Trend guide to some of the best & experimental outfits for Mehendi Ceremony
Are you the type of bride who likes to stick to the classic traditional outfits for Mehendi, like lehengas or suits? Or maybe you're the kind of bride who bends the rules, modern & bold, that desires for an off-beat and latest Mehendi outfits? We have suggestions for both these categories.
Source: Witty Vows
So, continue reading because you surely want to kickstart your wedding functions with pomp, show, and glamour.
1. Look Offbeat - Flowy peach dhoti pants with an asymmetrical kurta & netted dupatta  
Click on image to view product details
One of the most out-of-box and latest Mehendi outfit design is pairing up a long silk kurta with something as traditionally modern as a dhoti pant.
You are sure to look like a gem in this attire. It isn't just breathable but is also extremely easy to carry. It makes the ensemble perfect for all sorts of summer wedding events. The intricate embellishments bring out a unique shine and shimmer, adding up to your bridal glow.
2. Shine & Glow - Chiffon saree & black blouse with mirror beading handwork
Click on image to view product details
It is one of the most versatile Mehendi outfits for both bridesmaids & the bride herself. The shimmer sequins all over the saree with additional beads and gold threadwork make this piece a stunner. The round neckline is sure to keep you comfortable throughout your Mehendi ceremony.
It wouldn't be wrong to say that this Mehendi party outfit will be perfect for brides rooted in traditions and yet are cheeky enough to experiment with their Mehendi look.
3. Indo-western Amalgamation - Modern element lehenga choli
Do you find yourself tired of wearing the same old-fashioned lehenga as your wedding outfits? Do not fret because we have the perfect fusion lehenga for you! You can pair up the lehenga with a crop top, off-shoulder top, and even criss-cross or peplum blouses.
 Click on image to view product details
This Indo-western element touch to your Indian lehenga set will flaunt your curves in a modest yet edgy manner while making your Mehendi attire look lustrous.
4. Desired Hourglass Body - Galaxy pink palazzo lehenga with corset blouse

 Click on image to view product details
We have all worn palazzos & we have all worn lehengas! However, have you ever worn a palazzo-styled lehenga? Unique, right? You can ditch all the vintage Mehendi outfit ideas and pick this beautifully chic-looking palazzo lehenga.
Another icing on the cake of this Mehendi ceremony outfit is that the blouse with one-of-a-kind patterning. How so? It is because the blouse drafted as a corset sits tightly on your upper torso but doesn't make you feel any discomfort at all.
5. Avoid the Mainstreams - Mint green sharara with kurti
If you want a green Mehendi dress, get your hands on this sharara set with a matching shaded Kurti. Nowadays, the wedding season is all about frills. So, we encourage you to grab this trendy yet neutral mint green-colored sharara set instead of the mainstream palazzo Kurti ensembles.
Click on image to view product details
This monochrome and simple Mehendi sharara fit adorned with luxurious gold embellishments. These embellishments increase the lustrous look even more. It also has a fancy-looking tassel at the back.
6. Fusional Twist - Long embroidered ombre anarkali gown
Brides find themselves going crazy over what to wear for Mehendi since the ceremony is one of the foremost events in any Indian wedding. Most times, brides get confused about whether to opt for an Indian look or something more western.
Click on image to view product details
Don't worry! We've got the right solution to this dilemma. Grab this Indian Anarkali gown this 2021 and stay fashion relevant. This embroidered gown with gold zari, bead, and meshwork from top to bottom. Altogether, making this gown one of the most glamourous Mehendi outfits.
7. Say Yes to the Old-school - Versatile mustard anarkali suit 
Click on image to view product details
Are you looking for yellow Mehendi outfit inspiration? Your search comes to an end right here because this wildflower mustard Anarkali suit would be the perfect fit. This suit is sure to compliment all types of skin shades. It's sure to radiate warmth and bubbliness that fills the Mehendi ceremony with sunshine-like glory.
The handwork done with sequins and scallop work on the silk dupatta will surely add grace and elegance to your Mehendi look.
8.
 Set your own bars - Out of the box pre-draped saree pants
Click on image to view product details
Are you bold enough to be experimenting when it comes to trying out a new fashion style? If you are, then this piece is made for you! This Mehendi ceremony outfit is sure to break all boundaries and set the trend charts. Look like a fashion goddess in this Mehendi ensemble and rock the night events.
The pastel-colored cape blouse with silk fringes rightfully makes you look like an Aphrodite when paired with georgette pants. The cape-like blouse has shimmery-looking floral threadwork in silver color adds to the WOW Factor.
9.
 Bold beauty - Wild red jumpsuit with a cape front bodice
Source: wedabout
Do you want to dress up like a Boss Lady for your Mehendi function? If yes, then this red jumpsuit with a front cape is the ideal latest Mehendi outfit that'll help you slay the fashion game in style.
These were some of the Mehendi function outfit ideas. Each of them worthy enough of trying out to boost your confidence.
On one side, some Mehendi outfit designs fall under the comfort zone of most people. On the other, there are a few ensembles for Mehendi that break boundaries in any traditional Indian wedding.
You are always free to choose any as long as it brings out the best of your personality and makes you feel comfortable.
Our top 2 classic bridal lehengas picks for Mehendi outfits
1.
 Green lehenga with yellow dupatta
Click on image to view product details
If you want to combine a green dress with a contrasting dupatta is the match made-in-heaven for the perfect colorful mehendi outfit. This dark green lehenga with minimal beads when paired with contrasting yellow dupatta is sure to win anyones heart.
Beautiful gold embellishments and pearl handwork on this lehenga with delicate sheer bell sleeves. This lehenga choli has fringes thats sure to flutter anyones heart.
2. Pairing a monochromatic lengha with a shirt
Source: Rishabh Agarwal
It is one of the best Indo-Western fusion attire ideas for your Mehendi outfit inspiration. Put on a semi-tight shirt and tie up the end. Once you have done that, put on a one-tone, single-shade lehenga-like yellow-colored lehenga to make the stark contrast visible to everyone. 
Top picks for unique Mehendi bridal jewelry
1. You can never go wrong with the Kundan stone studded necklace set
Click on image to view product details
This stunning set includes a statement necklace and two dainty earrings consisting of Kundan stones. Pairing up this jewelry design with an outfit that isn't highly embellished and has a sober elegance would do wonders for your mehndi outfit.
2. When in doubt, opt for a Passa/Maang Tikka
Click on image to view product details
In today's fashion world, a passa/maang tikka is gaining momentum rapidly. Be it a Haldi ceremony or a Mehendi ceremony, this jewelry design sure to make you look the prettiest there ever was. Maang tikkas are not only for brides but also the cheerful bridesmaids.
3. If you wish to keep it simple, go for a cuff bracelet
Click on image to view product details
Do you know what is the simplest hand jewelry for the mehendi ceremony? It is a gorgeous, elegant yet classy and simple cuff bracelet. From Rosette cuff bracelet to Lohita cuff bracelet, you have plenty of options to choose from.
4. Complimenting your Mehendi outfit with a nose ring
 Click on image to view product details
Your set of jewelry for Mehendi isn't complete without a stone-studded nose ring. Be it a Bengali wedding or a Muslim one! Brides often choose to wear nose rings. In this case, too, there are quite a few options for you to pick from our collection.
5. Mandate b

angles & ring jewelry designs for Mehendi function
 Click on image to view product details

A hand full of gold-plated bangles or bangles made of colored stones; either silver-gold plated round rings or tear-shaped rings. There are some of the staple mehendi jewelry designs crafted just for you. In fact, not only for the Mehendi ceremony, these staple pieces of jewelry are designed for all wedding functions.
Click on image to view product details
Conclusion: The bottom line on bridal mehendi outfit and jewelry ideas
Now that you know all our recommendations, why the delay? Go grab your favorite ensemble right off the bat for your Mehendi ceremony! There is an outfit for each one of you, no matter how variant your choices are. Speaking about Mehendi jewelry ideas, we have listed out all the best recommendations for you. You need the perfect set of matching jewelry ideas to make your Mehendi look more enchanting. The outfit and the jewelry alone won't do the magic, but your confidence along with it all would. Do let us know which one was your favorite!