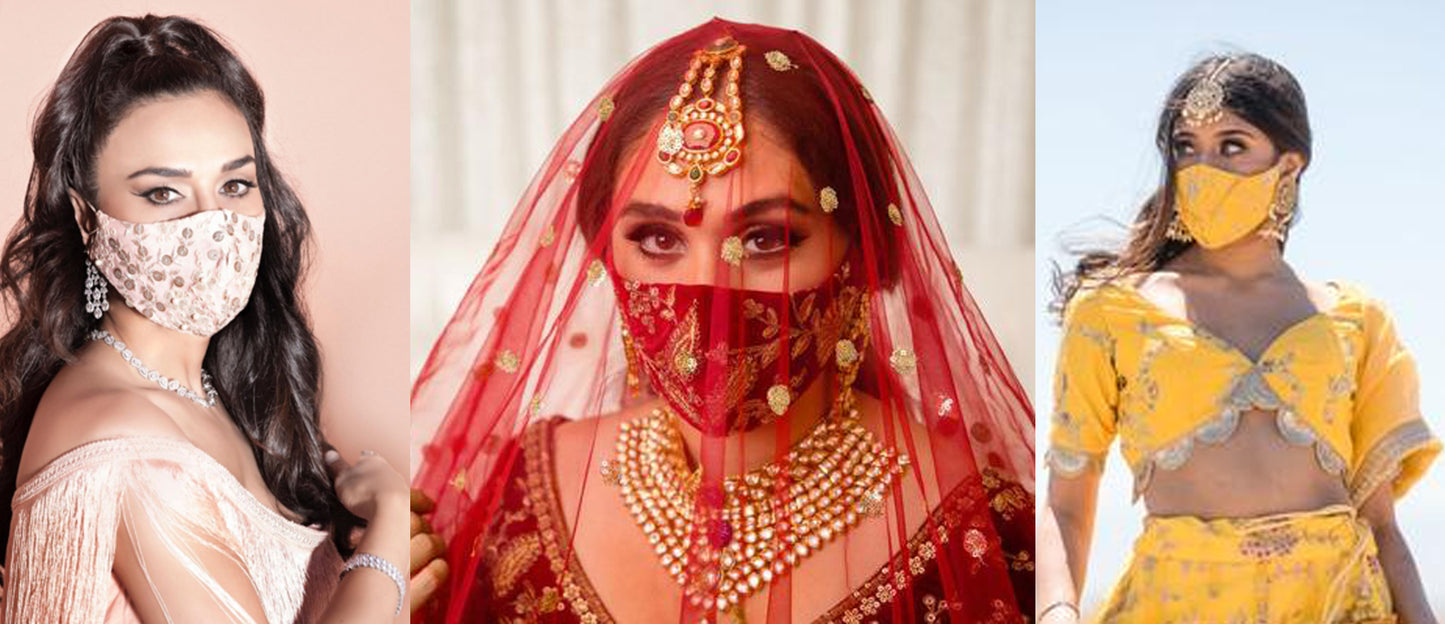 Spilling the sass with a bridal mask this wedding season: New bridal accessory for 2020
Stylish designer cloth masks have become a common bridal accessory for the 2020 Wedding season and are here to stay for a long time. Here's your guide to getting inspired on how you can style a number of blooming wedding mask designs on the special day and keep up with your fashion game in spite of the unhappy times.
"Stylish designer cloth masks have become a common bridal accessory for the 2020 Wedding season and are here to stay for a long time. Here's your guide to getting inspired on how you can style a number of blooming wedding mask designs on the special day and keep up with your fashion game in spite of the trying times..."
We didn't even realize how COVID and social distancing made protective cloth masks a common accessory for all of us. Especially for weddings during this period of time, we saw masks emerging as a fashion statement for the brides, grooms, and wedding guests of today. 
Wasn't it hard to imagine yourself all decked in some great wedding lehenga and complementing makeup and then covering it all up with a surgical blue or black mask that was nowhere similar to your outfit? Wouldn't you want to take it off feeling like you are eliminating some constraint on your style? 
To take away that stigma, many designers including B Anu Designs customized masks for brides and bridesmaids to feel pretty and protected on gatherings and functions. And these pretty women when sported our masks on their D-day or daily life, actually surprised us with their style game and inspired us in a way we wouldn't have thought. 
So here we are with our inspiration guide that will tell you how to rock a wedding mask that makes it possible to spill the sass in a gathering while staying secure: 
Red Bridal Face Masks for the Indian Bride
We just can't emphasize enough the eternal association of red to Indian brides. The older it gets, it gains more novelty with designers constantly experimenting with red bridal trousseau styles. One such much-required thing that added to their beauty was the matching red bridal designer masks with unique embroidery rocked by our stunning brides.
When brides added a new accessory to their trousseau, our ever beautiful red bridal lenghas got some great companions to complement them. 
As we made sure the fabric of our designer mask has to match our bridal favorite Shalini lengha, we found more casual customers interested in it along with brides who had already found the perfect accessory for their D-day. 
This stylish mask is made of red velvet with a soft cotton sheeting layer inside. As opposed to what you'd have thought of the velvet fabric, these fashion masks are extremely breathable and can be brought in for everyday use. 
If you want a lighter fabric, this silk fabric mask with royal gold sequin jaal embroidery all over the surface is one of the best cloth facemask designs we got. This one is so over-the-top and yet so classy that you can it for multiple occasions.
Either put them on while going grocery shopping or do bhangra at your own intimate wedding in it, people would only turn back and wonder where you got that stunning cloth facemask. 
This one red velvet face mask is the customer favorite. The unique silver applique embroidery is a charmer and like all our masks, it's breathable, reusable, and washable. 
Preity Zinta recently showed love to our mask collection and this red one was an instant favorite of her. Though we'd fancied brides wearing this on their D-day, she prefers to use it as a daily cloth mask.
But you'd definitely agree that if someone has shown us how to wear it right, then its YouTuber and fashion enthusiast Kaur Beauty. 
Read Also: Stunning Designer Cloth Face Masks to Shop Now: The New Normal of 2020
White Wedding Masks that are an instant charm
This white cloth mask with silver sequin applique work became a favorite of brides and bridesmaids to don on their Christian wedding ceremonies.
The Perfect Yellow Bridal Mask for your Mehndi Ceremony
We know how much you to-be-brides and your friends prefer to wear yellow on daytime rituals like Mehndi ceremony or engagement. That's when you have to ensure that you glow like a star no matter how bright the sun is.
No color is as bright yet subtle as yellow is. That's why we have yellow fashion face masks like these to match with your yellow lengha and yellow lenghas like Alizeh if you need something to match with your mask. 
Read Also: Modern Indian Minimalist Lehengas for the Brides of Today: 50 People Weddings (2020)
Elegant Emerald Wedding Mask in Lustrous Silk
We made sure the color of the mask is the same as the floral lengha we designed for that makes the perfect match. But if you plan to wear something similar or just fell for it like we did its a really good one to try out. A partywear earloop mask that can be used as frequently for causal usage for its elegant look and comfortable feel. 
Pastel Masks for the Perfect Look
Preity Zinta matched had her #projectsanity photoshoot in this one and we can't emphasize enough how good it looks on her. That dimpled smile should only be covered with something so pretty as this pink pastel mask embellished with pearl embroidery! 
A more minimalist alternative to this one is our zardozi lavender and gold sequin fashion face mask which again is a customer favorite. One of the happy customers, Brittany Kumarie definitely showed us how to do it right! 
Brocade Wedding Masks to match with that Silk Saree
Nothing can match brocade better than brocade itself. B Anu Designs has a lovely collection of brocade wedding face masks to die for. The fuchsia brocade mask has always been everyone's favorite. 
This black gold brocade fashion face mask has a sense of enigmatic charisma attached to it which makes everyone want it. 
Choose from our collection or get one customized from us. You'll definitely have something lovely to match with that beautiful kanjeevaram saree. 
Read Also: Your Guide to have the Perfect Small Intimate Lockdown Indian Wedding: COVID-19 Weddings (2020)
Conclusion: Wedding masks as the new bridal accessory
We don't need to say it again. We have already seen how weddings are becoming an intimate matter from big fat gatherings and how we're finding new ways of making this day special in spite of a pandemic in place. Masks are a sad necessity that has been turned into fun accessories by some designers and people are loving it. Maybe they are temporary accessories which would disappear as soon as we have vaccines for coronavirus but until then they are here to stay. So why not wear one that makes you feel pretty?
Tell us what you think about this in the comments below.