"I've always thought of accessories as the Exclamation Point of a woman's outfit..."
We can't disagree a bit with this statement made by Michael Kors. That's why we bring to you, the brides of 2021, some lovely jewelry, accessory and footwear trends you need to rock this wedding season and make a statement with your contemporary bridal look!
We can't insist enough how much the bridal fashion has changed since the pandemic and the introduction of intimate small weddings marked by COVID-19. In our last blog on Bridal Wear Trends of 2021 we talked about the number of bridal Indian wear which is getting hot this year. Now we bring to you some hot off the press bridal accessory, jewelry & footwear trends you definitely need to match with that chic lehenga to complete the look and be a trendsetter this year.
Indian Bridal Jewelry Trends 2021: Rock the Gems head to toe
1. Indian Bridal Diamond Jewelry: Adorned Choker sets
There's no denying the universal fact that diamonds are women's best friends and are an evergreen must-have every bridal season. But are you worried that your precious gem accented jewelry would run out of style? Be unbothered and invest your bucks on the dainty Diamond choker sets this 2021 as they are not just in sass this season but also give you the benefit of accessorizing with almost anything to glam up your bridal look!
 Source - 
Sabyasachi

Source - Sabyasachi

Evident enough from the previous runway shows, we could expect to see beautiful shades of pastels to remain trendy this year. So go ahead and pamper yourself with diamond choker sets adorned with pale emerald drop detail and other such pastel gemstone accented neckpieces if you are someone who loves to add a little bit of color to your sparkling beauties.
2. Layered Pearls and Rubies for the Modern Bride
Multi-layered neckpieces aren't just the new game-changer in the street style fashion but have also made their way into the ethnic Indian bridal accessories. These delicate yet minimal pieces of layered gemstones are sure to give you a luxurious look making you feel like a million-dollar baby on your special day! 
The Multi-string beaded side brooch pearl necklace by B Anu Designs is a bestseller and bridal favorite!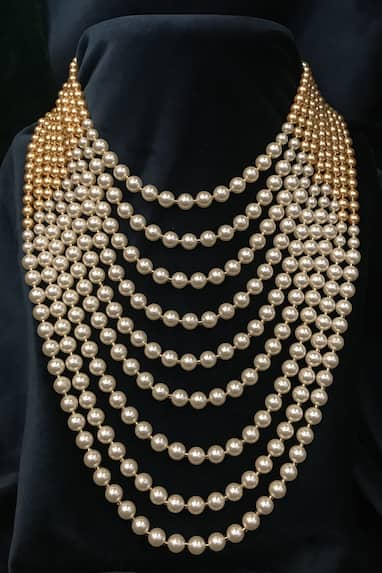 Source - Tarun Tahiliani


3. Maatha Patti:
Dear brides of today, you are no less than a queen yourself managing all the ups & downs of the pathway of life with sheer grace! It's time for you to embrace your pace and put on your sparkly crown brought to you in the glamourous version of Maatha Patti.
Source - The Wedding Brigade

Source -
Mehlum S. Sadriwala


Opt for these royal stunning pieces of jewelry and dangle on your wedding day.
4. Indian Bridal Hand Jewelry: Cuff Bracelets are bang up to date
If there's something that every Indian bridal entourage knows for a fact is that no bride's outfit is ever complete without her hand jewelry. Dainty hand accessories with intricate detailing aren't just a statement piece for every fashionable bride but are also traditionally considered auspicious.
Click on image to view product details
Click on image to view product details

Opulent handcuffs adorned with diamonds and gemstones are certainly going to be the most minimalistic yet glamourous approach towards Indian bridal accessorizing this 2021.
5. Potli Bags for your Contemporary Wedding:
It is about time for you to stop sneaking around in your mother's wardrobe to find the right kind of ethnic bag but rather get one of your own for your big day! Potli bags have been a go-to fashion call to everyone from our grandmas to our mumma's in terms of bridal accessorizing. Allow us to introduce you to all the classic bridal Potli bags of 2021 and aid you in your lookout!

Source - Anita Dongre
This year, Sabyasachi has told us that Potli bags are the new sexy with their multi-hued embroidered potli bag purses.
Source - Sabyasachi
B Anu Designs designed these stunning potli handbags with lovely pearl strings you can't overlook.
Click on image to view product details


An embroidered drawstring for closure is a must in every potli bag and thus we took special care of that.
Click on image to view product details

Looks like this wedding season brings us our classic heavy embellished and beaded Potli bags with a twist of modern cut and sew sustainable styles with various charm danglings. A little extra glam never hurt anybody & we are loving all the bridal trend reports suggesting so, we hope you do too!
6. Box Clutches & Evening Bags are a Bridal must-have in 2021
Every bridal fashion enthusiast is aware that owning a clutch bag isn't a cliché but a necessity! These glamourous accessories come in various shapes and sizes & with different style elements. But what they all have in common is the fact that they could never run out of style.
Click on image to view product details

Click on image to view product details


 Source - Tarun Tahiliani


Clutches with Zardozi and Gotta Patti embroideries have been a timeless pick. Look out for the exclusive wedding designer clutches further elaborated with trendy trims such as beaded tassels, fringes, and feathers. They give you the versatility of being paired with anything you decide to pull off your hangers and shelves. Evergreen traditional arm candies of structure and texture are all in for the bridal accessory trend this 2021.
7. Fannypacks & Waistbags: For the Laidback Bride
When you wish to make your convenience & utility meet fashion, you would grab a fanny pack and are good to go, then why not the same attitude for your big day? Needless to say, fanny packs have been a favorite pick for ages, be it for their functionality or to keep up with the happening bridal chart. Welcome to the era of fusional fanny pack brought to us in the most functional yet glamorous manner. All worthy credits to designers like Masaba Gupta & Papa Don't Preach by Shubika.


Source - Papa Don't Preach by Shubhika


Source - Papa Don't Preach by Shubhika


Source - Masaba Gupta


This bridal trend is probably the only thing that both millennials and Gen-Z brides could nod their head to. Opt for these hassle-free embellished beauties that are an absolute ageless must-have for all the modern brides of 2021.
8. Embellished Bridal Platform Heels: The comfy sass of this season
As classy as pencil heels may seem, they can be quite hurtful. What is a little bit of pain over glam, right? Wrong! Welcome to the era of modern times where beauty and comfort go hand in hand. The women of today need not have to compromise on comfort for the sake of fashion by opting for embellished platform heels with a touch of ethnicity.
Source - Papa Don't Preach by Shubhika


Source - Papa Don't Preach by Shubhika


Source - Payal Singhal x PAIO
Source - Rohan Arora


Source - Christian Louboutin x Sabyasachi


Look's like embellished block heels and uncarved wedges are all set to rule the fashion world this 2021 giving you comfort as well as keeping your sassy style game on!
9. Classic Traditional Juttis: Conventional yet Contemporary Bridal Footwear
When in doubt, pick the classics! One could never go wrong with a pretty pair of traditional jutti's. Get your hands onto a pair of jutti that balances tradition with a modernistic approach with comfort and style to dance your way into the much-awaited future your life holds.  
Click on image to view product details


Click on image to view product details


Click on image to view product details


This ethnic footwear could either be embellished or embroidered or both, but they promise to never run out of style!
10. Embroidered Boots and Sneakers: The Modern Bridal Dream
As surprising as this may sound, be ready to have your mind blown with this prediction of the trend for 2021, introducing ethnic influenced boots and sneakers. Yes, you read that straight! We should be thankful to designers like Rohan Arora as well as Sabyasachi for their Sabyasachi x Christian Louboutin capsule collection to have made every modern bride's dream come true!
Source - 
Christian Louboutin x Sabyasachi



Source - Christian Louboutin x Sabyasachi


Source - Christian Louboutin x Sabyasachi

This unique approach to comfort while embracing the ethnicity is quite a new outlook for the bridal trousseau. Intricate thread work adorned with embellishments makes these pairs one of a kind.
We want to hear from you now. What would you like to rock on your Big Day? Tell us in the comments!
Check out our evening bags, cuff bracelets and Punjabi Juttis!