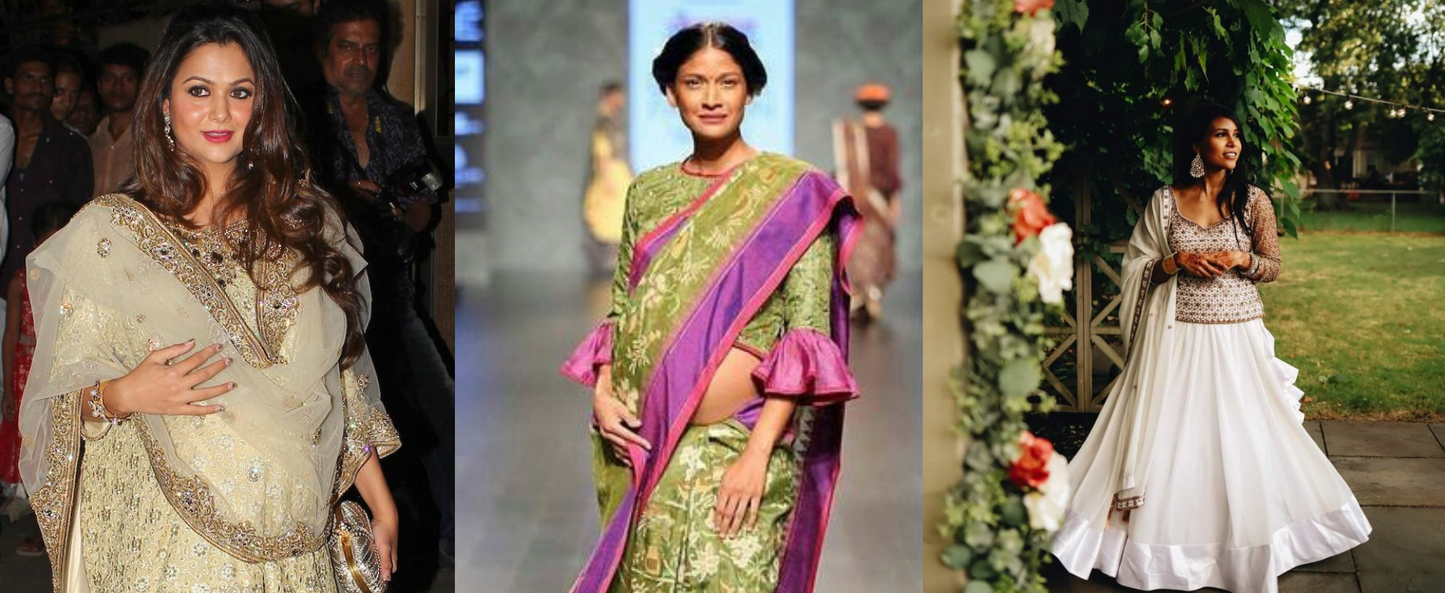 Your Guide to the Most Stylish and Comfortable Pregnancy Ethnic Wear of the Season
Every woman deserves comfort and warmth when she's going through the overwhelming experience of pregnancy. But why avoid the fun of looking your best in that bridal shower or wedding party just because you have a baby bump? Get the best m
aternity party outfit ideas to drive away those pregnancy blues in this guide to the perfect styling guide for Indian pregnancy wear! 
Every woman deserves comfort and warmth when she's going through the overwhelming experience of pregnancy. But why avoid the fun of looking your best in that bridal shower or wedding party just because you have a baby bump? Get the best m

aternity party outfit ideas to drive away

 

those pregnancy blues in this guide to the perfect styling guide for Indian pregnancy wear! 
Every woman has always had her share of dreams, come forth her small bubble playing reels of scenarios as to the kind of life she hopes to live. Motherhood is one such blossoming fairy-tale that holds an overwhelming yet exciting experience. As beautiful as these fleeting moments of life can be, it can also be quite tricky in talks of maternity fashion.
While expecting, we tend to see drastic physical transformations in our bodies each month that may require a wardrobe revamp. Each body irrelevant of the type, shape, or size is beautiful and unique in its way. While we deal with societal beauty standard barriers, pregnancy can be quite a game-changer when you have a baby bump.
Source -
Payal Singhal


Do you find yourself shying away from attending the next big Desi wedding, stressed about how to style like a fashion nova never keeping comfort at bay? Don't you worry! Because we bring you the guide to rock your ethereal Indian maternity wear bringing out the best of your pregnancy glow!
Dresses suitable for Pregnant Ladies: Keep it Light & Breezy to wave off your Pregnancy Blues
It is quite salient for expecting mothers to feel comfortable in what they wear, also tackling the issues of probable wardrobe malfunction. As legitimate as the statement, "Go Big or Go Home" stands in the Indian Bridal fashion world, you can always look extravagant yet prioritize your confidence and comfort.

Source - Eesha Boutique
Keep in mind to pick out natural, soft, and breathable fabrics that are gentle on your skin and avoid synthetics as they could result in an inconvenience. Your foremost necessity at different trimesters could vary according to your convenience and occasions, it's safe to say that loosely fitted silhouettes would be easy to move in and would work wonders on your changing body.

As you know by now, being moody while pregnant is a real deal. Hence, light color tones and prints are usually recommended for moms-to-be to kick out the pregnancy blues and keep their moods positive and uplifted.
The right time to get Maternity Clothing: Prioritize Comfort throughout your Maternity Trimesters
As puzzling as this may seem, the earlier you buy your maternity wear, the better. Bloating in the initial weeks is quite normal, so it'd be a good idea to have a vision as to what your wardrobe might transform into.

Eventually, sometime down the lane, you might seem the face a growing baby bump accompanied by swollen legs, arms, and bosom. Hence, stick to comfortable yet size adjustable clothing.
Source - Misan Harriman
There's no denying the fact that an incoming big bridal shower during your pregnancy could be a whole lot stressful but what if we tell you it doesn't need to be! Relax, breath in & bid farewell to your denim, and embrace the comfort of maxi gowns or maternity kaftans instead.

These easy-breezy babies are going to be your best friend through thick and thin, all through your pregnancy trimesters.
The best maternity clothes: Natural Fibres and Loose fits are for a Win!
Let's talk fabric! We cannot emphasize enough how important it is to pick the right fabric for maternity wear. Comfort should be your A1 priority! Ditch the synthetics and sinching elasticated silhouettes that could be irritant.

In an era of adopting sustainable fashion, this precious pregnancy phase of your life is sure to contribute towards an organic lifestyle. Organic fabrics like cotton and khadi aren't just comfy natural fibers but are also an elegant addition to your wardrobe. Indian bridal maternity wear doesn't always have to be heavy to make it look extravagant, keep your style game super light yet graceful by opting for fabrics like tulle & chiffon to turn it up a notch!

Source - Itokri
We remind you not to panic even if the big event is just a few days away, you could always revamp your tailored garments or grab the evergreen kaftans from your closet. Just remember to always keep it light, breezy, and comfortable during your trimesters. Now, put on your cape of gleaming mom-to-be confidence and a contagious smile and you are good to go!
Suitable Dresses for Pregnant Ladies: Right from Classic Anarkalis up till elegant Layers and Drapes are your Bestfriends
1. Maternal Anarkali Suits for the Tigress that you are!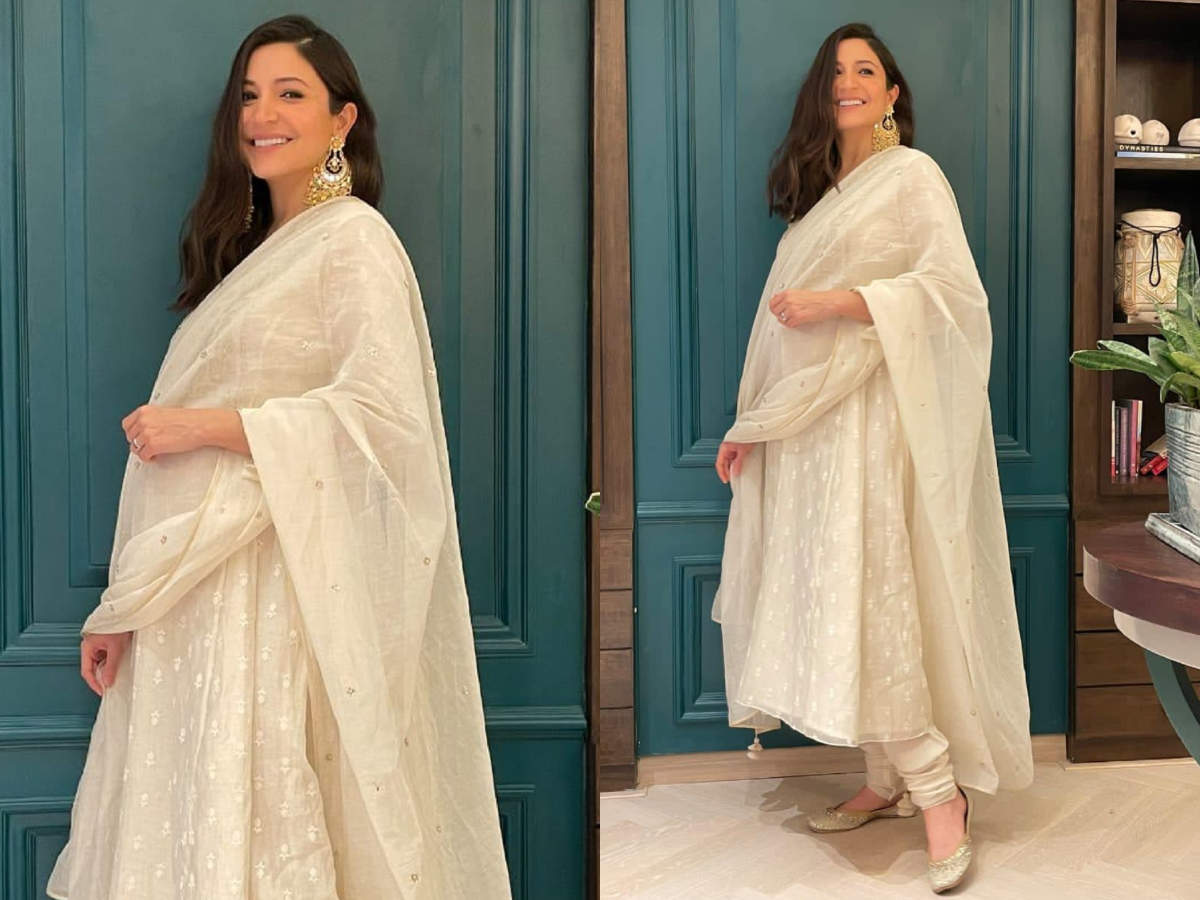 Source - Anita Dongre


Source - Ethnic Rack 
Click on image to view product details


Anarkalis are an absolute must-have for every Indian bridal trousseau, which goes the same for bridal maternity wear. Investing in a marvelous pastel-shaded Anarkali suit would be a great game plan. These versatile pieces are sure to make anyone look like a million bucks, being seemingly easy to pull off during your pregnancy.
2. Maternity Kaftan for the Sundowners!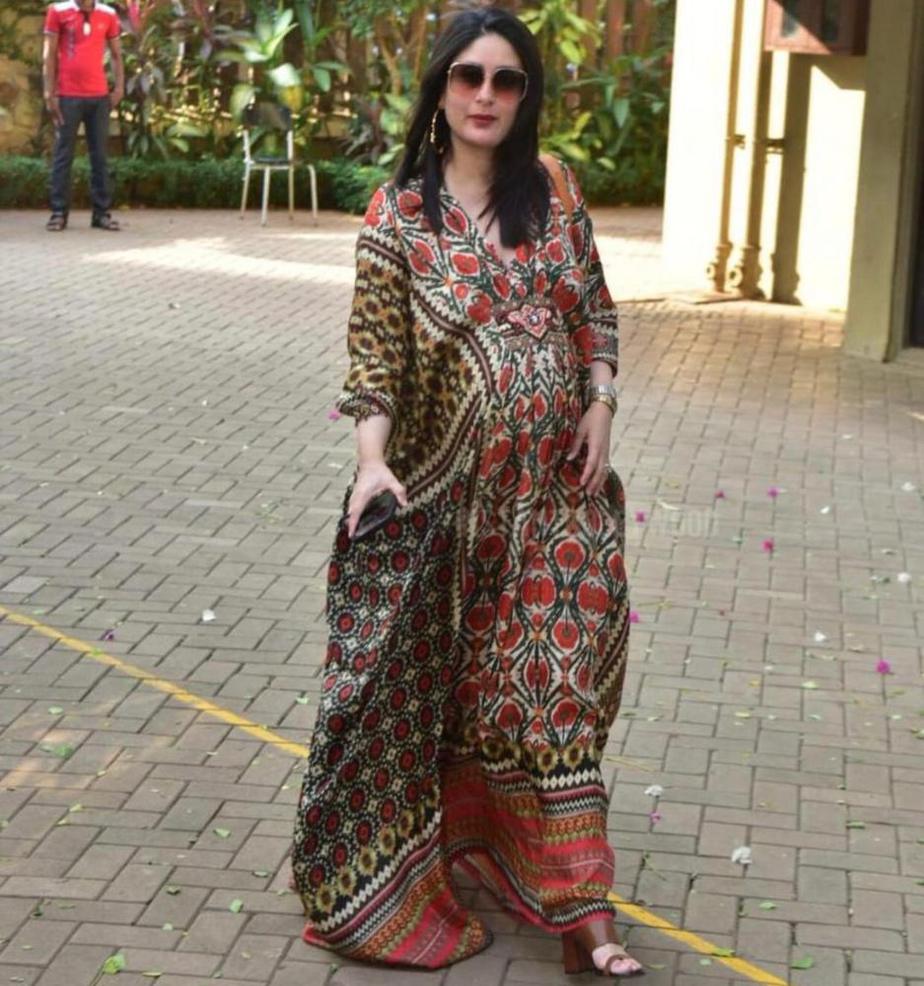 Click on image to view product details
Do you have a fusional-themed bridal shower incoming? Don't you worry! Indo-western kaftans are here for a win because they never really run out of style. They have been a staple piece in every women's wardrobe, be it in the form of a dress or a top. Light & breezy perfect for pregnant women who want to keep comfortable yet fashionable. Why not bring these printed or minimalistic kaftans off the rack and rock them at a party?
3. Back to the staples with Maternity Kurti Suit with Lehenga!

Source - Anita Dongre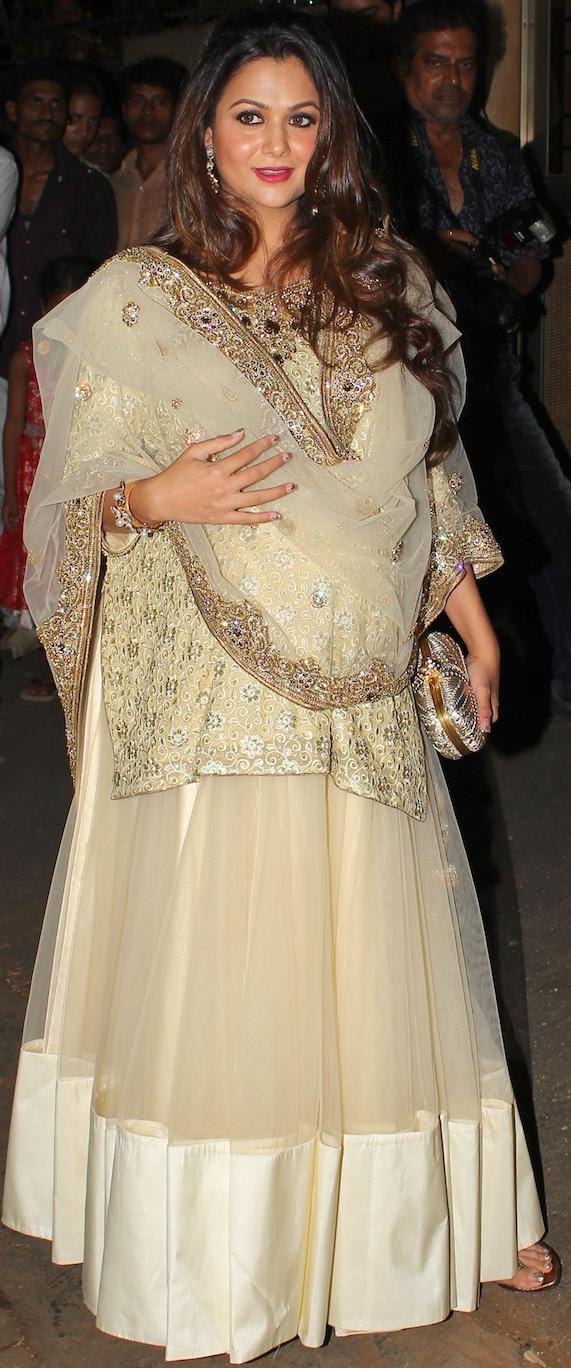 Source - Vikram Phadnis
Click on image to view product details
There's no doubt that you might have already been aware of this pair-up made in heaven; one can never go wrong with a Kurti lehenga. We've seen most celebs do this for their Indian bridal pregnancy wear so why not adopt the same? Swap up your choli blouse with comfortable and chic kurtas and opt for drawstring instead of elasticated waistband lehenga's so that it doesn't sinch into your belly. To keep this ensemble lighter, go for fabrics like tulle and cotton with intricate embroidered detailing.
4. Laidback Maternity Kurti with Shalwar & Sharara!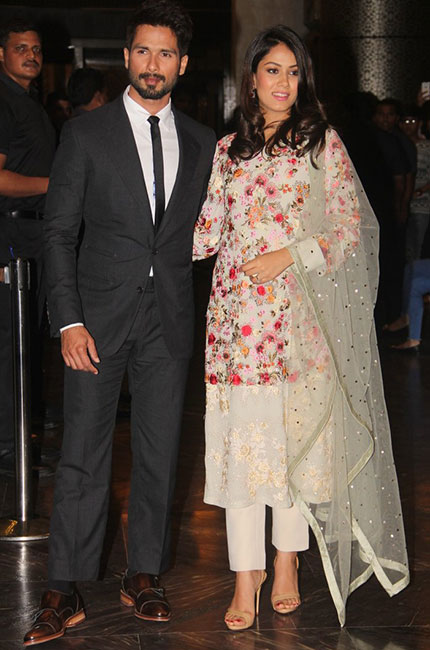 Source - Varun Bahl
Click on image to view product details

Click on image to view product details
Quite similar to the previous pick, we now have an alternative because the more options, the merrier. Switch up your Kurti styled with comfortable palazzo or shalwar pants for the sporty yet elegant mothers-to-be. This playful ensemble is a must-have maternity bridal wear perfect for sangeets and Haldi rasam occasions. Always remember! Pick adjustable waist drawstring rather than elasticated for better comfort and you are good to go through your entire trimesters.
5. Graceful drapes for the carrying Goddesses!


Source - Gaurang Shah 

Source - Anamika Khanna



Click on image to view product details
You are a living proof of power and femininity bearing life within you. This experience of you stepping into motherhood from womanhood can be challenging yet making you feel like a goddess, making it all worth it. Then why not drape yourself like one? Drapes could be in the form of a traditional maternity saree, half saree, or just a simple draped dress. The possibilities are endless. Pick out fabrics like embroidered Pashmina shawls, lightweight chiffon, and cotton sarees and pull off any bridal occasion during pregnancy.
Indian Bridalwear Style Elements to keep in mind for Ladies during Pregnancy!
FLATTERING NECKLINES: We would love to suggest you stick to V-cut, square-cut, plunge, or collared necklines rather than high neck outfits. It would add vertical integrity to your neck and drawing focus on your upper body, accentuating your collar bone.
COMFY SLEEVE STYLES: Try and stick to mid-length or full-length sleeve styles like ruffled, bell, and kimono sleeves. During your maternal months, you may seem to notice swelling in your arms. Hence, it would be a great idea to stay away from elasticated sleeves to avoid skin irritation.
GAME CHANGING WAISTLINE: Empire line waist silhouettes are perhaps the best suggestion during your pregnancy as they are super hassle-free and hold no pressure restraints on your baby bump. The other beneficial thing about this is that it throws focus on your original waist size, making you look leaner.
LAYERING ELEMENTS: Celebrity-approved cape feature layering has been the oldest way to draw attention to the upper body with a graceful maxi gown. It makes your body and the baby bump looking flattering and snug.
PRINTS FOR THE TIGRESS THAT YOU ARE:

 

Prints and patterns are the best way to draw out an illusion of your body silhouette. Pick out animal prints if & when you feel adventurous and polka dots to look cheerful during these precious times. A friendly reminder to stay away from horizontal stripes. Alternate with vertical striped outfits to deceive the illusion from flab to fab!
STEP UP YOUR TEASE GAME: If you are someone who loves going all out with your fashion game, not hesitant and full of confidence? Bring out your thigh-high split gowns and flaunt your legs, highlighting your lower body and away from the belly.
Conclusion - Aiding to Stress-free yet Glamourous Pregnancy Shenanigans
We would conclude by saying, as precious these fleeting moments are, it can also be quite tricky, don't let that be a reason to put your spirits down and light out your spark. You are doing the best you can while we all see it! Keep it light, breezy, and making sure your comfort is your sole priority. You needn't necessarily have to sacrifice your style and can still look like a diva by keeping these few Indian bridal maternity wear tips and tricks in mind rather than ransacking your closet.
So what's your maternity outfit preference? Don't stay aloof! Tell us in the comments below. 
Check out the B Anu Designs collection of the most comfortable kaftans, anarkalis, shararas and lehengas out there!