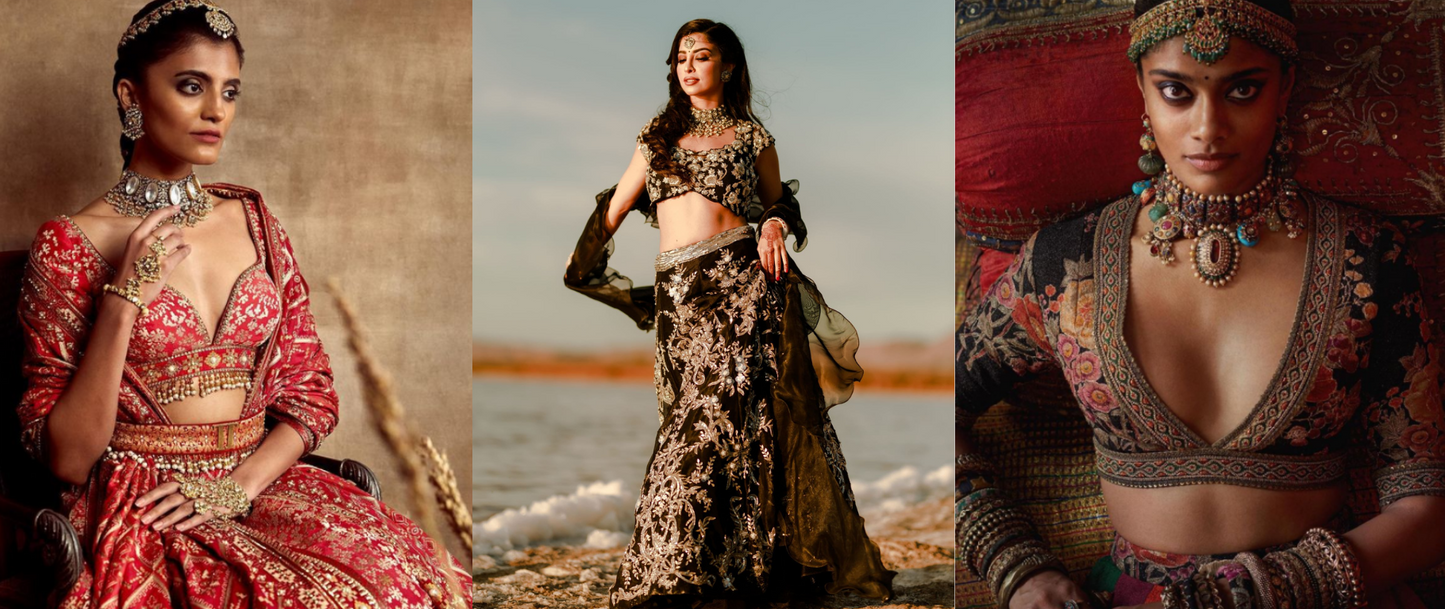 Bling it up & Ring it up with the Hottest Bridal Trends of 2021
The year 2021 has brought some real stunning bridal fashion trends along with a lot of hope for the post-pandemic wedding couples. The latest lehenga designs of this year are full of unique styles with blouse designs rarely seen before. Get an outlook into what wedding fashion looks like in 2021 and be the trendy bride rocking the hottest trousseau out there.
"The post-pandemic wedding trends are hot with some lovely 2021 lehenga designs for brides along with a number of innovations in blouse styles, anarkali dresses, gowns, suits and what not! Get an outlook on the 2021 bridal fashion trends and be the most modernized sassy bride on your wedding day. Here's your guide to all the bridal wear styles of the year 2021..."
While the last year didn't turn out to be as voguish as we expected we managed to carry the sass through some really stylish masks. B Anu Designs along with a lot of Indian apparel designers managed to make wedding couples and guests happy with these high-toned masks which not only protected them but also added charm to the intimate wedding settings. 
Little did we know, the year 2020 would have an unfortunate turn of events but as we leave that behind and walk into the hopeful year of 2021, we are sure you are just as geared up as we are! 
This year has a lot in stock for brides, and it has already been proven by the outstanding collections of celebrated designers they released through online events. 

If you are a bride to be and that loves to strike a balance between modernity & ethnicity, then 2021 is your year to shine. Bringing you all the game-changing trends to bling you up as you set a ring on it on your big day! This year is all about celebrating the end of the pandemic and letting in the good vibes of a new beginning knocking on our doors. So let's do it with flair through some latest wedding fashion trends of 2021.  
1. Groovy Structures & Frills in the Latest Bridal Lehengas of 2021:
Ruffle and frills are huge this season, be it an extravagant ruffled lehenga or an elegant structural blouse, we are all in for it! Designers like Amit Agarwal and Manish Malhotra have worked their magnificent craftsmanship into bringing back these prominent details balancing modernity with a traditional approach.
Inspired by the latest trends, B Anu Designs itself launched their groovy blouse designs paired with lehengas accommodating the magic of frills flawlessly. 
2. Plunging Necklines and Over-the-top Sleeves in Latest Blouse Designs of 2021
Won't you love a dramatic style element and an experimental touch to your wedding ensemble? We got you covered with this season's trendiest features being the bold plunging neckline right up till extravagant sleeves like bell & leg of mutton are seen making a huge comeback.
The modern brides of today aren't hesitant to flaunt their feminine side by making bold or empowering statements, if you think you are one of them then you are here for the win!
3. Layer it up with Jacket Style Lehengas
If you are guilty of the love you hold towards layering up all your looks even when it isn't chilly outside? Don't be! 
This season all about layered OOTD's meeting ethnicity from sheer capes to glamourous jackets perfect for any season all through the year.
4. It's all about the Trim Game this 2021 Wedding Season
Trims are the heart of accessorizing your glam either making or breaking a look & always turning your style game up a notch. Luxurious pearl beaded trims, Ostrich feather & scallop-cut trim detailing have gotten into the game over some time now and they are here to stay! 
Get your hands on these stunning trendsetters and slay the look like the modern queen that you are!
We at B Anu Designs are obsessed with feather, bead and scallop trims and you'll find one or the other of these features in most of our outfits. 
We chose a lot of our outfits to have a scallop trim dupatta to add that wow factor to these. 
5. Tints on Silhouettes in the Latest Bridal Collection of 2021
It could be quite tricky to pin down the various fads and classic must-haves for your dream bridal look but what you must know this season is to live up to the attitude of "Go Big or Go Home." 
After the screeching halt to our social lives as a result of the pandemic, it's more likely for the upcoming trends to be elevated and unique.
6. Vibe with the Vibrant this Sangeet – Shararas & Anarkalis
Opt for playful Shararas and elegant Suits & Anarkalis of cheerful shades for Mehndi or Sangeet and let the vibrant tones do the talking, bringing out the best in you. These picks aren't just trendy this 2021 but also shout out comfort as a priority. 
7. Pastel Affair for the Wedding Bells – Lehengas
Modern ladies of today are not hesitant to stay in tune with their desires by picking for a variant color range instead of a classic red! Vintage sober pastel tints have been quite fashionable in recent times and have been every bride's favorite select for their big day.
Sophisticated pastels were super in last season & it looks like they are prominently going to stick around for a while. Intricately handcrafted lehengas with various embellishments and traditional embroideries like stunning mirror work, subtle pastel floral embroidery, feather and scallop-cut trims, geometric or floral prints are more likely to be evident this bridal season.
8. Crack up the Clichés for the after-party
It seems like this season is all about breaking the stereotypes and clichés by living our best possible life post-pandemic.
Elegant Ombre and bold dark shaded ensembles would be the right kind of selection for your cocktail or reception parties that's sure to make you look like a Diva with all the focus of spotlight gleaming on you all night long!
This silver-grey Ombre lehenga from B Anu Designs is a must-have for your reception this year!
This black lehenga with heavy silver embroidery featured by Elwa Saleh is a bridal hearthrob! 
9. Belted Beauties are hot this season
Embroidered belts and illusion belted lehengas, sarees and Anarkalis have become a fad this wedding season with their unique way of making the simplest of outfits out there stand out. A simple black saree can look outstanding just with a belt on.

Similarly, a simple Anarkali can be distinguished with an embroidered belt-like structure on the waistline. 

10. The Magic of Monochromes is worth watching in the Bridal Fashion Trends of 2021
11. You can never go wrong with a Chevron Bridal Lehenga in 2021
Covering the middle ground between traditional and modern bridal fashion, Chevron patterned lehengas have been given the attention they deserve from iconic designers like Sabyasachi this year. Paired with some plunging neckline blouse designs, they recreated the ethnic style of chevron for the modern bride to slay on the wedding day. 
Though you can choose from a range of Chevron patterned lehengas available in a variety of colors, our favorite is the Sabyasachi style multicolored chevron lehenga.
That's why we recreated our version of it for you to crush on!