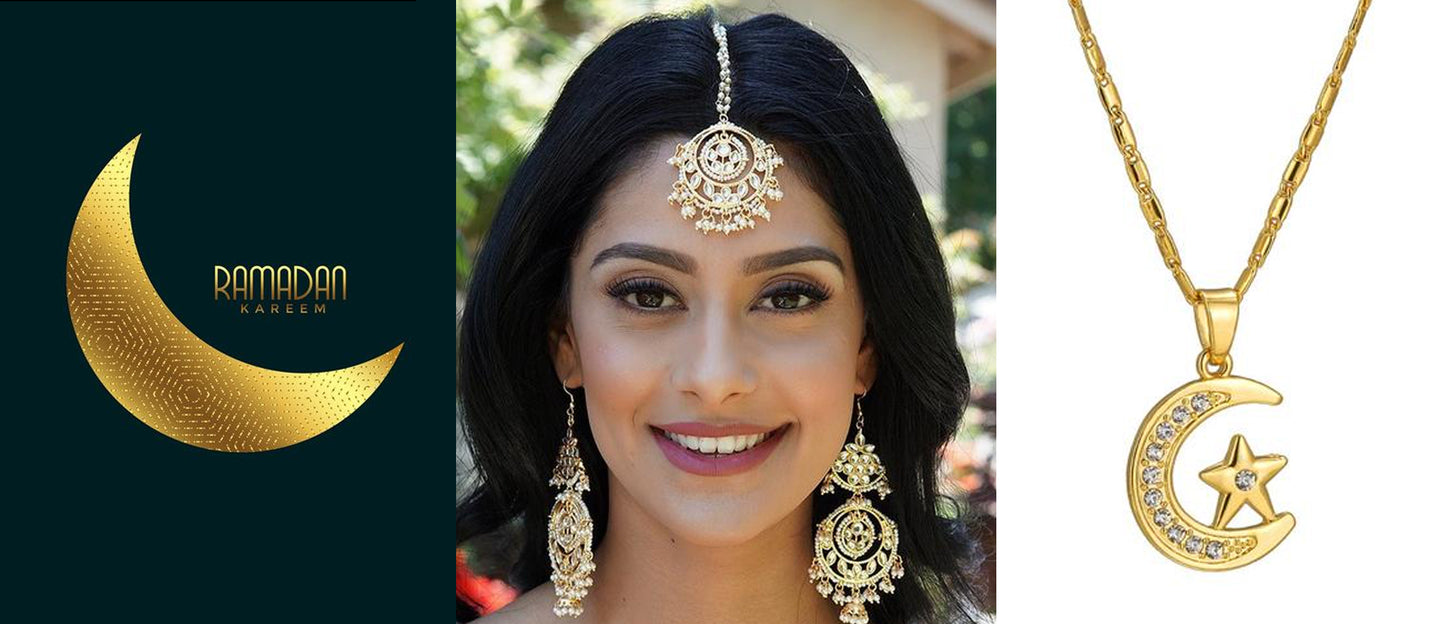 Ramadan Jewelry and Gift Ideas (2020)
Ramadan arises the need of looking your best with outfits and jewelry that make you feel closer to Allah. You might also be looking for some Ramadan special gift ideas to give the Holy Month a beautiful start with your loved ones. Here's are some beautiful ethnic Islamic jewelry pieces you can choose from. 
Ramadan is the Holy Month that not only brings you close to Allah but also to your dear ones. 
The hours of fasting together, praying, and then the lovely iftar brings out the best in you. 
This also arises the need of looking your best with outfits and jewelry that both elevate your look without disrespecting the sensibilities of Islam but also make you feel beautiful during the Holy month.  
You might also be looking for some Ramadan special gift ideas to give the Holy Month a beautiful start with your loved ones. What can be better than a piece of jewelry as a Ramadan Iftar gift? 
Here we bring to you some suitable Indian Ramadan jewelry to add some sparkle to your Ramadan look or to gift someone you'd want to make happy! 
Ramadan and Islamic Jewelry Myths and Rules
Some people tend to believe in the myth that you can't wear jewelry in Ramadan. That's not true. It only requires men to not wear gold ornaments. 
Women at this time can wear any kind of jewelry but are required to cover it from strangers as they have to conceal anything which might be considered ornamental. 


Ramadan Jewelry 
Choosing a piece of jewelry for Ramadan is a very personal decision. It depends on your taste, style, budget, and preference but some pieces are just made for the occasion and you can't overlook their relevance to the event. 
You can't deny the holiness of crescent moons. What can be better than symbolizing them in your special piece of jewelry this Ramadan? 
Not only would it add charm to your outfit but also make you feel the auspiciousness of the Holy Month closely. 
There is a range of crescent moon jewelry available in the form of earrings, tikkhas and passas. Some of them are designed exclusively to represent the sacredness of the religion while some are just ornamental pieces. Because in the end, crescent moons are as glamourous as holy they are! 
If you're a fan of jhumkas, the Moon Drop earrings are just for you! The perfect blend of a crescent moon and jhumka, this pair has been enhanced with white beads and Kundan stones.
The white in the earrings has been chosen as it signifies purity and peace in the religion and is a color often worn on Friday prayers and sacred pilgrimage.
If you're not a fan of jhumkas but would definitely want to wear the holy color white, then this opulent set of chandelier earrings engraved with semi-precious white beads is definitely going to attract you.  
The pretty addition of chandelier with contrast cluster bead drops adding up to its charm.
The lovely flower head hues that accentuate the beauty of these Kundan earrings are hard to miss. This one also has the holy green stones along with white pearls to elevate your radiance.
If you want to make a statement with the auspicious crescent-shaped earrings, here's the Half-moon Kundan Set, a perfect combination of the crescent moon and pearl drops all in the sacred white! 
This
one is the same design in a round silhouette.  
Talking of the sacredness of color white, how can we forget about the holy green? These green enamel earrings embody all the divinity of crescent moon and green color in one piece.
Moreover! They are statement earrings that are lightweight and chic suited to any occasion along with Ramadan. 
If you're looking for passas to reflect your faith, there are a number of stunning crescent passas waiting to be matched with your ethnic outfits for Ramadan. 



With the holy green crescent moon at the top and end part of this stunning passa, you'll definitely look heavenly on the Iftar night. The moon is engraved with green jadau Kundan, thus reflecting the sacred color. 


This one has a white crescent marked with beautiful gold borders and the pearl drops just compliment the charm of it in an outstanding fashion. 

If you're looking for something with a touch of contemporary style in the ethnic pasa, this is what you need! The crescent has been intricately embroidered with white and green Kundan & Polki and pearl drops, all symbolizing divinity. 

The small crescent on top is green while the bigger one on the edge has been embroidered with white Polki and the sacred red in the middle. All add up to the perfect pasa for a divine Iftar. 
Besides bracelets with Arabic motifs and crescent and stars engraved on them, if you're looking for ethnic bangles/bracelets to pair your ethnic outfit with, you're reading the right blog. We have a range of semi-precious bangles in pious colors of green, red and white to help you find your perfect match. 


This Polki bangle set with white stones is green on the outside and red on the inside which makes it just the precious sacred bracelet you need for Ramadan. 
Who's not a fan of meenakari? This lovely bracelet engraved with pearls through meenakari has got red and green motifs on it. Ramadan jewelry goals! 
This one has a contemporary asymmetric style to it giving a modern vibe to the pious green. Perfect for the namaz time? 
This duo contains ethnic bracelets marked with red and green stones perfect for the occasion.
This Holy Month isn't going to be as enjoyable as it has always been as the fun part of shopping for it would be absent from our lives due to the global pandemic and lockdown. 
But we're sure to bring that smile on your face with our evergreen shipping services which would make sure you adorn in some beautiful holy jewelry from our collection in spite of the conditions outside.  So go ahead and check them out here!
We're also always there for you if you have some designs in mind that you'd like to get customized this Ramadan. You can tell us about the same here. 
We'd want to hear it from you now! Tell us in the comments below, what kind of jewelry do you prefer to wear on Ramadan? 
Ramadan Mubarak!
*Photo Courtesy: VectorStock, Amazon, Disktrend.