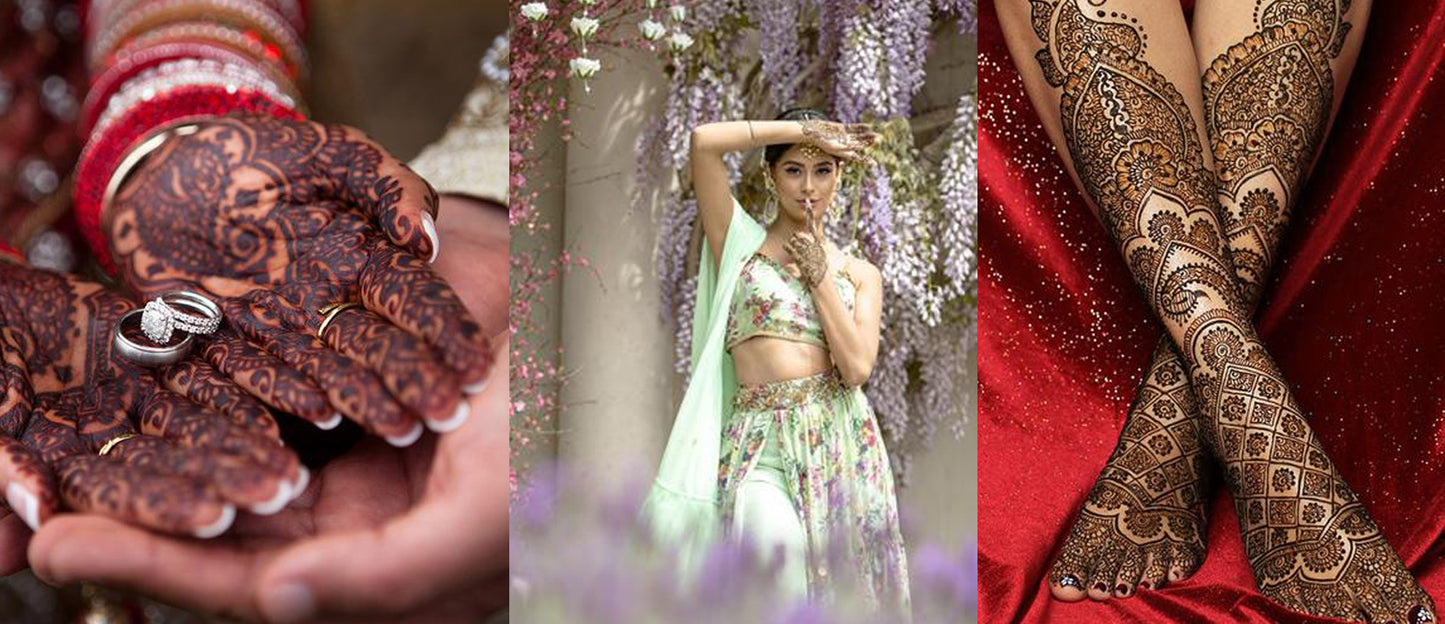 The Bride's Ultimate Guide to the Perfect Mehndi Ceremony (Expert Tips)
Mehndi ceremony is one of the sixteen religious rituals a bride has to go through before getting married. Here's a guide one should read before their Mehndi ceremony to know everything one needs to consider before getting their Mehndi done and ensuring that your Mehndi is as good as it should be.
For a bride to get ready for her wedding, she has to go through 16 beautification, cleansing, and religious rituals called "Solah Shringar". Henna/Mehndi is one of those sixteen rituals. The Mehndi ceremony before marriage is where this ritual takes place and an event full of fun and laughter for the bride and her loved ones. 
To get the best out of this ceremony, a bride needs to know everything about mehndi:
The traditions & myths about the Mehndi ceremony

Importance of Mehndi considering the medicinal benefits

Choosing the right Mehndi designer

Tips to consider while planning for the event

Tips for getting dark bridal Mehndi design

The right outfit for your Mehndi ceremony

Jewelry trends for Mehndi ceremony
Here we present to you our ultimate Mehndi Ceremony guide which will provide you with all the essential information regarding your mehndi in association with one of the best mehndi designers in the world, Neeta Desai Sharma, to make your experience effortless and memorable. You can count on the tips as they are coming directly from an expert in the mehndi designing industry! 
Traditions & Myths about the Mehndi Ceremony
Mehendi is considered as the oldest form of body art in the world. It started when early humans realized the staining capacity of the henna plant when its leaves are ground into a powder and a mild acid is added to it. 
People often tend to believe that dark Mehendi color on the bride's hands tends to a loving mother-in-law. Other customs say it leads to a loving husband.
The legends behind such myths have been interestingly revealed by Neeta. 
While the correlation is correct, this belief is a myth. 
The legend behind this dates back to ancient times. Women then were not supposed to open up their hearts to anyone or voice out their opinions. Henna became an indicator of the bride's treatment at her new home. 
When a woman got married, her henna color was an indicator of how the mother-in-law was treating her. She could either be welcomed as a newlywed and allowed time to adjust to her new homework or put to work right away by her mother-in-law. 
When the girl used to return to her parents after a few days for post-wedding rituals, the bride's mother could find out her treatment by her mother-in-law looking at her hands. The darker the color the more she was being respected. Thus the Mehendi color and its longevity is an indication of the bride's treatment in her new home and not a required condition for getting love from the in-laws. 
Another interesting legend revolves around the practice of putting the groom's name in the bride's henna design. 
Back in the days when marriages were arranged, the bride and the groom did not have an opportunity to see each other before the wedding. Usually, the wedding night was the first time when the newlywed couple actually met each other. The groom's name used to be written in the bride's henna as an ice-breaker to initiate the conversation when they'd play a game where the groom would search for his name in the design. 
"Nowadays, things are different as the bride and groom tend to know each other very well, but I like to continue this tradition and scatter the groom's name in the bride's henna. I tell the bride if he is unable to find his name in the henna, she is supposed to get a present from him, an idea which excites every bride," says Neeta.
In some cultures, the bride's henna comes from the groom's house, or they have a ceremony where they will apply some henna to the bride-to-be and dress her up with clothes and jewelry. There is a saying in Hindi, "Humare rang mein rang jaana" meaning we want you to get colored in our colors. Applying their henna on the bride is a way of signifying that they are welcoming the bride-to-be into their family and accepting her as their own.
The association of the bride with Mehendi conveys how important the ceremony is to her. Not her clothing, not the jewelry, it's Mehendi that remains with her long after the marriage and reminds her of everything. This is something that she needs to be completely satisfied with. 
Medicinal Benefits of Mehndi 
These legends and the tradition aren't the only reasons for conducting a Mehndi ceremony before marriage. Modern brides have got the power to question the age-old ceremonies and even chuck some of them if they are irrelevant.  Luckily, the Mehndi ceremony is not one of them as there are lots of scientific explanations for holding it before the marriage day. 
Mehendi has medicinal properties which have a cooling effect that calms stress. This property made its use common for air conditioning in deserted areas in ancient traditions.
The bride and groom are relieved of the stress, fever, and headaches before their marriage through the use of henna. It also helps in preventing viral diseases they might catch before their wedding due to stress and other reasons. 
It's done traditionally on palms as there are a lot of nerve endings on the palms that help in relaxing the system.
Mehendi is also good for the growth of nails. 
Crushed henna leaves also work to soothe burns and certain cases of eczema.
It has been used as a coagulator for open wounds.

 
It works as an antiperspirant as it helps tighten pores.
Its also know to work internally against diarrhea, and externally against leprosy, smallpox, jaundice and certain cancers.
It may also be applied to the skin to treat a variety of rashes including athletes foot and ringworm.
Henna provides a complete sunblock. It removes tanning and protects the skin from tan and sunburn. 
I'm sure that the health benefits of henna are quite enough to make you want to hold a rocking Henna Party.
Let's see how you can make the best out of it!
Choosing the right Mehndi Designer and the Malpractices involved in the profession
You can't really take a risk in choosing a mehndi designer for your bridal mehndi. It must be someone who follows their work ethics, is professional, knows their work, doesn't involve in malpractices and provides good company as you'd be spending a good amount of time with them which is going to come to your mind when you look at your mehndi, days after the marriage. 
It's not just about the design and perfection, it's also about following the ethics of mehndi designing and keeping up with the sacredness of the Mehndi ceremony. When you do the Mehndi yourself on certain occasions like Diwali or Raksha Bandhan, it doesn't matter what quality henna you're using. Readymade cones available in the market are okay to be used on such occasions. 
But when it comes to bridal mehndi designing, there's a great amount of sacredness involved which needs to be preserved not for the sake of the ritual but for your own health and well-being. 
Neeta describes a lot of malpractices involved in the profession of a Mehndi Designer, the art she has been practicing for over 32 years. 
"One of the biggest malpractices involved in bridal Mehndi designing is artists using store-bought cones. They are full of chemicals and often cause reactions that sometimes have proved to be even fatal. Another one is where artists try to pass on other artists' work as their own and then don't deliver the desired result. I make my own henna using premium products. With designs, I always direct my brides to my Instagram where all designs are my own". 
That's not all of it. There's a horrendous trend of "Black Henna" swaying naive brides with the misconception that it's an ancient art. The reality is that it's such a hazardous substance that it has been banned in a number of countries. 
Neeta informs, "Everything about the henna I and many other henna artists do is natural. It's from a natural plant and henna actually has a lot of healing properties to it. Black henna is dangerous. It can cause kidney and liver damage, poisoning and, in extreme cases, people have died from it."
So, it's important to do your research before choosing the right henna artist. 
They can be specialized in a particular art form like Modern or Arabic or they can be all-rounder like Neeta who can provide perfectly for any required designs on demand.
Neeta suggests that if you are not familiar with the Mehendi artist, you should always do a trial run with them. This allows you to check the quality of the design and color of the Mehendi. "I often tell my clients to do this but influence from others leaves them misinformed. A trial assures and reiterates what I am advising," she tells. 
Tips to Get the Best out of your Mehndi Ceremony
Tips for a bride to consider while planning a Mehndi ceremony by Neeta Sharma:
Plan your henna night two-three days before your wedding. It takes about 48 hours for Mehndi to reach its peak color.
If you have a lot of guests coming to your Mehndi event, get your Mehndi done early. That way the artist will be finishing up your Mehndi when your guests start arriving. This will give you time to socialize with your guests and also not get you too distracted while the mehndi is being done.
The distraction is really hard on the henna artist as it makes the bride wiggle a lot. Make sure you start your Mehndi at least 3 hours before your guests arrive.
Do a consultation with your henna artist before the Mehndi night. This will let you choose your designs in a leisurely manner for your special day. As a bride, you are bound to be preoccupied with a lot of things on the mehndi night. This may hinder you from choosing the perfect design for your wedding. It also gives the artist an opportunity to prepare better for your Mehndi night.
Get all your pre-bridal beauty work (waxing, manicure, pedicure etc) before getting the Mehndi done. The less it is exposed to water, the darker it will get.
Mehndi brings down the body temperature and often brides feel really cold once the mehndi is on. It is advisable to sit in a warm spot or have a space heater available if the need arises.
Comfortable seating is of utmost importance.
Tips for Getting Perfect Dark Bridal Mehndi Design
Neeta gives a number of tips on getting a dark Mehndi color and ensuring its done the right way:
Contrary to the belief that Mehendi has to be done a day before your event, it is best to get it done 2-3 days before. Mehendi reaches its peak color about 48 hours after it has been removed.
Ask the artist if they are mixing their own Mehendi or bringing pre-made cones. Pre-made cones are usually full of chemicals and the color can be dicey. If the artist is mixing their own Mehendi please make sure you follow only their instructions as they know what works best to achieve optimal stain. 
Bridal Mehendi paste has to be on for a minimum of 6 hours. If I do the bride's Mehendi in the evening, I ask her to keep it on all night. If it is done during the day, the bride can take it off at night. 
A lemon-sugar solution needs to be applied 2-3 times. If this is overdone, it can lead to killing the Mehendi stain sometimes. If the mehndi is done in the evening I ask the bride before she goes to sleep to wrap the design in toilet paper like a mummy. 
Old school belief is that Mehendi should be wrapped in plastic bags. This is a myth. With plastic wrapped around the hands and feet, there is no air circulation and this releases a lot of moisture which can ruin the design. Toilet paper lets the air circulate and it also makes the bride feel secure that the design is not going to fall all over the sheets.
If the bride gets cold easily it is advisable for her to sit in a warm area to get her Mehendi done. Mehendi brings down the body temperature and allows for a comfortable atmosphere. The warmth helps the Mehendi dry faster too and there are fewer chances of accidents happening. The more heat you give your Mehendi the darker it gets. 
When the Mehendi is removed it should not be washed but scraped off. Once scraped off, put some oil (preferably mustard for the heat factor) and massage it gently over the design. This will remove all the stickiness of the lemon sugar. You can wipe this off with a paper towel. 
Keep the Mehendi away from water for a minimum of 2-3 hours after it has scraped off. 
Palms get the darkest in comparison to arms and feet. 
If the Mehendi quality is not good, then even with all the instructions stated above, your Mehendi will not get optimum color. 
For a wonderful design and stain, it is always good to hire a reputable artist who mixes their own Mehendi and leads you through a thorough process of aftercare. 
Mehndi Ceremony Outfits for the Bride and Bridesmaid
Now when you know how you can get your mehndi right, it's time to get the outfit right. Quoting Neeta "Comfortable sitting is utmost important" which can be ensured only if you're wearing comfortable clothes. Besides, you must look stunning for the ceremony. The function is generally planned through the day and a colorful decoration is set up for the ceremony. Your outfit has to be something breezy and convenient. 
As we said above, something comfortable and breezy should be worn on your Henna Party.
The colorful Ranglia lehenga is the perfect representation of this sentence. Using bright colors like pink, yellow and gold, the lehenga will make sure that your vibrant clothes reflect your happiness on the special day. The bohemian style is sure going to satiate your wish of trying something different at a customary ritual. 
The soft cotton skirt has a slit which will make it easier for you to get henna done on your feet and legs. The gold raw silk pants match the blouse and add further decency to your super trendy lehenga. 
The rest of the issues are sorted by the designer backless blouse adding a sassy touch to your outfit. 

Flowers both on the outfit and the jewelry have become the trend of contemporary Mehndi functions. In clothing, the trend generally flaunts floral patterns drawn on light-colored apparel. 
This floral lightweight piece again designed in the bohemian style is simply gorgeous. Made purely out of georgette, this 4 piece outfit is inspired by the Rangila lehenga but turned out even better. To ensure the utmost comfort especially in summers, the blouse has spaghetti straps. The ranunculus florals on the bright lime green reflect peace and bliss. 
It's a simple, elegant and no fuss mehndi ceremony attire.
'Mendhika' is a Sanskrit word for mehndi. This brilliant lime green silk and net lehenga is the ideal mehndi outfit for the modern bride. 
The color itself resembles the color of mehndi. 
If you're a fan of foil mirror work and indo-western designs, this is the lehenga for you. The off-shoulder blouse gives a perfect touch of modernity with a very flared lehenga skirt which would make sure you dance as good as you look at the ceremony. 
Mehndi Ceremony Jewelry
What's a bride without some embellishments on her? Jewelry is as important as your outfit and the mehndi itself. We have a range of jewelry ideas to choose from which can be customized as per your requirements. 
Statement necklaces can never run out of fashion. Think of how they have been adorning us since the royal ages! The same goes for Polki and Kundan which have existed in the Indian heritage from the Mughal era. 
Reviving the grandeur of that time, we present to you this Jaudau Polki necklace set specially designed for Mehndi functions thus named after it. It's handcrafted with Kundan and pearls and will surely add to the charm of your outfit in a way nothing can. 
A fan of emeralds and meenakari? This one is a fusion of both with the perfect use of Kundan stones and pearls. The gold plated necklace has been handcrafted on high-quality brass as base metal and tiered with big Kundan stones. 
Chokers are love whether they are designed in western style or have a touch of ethnicity to them. The 2020 bridal fashion trend is of choker necklace sets and the mehndi ceremony asks for more colorful jewelry. The Sitara set is a fusion of both. The use of ruby stone accents and emerald has touched it with a colorful grace that would go with any outfit. 
When talking of 2020 mehndi trends, we can't miss out on florals and gota jewelry. The way they go with Mehndi lehengas is just fabulous. 
Earrings and tikkas in the shape of flowers and even necklaces, nose rings, anklets, and parandis can be customized to match your outfit to give you a blooming grace on the Mehndi day. 
Who will you get your mehndi designed from? And what outfit do you plan to wear on the special day? Let us know in the comments below! 
Image Courtesy: Mehndi Designer, Pinterest.