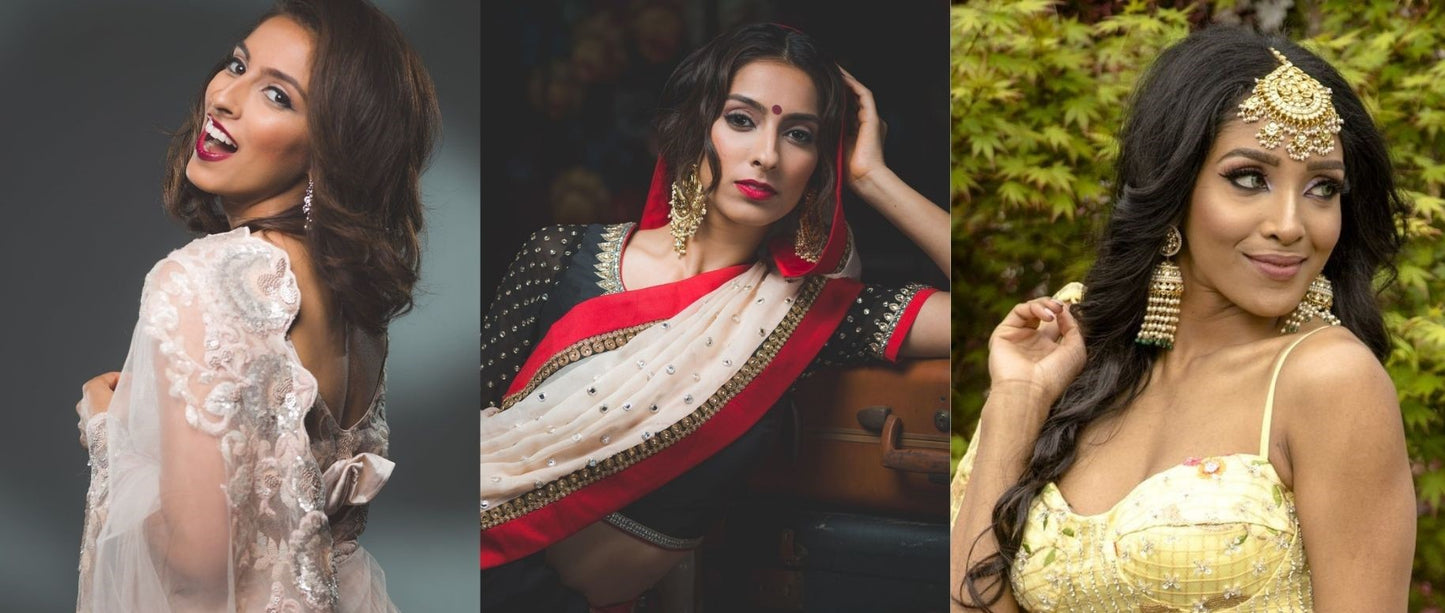 Dress Up for Him this Karva Chauth: 16+ Outfit Ideas to Fall for in 2020
"Karva Chauth might be the only day when you are not just dressing up for yourself but to impress your better half too. Let us help you with a list of stunningly unique Karwa Chauth Outfit Ideas and Dresses that you can order online and make it a day to remember for you both!"
When in the earlier times, Karva Chauth was a patriarchal festival questioned by several feminists including Twinkle Khanna in her sarcastic tweet, nowadays it's more of a romantic gesture for married couples who exchange gifts and spend a memorable time together.
It's no more a norm that only the wife fasts the day out praying for her husband's well being. These days, men aren't leaving out on the opportunity to make their wives feel special and equal in a marriage which only leaves this festival a day of devotion and romance to be exchanged between two people in the holy bond of marriage.
So what matters the most besides fasting out of love for each other till the moon comes up?
Yea, it's exactly your Karva Chauth special ensemble that makes this day feel as special as it is!
As the day is nearing, married women are already sketching the designs of their Karwa Chauth dresses. The task can prove out to be a bit overwhelming given that the market is now flooded with all different kinds of ethnic Indian wear outfits. But to ease this process for you, here are some Karva Chauth outfit ideas which will surely help you in choosing the right sacred yet romantic ensemble for both you and your husband's delight.
1. Take him back to the good old days this Karwa Chauth with a 90s Bollywood fashion saree:
Remind him of the good old times with these 90s Bollywood fashion tulle sarees which match the elegance of Rekha and Hema. Have a cosplay themed Karva Chauth in which you could dress up as a 90s actress in one of these sarees. And to make this day more special for your better half, gift him baggy jeans and an oversized shirt that makes him feel like the young Khans. Dress up like your favorite actors from the 90s Bollywood and have a blast together. 
 
This Ameya - Ecru Tulle Saree from B Anu Designs can prove out to be a perfect Karva Chauth outfit if you wish to recreate the 90s Bollywood magic with your Saree. The black Zardori embroidered dupion silk blouse that comes with the saree flaunts an intricate work over it. The neckline of this blouse is perfectly defined with the help of glamorous and sophisticated embroidery work. To add the optimum level of elegance to the Saree a beautiful red embroidered border has been added to the Saree giving it a perfect touch of color. 
This stunning Kala Tulle Saree from B Anu Designs is all kinds of beautiful. The saree boasts of beautiful sequins embroidery work over its soft fabric. The soft baby pink color of the saree renders it a classic charm. The most fascinating feature of this saree is its sequins embroidered borders which add a quintessential amount of elegance and glam to the saree. This saree comes with a matching soft net blouse with sequin embroidery work all over it to make the entire outfit a perfect retro Karva-Chauth dress. 
2. Recreating your Wedding Day look to get the perfect Karva Chauth Outfit:
There's nothing wrong with repeating your wedding night look on this special day, especially if you are a newlywed couple celebrating your first Karva Chauth. Keep the jewelry and makeup minimal to give novelty to this look of yours.

We guarantee he'd be happy to see you like that leading to the recreation of some old memories refreshing your Karva Chauth like nothing else could.
3. A Minimal Bridal Renovation works best for Karva Chauth Special Dresses:
If you are not willing to recreate your wedding look for some reason, let's get to a better version of it. Why not become a bride again but just better? Have a take on a minimalist bridal look and dress up like a princess. Who knows if you might end up looking prettier than the wedding day making this a day to remember for both of you?
Here are a few minimal bridal looks you can take up as your Karva Chauth outfit:
This Red Banarasi Bridal Lehenga will help you make your Karva Chauth extra classy and extra romantic. The red color of the lehenga makes it just perfect for the occasion of Karva-Chauth. This gold and red Banarasi lehenga flaunts an exquisite Zardozi and sequin work with elegance.
Breaking the monotonous pattern of the lehenga, the brocade gold butties blouse adds the necessary amount of diversity to the entire lehenga design. The Zardozi and Gota hem of the lehenga enhances the royal charm of the lehenga. The embroidered net dupatta that comes with the Lehenga contributes to accentuating the regality of the lehenga. 

Style it with our Punjabi Kundan choker set which contains a pair of matching earrings and a tikka too, all you need to dress for the D-day! 

This Shezan bridal lehenga from B Anu designs is a perfect mix of minimalism and sophistication. This red and white silk lehenga is minimalist, fancy, and just ideal for those of you who wish your Karva Chauth to be a charming and cutesy affair.
The statement choli cut blouse of the lehenga flaunts a sweetheart neckline and gold Zardozi hand embroidery. The highly flared plain white skirt of the lehenga comes with a huge red border adding an essential amount of drama to the outfit. Pair this outfit with the matching net white dupatta having red and white borders. 



Pair it with a trendy minimal Kundan choker set like this Ruby jadau polki set and add the ornamentation needed just in the right amount. 



This heavy red bridal lehenga can effortlessly add glitz to your Karva Chauth festivities with your husband wanting to marry you once again owing to the beautiful bridal look you will feature in this outfit.
Prepared out of the comfortable fabric of silk and net, this lehenga features delicate Zardozi embroidery work. The choli cut blouse and the deep red net dupatta perfectly complements the lehenga and make it entirely a perfect traditional Indian dress to be worn to celebrate the special days of life especially the ones which are recreating your wedding night into something better.
With a statement mang tikka complementing your bridal look, you can add the right amount of drama you need to go with your Karva Chauth special ensemble. 

This maroon bridal lehenga is subtle, fanciful, and a glamorous Karva-Chauth special dress. To win the heart of your husband with your looks this Karva-Chauth, don this charming Maroon lehenga with panache and elegance.
Adorned with definitive gold thread work and an exquisite embroidery over organza net background, this lehenga makes its wearer look no less than a queen herself. The brocade blouse and net dupatta with booties and beautiful border further add to the beauty of the lehenga and makes it a perfect Karva-Chauth bridal outfit. 
Let a pearl accented matha patti and matching nose ring sprinkle the rest of the magic.
4. Make this Karwa Chauth a torrid affair with some Plunging Necklines:
Don something sassy, chic, bold yet ethnic to tease him with like a plunging neckline blouse that can be paired with a saree or lehenga. 

Everything about this monotone red lehenga is pure sexy. The bold and cheeky deep V-neckline is obviously seductive but when it gets along with the hot red of the monochrome lehenga, there's no chance of his eyes getting off you. While flaunting this lehenga at a conservative gathering can prove out to be a tough task, it's just the perfect choice of outfit for Karva-Chauth if you want to keep things sassy for you both. 

This Ezra floral lehenga is all you need if you are wishing to celebrate this Karva Chauth in style and panache while giving your man more than one reason to fall in love with you. The shimmer blouse flaunts a bold plunge neckline and delicate sequin Cutdana work.
The rusted shade and the floral print of the lehenga render it a contemporary charm and make it a suitable modern choice for the event. Also, the silk crepe used in the skirt of the lehenga adds sheen and glitz to the outfit and makes you look radiant for the festivities of Karwa Chauth.
5. Simple Lehenga Cholis make the ideal Karwa Chauth designer dresses:
A Karva Chauth perfect lehenga choli might be all you need to get the romance started. Choose them according to your taste (his taste if you please) and go for either simple monotone lehengas or some with real heavy embroidery. 
Heavy Embroidery Lehenga Cholis: 
This blue velvet lehenga exhibits some stunning and heavy hand embroidery. The blouse of the lehenga beautifully complements the glamour of the lehenga with its curved V-neckline and delicate silver Zardozi work. Also, the soft and luxurious velvet fabric of the lehenga makes sure you don't compromise with your comfort while being in fashion.
The sleek and flared velvet skirt of the lehenga boasts of heavy hand embroidery done with stone & Zari work. To make it a statement piece, the skirt of the lehenga also flashes gold block painting. The lehenga also comes with a sheer dupatta with a blue and gold border finish and tassels adorning its all four edges.  
The perfect garb for a newlywed bride's first Karva Chauth!
 
This greyish-blue shimmer lengha is all about glitter and shimmers. You can turn your Karva-Chauth celebrations into a dazzling affair with this magnificent lehenga set. The most splendid feature of this lehenga is the designer illusion neckline blouse. It features silver threaded handwork and is adorned with pearl and Swarovski crystals giving it a divine edge. 
The glamorous flared skirt of the lehenga exhibits silver sequin hand embroidery which gives it an illusion of a night sky. The classy and minimalistic dupatta with gold sequin handwork completes the entire look of the outfit. 
Minimalistic Modern Lenghas:
If being the heavily dressed wife is not your thing, no need to surprise him with something he might not be expecting and be your own self in a simple ethnic Karwa Chauth outfit that is easy to carry and yet leaves you looking effortlessly stunning. 

This jungle green lehenga is not just beautiful but also eco-friendly with the use of environment-friendly fabric of dupion silk and a color that makes you feel prosperous and young. With the only outstanding factor of the outfit being its statement poncho blouse, it's an outfit you'd sure want to don for several other events even after it has successfully made your Karwa Chauth a delightful affair. 


A plain full-sleeved white crop top and a grey skirt with gored patterned cutting might be all you need to have all his attention on the special day. A great choice for the boss ladies, the look of this unique choice of ethnic wear can be further accented with some statement jewelry pieces like a multi-string necklace and earrings that go well along. 


6. Indo-western Ensembles can make the best Indian Karwa Chauth Dresses:
For the glam brides out there who are different from the crowd and want to ditch the conventional saree and lehenga completely but still wish to keep their look ethnic, an indo-western outfit is all you need to not let him take his eyes off you:

The Simone Palazzo set from B Anu Designs might prove out to be the end of your search for a Karva Chauth special outfit which is both contemporary and ethnic. The outfit features a yellow strappy bustier blouse exhibiting bead, metal appliquè, and thread work embroidery.
Pair this sassy blouse with matching Kalidar Palazzo pants and an elegantly designed jacket. The jacket is another delightful feature of this outfit sure to win your appreciation for its net base and magnificent beadwork. This indo-western outfit lets you go all bold and voguish this Karwa Chauth and win his heart for your stylish avatar. 

These red dhoti pants outfit will render a modish twist to your traditional celebration while letting your spouse fall head over heels in love with you and your outfit. The beautiful red dhoti pants teamed up with a sassy one-shoulder crop top and pre draped dupatta can effortlessly make you look chic and dainty. Also, you can pair the outfit with these lovely jutti flats to complete your ethnic babydoll look.  
7. Trendy Knee-Length Anarkalis give some trendy Karva Chauth Outfit Ideas: 
Sometimes neither a lehenga, nor a saree, and even an indo-fusion wear might end up to be the perfect Indian ethnic wear for you. 
In that case, some suits especially some trendy ones might come in handy. So why not see how a short Anarkali might end up looking stunning on you?



Pastels are everyone's favorite when it comes to ethnic Indian fashion. A pastel blue will give you a very soft, gentle, and romantic look and when it's this stunning floral handwork embroidered short Anarkali, your Karva Chauth date night will surely leave a lovely impression on him for a long time. 


Wearing the color of purity (white) and love (red) on your Karwa Chauth celebration is a choice as good as investing in mutual funds! This flared white and red Anarkali is sure to arouse some romance on the special day with its beauty and simplicity. 
So what do you plan to don this Karwa Chauth? Tell us in the comments below!
Get your dream Indian ethnic wear customized from us or find something from our readymade collection and get it customized into your size for the perfect fit and an unbeatable flair.