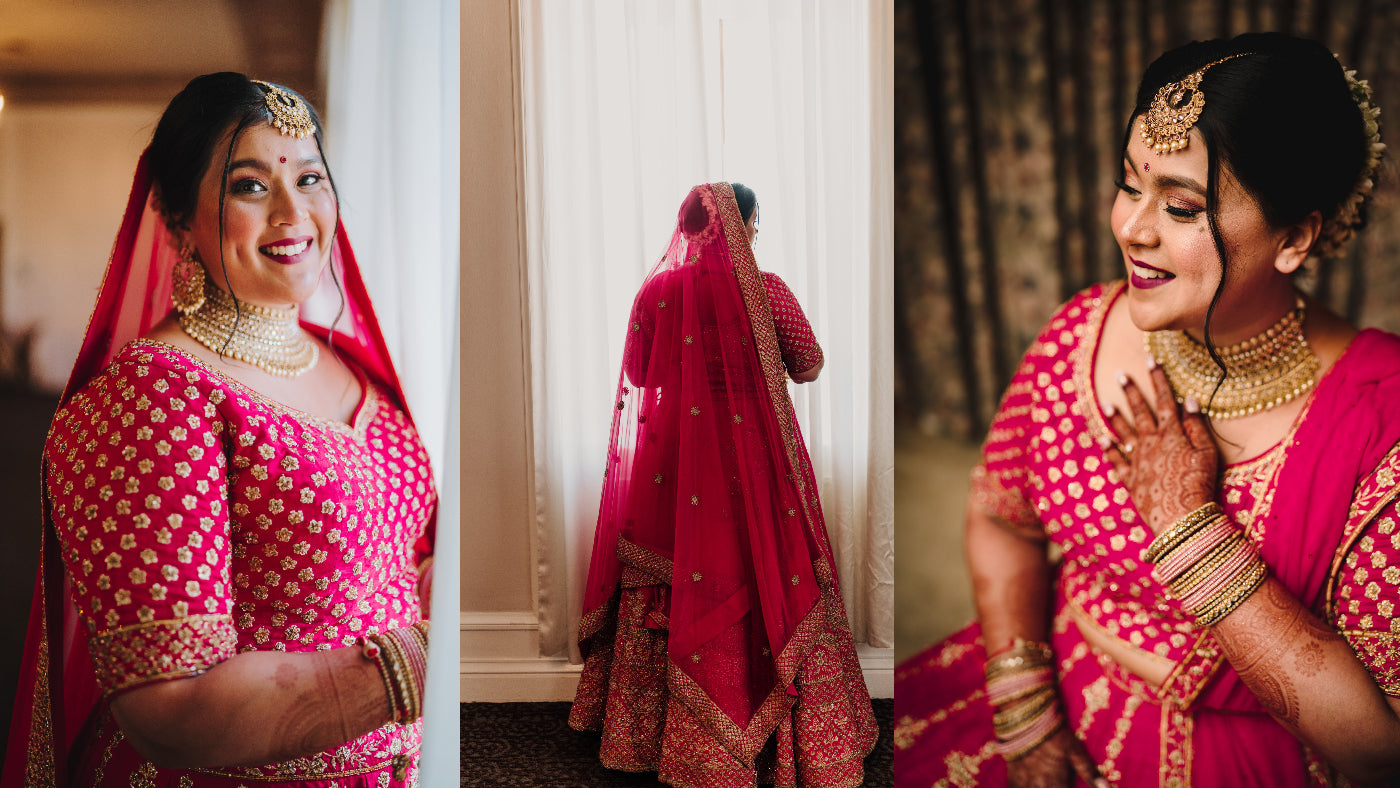 Here's How our Curvy Queen Found her Perfect Lehenga
Finding the perfect lehenga can be a tedious task. It is important for a bride to feel beautiful and confident on her special day. After all, it is not just about finding a dress that fits but finding the dress that makes you feel glamorous and confident. With the right lehenga, brides can flaunt their curves and look their best on their big day.
Let's start with some tips that can be used while finding your perfect dress:

1. Firstly, one should opt for fabrics that are lightweight and breathable. Fabrics like georgette, net, and chiffon are ideal in this regard. They help give the lehenga a flowy silhouette, along with complete comfort. We surely don't want our bride to feel uncomfortable on her D-Day. 
Click on image to view product details
2. Next, when it comes to the design of the lehenga, brides should look for styles that will help to enhance their curves. For example, an A-line lehenga with heavy embroidery or lace detailing can help to make the body appear proportionate.
Click on image to view product details

3. When choosing the blouse, it is important to pick the right neckline. The neckline should be chosen according to the bride's body type. For example - A boat neck or a sweetheart neckline can help to make the upper half of the body look appealing in appearance and can change the entire look. So we would recommend you choose your neckline wisely.
Click on image to view product details
4. When selecting the dupatta, plus-size brides should look for fabrics like net or georgette that will help to give the ideal look for your D-Day. The dupatta should be draped in a way that flatters the figure and emphasizes the curves.
Click on image to view product details

5. Finally, accessories are important when it comes to making a statement. Curvy brides should look for accessories that are not too heavy, but are still bold enough to make a statement. Statement earrings, layered necklaces and beaded clutches are ideal for curvy brides, as they help enhance their look without looking too over the top.
All in all, curvy brides can now find their perfect lehenga fit, thanks to the changing times. With the right fabric, colour and accessories, curvy brides can look beautiful and confident on their big day.
Meet BAnu Designs Bride
Nidhi Bansal:
I found Anu initially via Google when I was looking for wedding outfit designers in the Bay Area. When I was taking a look at her website, I found a bridal lehenga that I fell in love with. It reminded me of a Sabyasachi lehenga but with a twist. The catch was that I would need to set up a call to learn more about it and its pricing. I'm not a fan of video calls, but I still signed up since I loved it that much. From the first moment we interacted, I was impressed by Anu's professionalism, passion, and straightforwardness. During this initial call, she told me a bit about herself and asked me about myself. We discussed the lehenga I had in mind and my budget. At that time, I told her that I would get back to her as I had a few personal challenges going on at that time and we were unsure of the wedding date.
Fast forward a few months and we had a date, but it was 3 months out. My husband and I immediately reached out to Anu and she asked us to come in to take a look at her collection. She spent quite a bit of time speaking with us, explaining the process and getting a better idea of our vision. We didn't purchase it that day as we wanted my parents to take a look. The moment my mom walked in, she was pleased with Anu's collection. My mom pulled out a lehenga that I hadn't even considered initially (it was a yellow one, but I was looking for something in the pink/red family). We spoke with Anu and Anu suggested some customizations to the lehenga in terms of color, design, and style. I called my dad and he helped us finalize the wedding lehenga. During the same visit, we also finalized my husband's full outfit (head to toe) so that the colors would match mine. Anu took our measurements and we were ready to go. It was a seamless experience and my parents enjoyed it as well.
A few weeks later, Anu asked me to come in as my outfit's swatch had come in. I was so impressed as I wasn't expecting this. It looked beautiful and I gave her my go-ahead. During this visit, I also asked Anu if she could help with the jewelry, bangles, kaleera, and the payals. Although she didn't carry bangles, kaleera, and the payals, she asked that I send her some inspiration photos and that she would take care of it. We also tried out the jewelry at her shop and put aside a set that I loved. We ended the appointment by popping the Rose with a cute "say yes to the dress" moment.
With COVID, there were some delays in the delivery date, but Anu went above and beyond to fulfill our delivery. She also had my blouse altered to the current measurements (lost some weight) and even brought the completed blouse to my house. She also steamed the outfits and packaged everything so well for my husband and me. This was a one-stop shop!
We both received many compliments on our outfits during the wedding! I reluctantly took mine off after 15 hours of wear. I will be coming back to Anu's for other events! I highly recommend B Anu Designs, you will not be disappointed.
Check out our most recent Indian Wedding Collection Here.