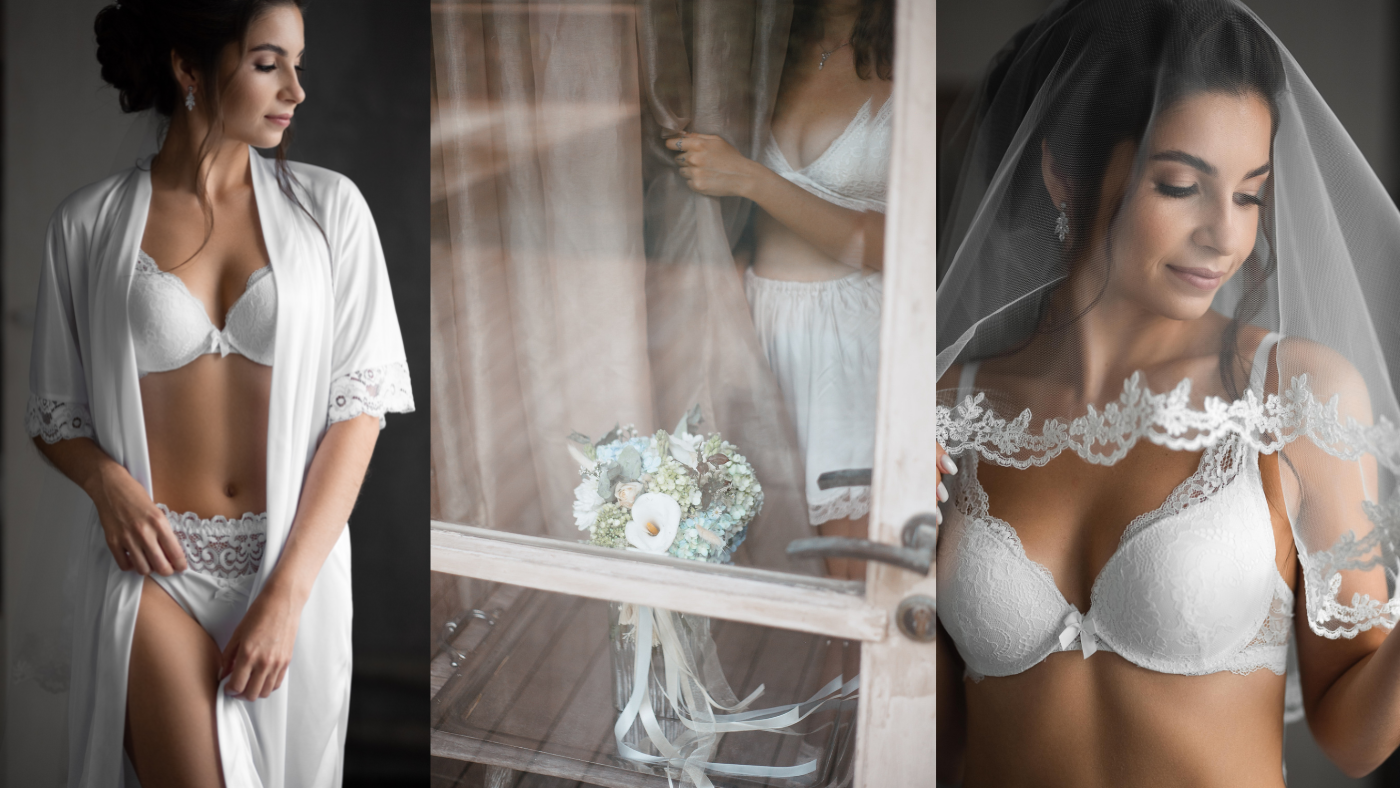 Guide to rock the Right Undergarments for your Wedding Lehenga
"Beauty is what you feel about yourself not about what you see in the mirror."
When it comes to wedding lehengas, the undergarment you choose can make or break the look. If you're not careful, you could end up with an uncomfortable, ill-fitting, and unflattering lehenga. So how do you choose the right undergarment for your wedding lehenga?
Few Pre Tips before buying your wedding undergarment
First, you need to take your measurements. Make sure you measure your bust, waist, and hips, and write down the numbers. Then, you need to find a good fitting guide. Once you have your measurements, you can use a fitting guide to find the right size undergarments for ladies. There are a few things to keep in mind when choosing an undergarment. First, you want to make sure it's comfortable. You don't want to be tugging at your undergarment all night, so make sure it fits well. Second, you want to make sure it provides the right amount of support. You don't want your undergarment to be too loose or too tight. Third, you want to make sure it's the right colour. You don't want your undergarment to show through your lehenga, so choose a color that will blend in.


Then, consider the fabric of your lehenga. If it's a heavier fabric, like velvet or brocade, you'll want to choose an undergarment that's made of a similar fabric. This will help to hold the lehenga in place and prevent it from slipping. If your lehenga is made of a lighter fabric, like silk or chiffon, you can choose an undergarment made of a different fabric, like cotton.


Next, think about the neckline of your lehenga. If it's a high neck lehenga, you'll need a high-necked undergarment. If it's a low neck lehenga, you'll need a low-necked undergarment.


Finally, think about the kind of coverage you want. If you want a lot of coverage, you'll need a full-coverage undergarment. If you want less coverage, you can choose a half-coverage undergarment.
With these four factors in mind, you should be able to choose the right undergarment for your wedding lehenga
Types of Undergarments for your D-Day
1. Bras
Bras come in different shapes and sizes. There are a variety of options that one can choose from according to their outfit when it comes down to it. Here are a few bras that are being frequently used and recommended by brides!
#1 Strapless Bra
If your wedding blouse or gown has a strapless or off-shoulder design then you can try going for this option. The inner silicon lining and underwired cups works best to make sure your blouse takes centre stage.

The strapless bra is a lifesaver with off-shoulder lehengas. Spill your happiness on the D-day and let it reflect through the magnificence of mirror work with off-shoulder in this stunning lengha!
       Click on image to view product details
#2 Transparent Bra
We know some of you have your worries about strapless bras but we've got you: If you are uncomfortable with the idea of strapless bra, and you need a strap to support your bra and to make you feel comfortable then this is to your rescue!

Leave behind the adequacy of the world and paint your life in this mint Indian ethnic lengha choli that can be perfectly paired with a transparent bra!
Click on image to view
 product
details
#3 Bridal Bra
 As the name suggests this bra is the fanciest bra and a perfect bra for your wedding. It has some premium fabrics like satin and lace to give you a super sexy look!

Live out your bridal dreams in the chicest ensembles this bridal season with this beautiful bra and this stunning red bridal lengha set with intricate Dabka embroidery. It is a perfect combination of elegance and comfort.
Click on image to view product details
#4 Plunge Bra
If your blouse has a low/deep neckline and you are looking for a bra that will give you complete support without showing your nipples then this is the one for you!

Plunge bra's is an ideal option if you're going for a low/deep neckline lehenga. Look like an angel clad in baby pink with our stylist-approved Candyfloss lengha that can be paired perfectly with a plunge bra.
Click on image to view product details
#5 Stick On Bra
The sexy and confident look we get from a backless pattern is what every woman craves to get and that's a fact! So if you're going for a backless look on your D-Day then we do recommend trying a stick-on bra. It is comparatively new but the amount of positive feedback it is getting is unreal!

Stick-on bra's are a saviour if you're looking for a bra that is strapless and will provide more support. So feel the phenomenal energy on your special day by pairing this mustard yellow ethnic set with some elaborate million-dollar embroidery meant for the glorious princess you are.
Click on image to view product details
2. Underwear
It may come as a shock to ask people for pantie guides. But trust us, there's more to explore here than what you might've imagined. Let's dig into panties according to the coverage they provide: 
#1 Thongs
Thongs are famous for their super minimal coverage feature, It is basically a T - Shaped string from back that can seem very similar to a bikini. So if you're down to wear something sexy that'll make you feel confident and badass from within on your big day, then this might be the right option for you. It comes in a variety of fabrics - from lace, velvet to cotton. It can also be a perfect choice if you are going for a bodyline lengha, then this will help you to avoid visible panty lines.
#2 Tanga Brief
This type of panty provides minimal to moderate coverage. If you are someone who wants a sexy look but is not comfortable with the idea of wearing a thong under your wedding lehenga then you can definitely try a tanga brief! It is an ideal option for bodycon and form-fitting dresses. 
#3 Brief
This is the usual panty that every woman prefers everyday. It provides a lot of coverage and is specifically designed to make you feel comfortable. They can come in various fabrics from cotton, nylon to microfiber.
#4 Boyshort
Boyshorts provide lots of coverage and are very similar to men's briefs. They are rectangular shaped panties that go as down as the thighs. It is a very great option if you are looking for something that will make you feel as comfortable as lounging around the house.
#5 Control Brief
This type of panty is a lot similar to a high rise brief. It is usually worn to lift your buttocks area and flatten your stomach giving you a perfect body figure shape inside your dress of lehenga. It mainly provides coverage to your butt and your tummy.
3. Shapewear
There's nothing wrong with giving your body extra support and shape. Number of brides prefer wearing shapewear under their lengha to give their body added support and shape.
#1 Control Camisoles
If you are looking for something that can help you to shape your body from arms to hips then control camisoles are a go to option! This can help you to support your tummy and breasts.

You can pair this with a long blouse or a sharara. Pick this ethnic ensemble of sanity and calmness amongst the chaotic hustle-bustle and breathe in the beauty of life!
Click on image to view product details
#2 Control Thighs
Control Thighs are the most popular shapewear. This is pretty much an all-in-one shapewear that you might want to wear under your lehenga skirt. It can help to support your thighs, buttocks and tummy.
#3 Arm Shaper
If you want to provide support to your bulky arms then wearing arm shapers underneath your full-sleeved blouse will help you to tone them. It is a very comfortable shapewear that can be worn above your bra.

This shaper can be worn under your long sleeved blouse. Bring your modern-day bridal dreams to life this wedding season in this gorgeous Resham embroidered lengha!
Click on image to view product details
#4 Singlets
Singlets is a combination shapewear of control thighs and camisoles. It provides support, coverage and shape to your breasts, tummy, thighs and buttocks. It comes in different forms and designs, from cotton to lace, you name it!

Singlets can be worn under shararas to give your body shape and support. Radiate this wedding season like B Anu Bride Amia in this graceful Sharara ethnic set made just for your precious day!

Click on image to view product details
Conclusion:
This wedding season, feel confident inside and outside by choosing an undergarment that'll make you feel comfortable and powerful! These were just a few recommendations that can be kept in mind while choosing your wedding dress undergarment.

Quick Note: Make sure to buy wedding dress undergarment after all the alterations to your lengha or dress has been made. This will give you a better clarity on what type of undergarments for wedding dress would be best for you.

Check out our most recent Indian Wedding Collection Here.
Image Credits
Underwear: https://trueandco.com/types-of-underwear/
Shapewear:https://indianbudgetbeauty.com/2020/01/different-types-of-shapewear.html
Bras:https://www.clovia.com/blog/21-types-of-bras-you-should-know-about/