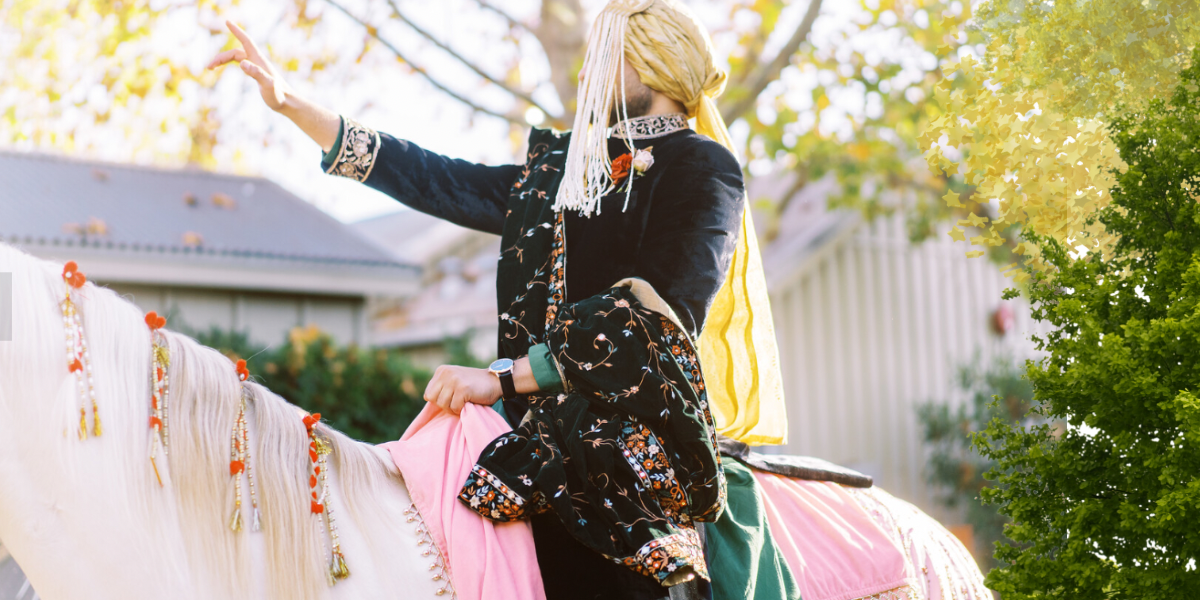 Enhance Your Elegance: A Comprehensive Guide to Indian Groom Attire for Your Special Day
Embark on your journey to forever, wrapped in the rich tapestry of Indian wedding attire—a symbol of timeless love, cultural heritage, and breathtaking style.
When it comes to weddings and other special occasions, all eyes are on the bride and groom. While much is made of the bride's dress, the Indian groom outfit is equally important! And with so many options to choose from, it can be difficult to know where to begin. Whether you're looking for the perfect Indian groom outfit or are just curious about what's hot, we've got you covered! Welcome to the enchanting world of B Anu Designs, your go-to destination for exquisite groom's outfits that seamlessly blend style and sophistication.
Celebrate Love in Style: Discover the Best in Groom and Bridal Fashion
From traditional weddings to trendy soirees, we believe every groom deserves to look his best on every occasion. With our knowledgeable team and casual atmosphere, you can be sure to find the perfect look for your special day.
A Love Story in Every Stitch: Explore our Groom and Bridal Collections
Unlock the secrets to a remarkable groom's ensemble with these sequential instructions, guiding you through each stage of the selection process to create a stunning and personalized wedding day look.
Determine your wedding theme

- At

B Anu Designs

, the initial step revolves around determining the perfect wedding style for you. We take into account the overall theme, formality, and venue of your special day to ensure that your groom's outfit harmoniously complements the ambiance and dress code, reflecting your unique style and vision.
Research and Gather Inspiration

- Explore the captivating world of groom's fashion by immersing yourself in the rich inspiration offered by B Anu Designs. Delve into a curated collection of

magazines

, browse our

website

, and follow our

social media

platforms to discover a plethora of groom outfit ideas. Pay keen attention to the colors, styles, and intricate detailing that resonate with your personal taste, as our team of designers is dedicated to transforming those inspirations into a bespoke creation tailored just for you.
Click on image to view the Groom's outfit collections
Set a Budget

- Decide on a budget for your outfit, including

accessories

and any necessary alterations. This will help you narrow down your options and ensure you stay within your financial limits.
Choose the Indian Groom Outfit Type

- Select the type of

Indian Groom Outfit

you prefer, such as a traditional sherwani, achkan, kurta-pajama,  Western suit and few more listed below for your reference. Consider your personal style, cultural background, and comfort level when making this choice.
Classic Sherwani: A long, embroidered coat-like garment worn with a kurta (shirt) and churidar (fitted trousers). It is often made of rich fabrics like silk or brocade and is paired with a turban.
Click on image to view product details
Achkan Sherwani: A knee-length coat with a Nehru collar, usually worn with a dhoti (loose cloth wrapped around the legs) or churidar. It is commonly adorned with embroidery or embellishments.
Click on image to view product details
Jodhpuri Suit Sherwani: A formal suit consisting of a tailored jacket with a high collar and fitted trousers. It is often made of luxurious fabrics like velvet or silk and is paired with a waistcoat.
Click on image to view product details
Bandhgala Sherwani: A fitted, button-up jacket with a Mandarin collar. It is typically worn with trousers or churidar and can be paired with a matching or contrasting waistcoat.
Kurta Pyjama: A traditional outfit consisting of a knee-length or long tunic (kurta) paired with loose-fitting trousers (pyjama). It is commonly worn with a stole or dupatta (scarf).
Click on image to view product details
Pathani Suit Sherwani: A two-piece outfit consisting of a long kurta with a stand-up collar and straight-cut trousers. It is often made of cotton or silk and is popular in North India.
Dhoti Kurta Sherwani: A combination of a long kurta and a dhoti, which is a cloth wrapped around the waist and legs. It is commonly worn for traditional ceremonies and weddings.
Click on image to view product details
Indo-Western Fusion: A blend of Indian and Western styles, such as pairing a Western-style suit with an embroidered or embellished jacket or opting for a fusion sherwani with modern cuts and patterns.
Angrakha Sherwani: The Angrakha Sherwani is characterized by its overlapping and asymmetric front design. It typically has tie-up closures or buttons on one side, giving it a regal and distinctive look.
Click on image to view product details
Printed Sherwani: A modern twist on the traditional Sherwani, printed Sherwanis feature intricate patterns, motifs, or designs printed onto the fabric. This can add a vibrant and eye-catching element to the outfit.
Click on image to view product details
Floral Sherwani: A popular choice for summer weddings and festive occasions, floral Sherwanis feature floral motifs or patterns in embroidery or prints. They offer a refreshing and stylish look.
Source: Get Your Venue
Velvet Sherwani: Sherwanis made of velvet fabric exude elegance and luxury. They have a rich and regal appearance, often embellished with intricate embroidery or gold threadwork.
Click on image to view product details
Select the Color Scheme

- Decide on the color scheme for your outfit. Traditional colors like red, ivory, beige, black, and various shades of blue and maroon are popular choices. Coordinate the color with your partner's outfit or the overall wedding theme if desired.
Explore Fabrics and Embellishments

- Consider the fabric options for your outfit, such as silk, velvet, brocade, or linen, based on the season and your personal preference. Explore embellishments like embroidery, sequins, or zari work to add a touch of opulence.
Click on image to view product details
Click on image to view product details
Get the Right Fit

- Schedule fittings with our

designer

to ensure your outfit fits you perfectly. Allow enough time for alterations if necessary, especially for custom-made outfits.
Harmonizing Colors and Fabrics

- When it comes to

Indian groom wedding dress

,

colors and fabrics play a crucial role in creating a stunning ensemble. While traditional colors like ivory, beige, and gold are most commonly associated with groom outfits, modern grooms are now experimenting with bolder shades like deep blue, maroon, and even black.





Fabrics like silk, brocade, and velvet are favored for their luxurious look and feel. These fabrics not only add a touch of grandeur but also ensure the groom looks dashing on his wedding day. Embellishments like zari (gold/silver thread), stone work, and intricate embroidery elevate the outfits, creating a perfect balance between tradition and style.
Coordinate Accessories

- We emphasize the significance of meticulously selecting

accessories

that perfectly complement your groom's outfit. Enhance your ensemble with sophisticated choices like a turban or

pagdi

, a coordinating stole or shawl, exquisite footwear, and captivating jewelry. Explore our curated collection of cufflinks, pocket squares, and brooches to add the finishing touches, creating a look that exudes elegance and charm, uniquely tailored for you. Explore our accessories collection here
Click on image to view product details
Click on image to view product details
Finalize Groomsmen Attire

 - 

If you have groomsmen, discuss and coordinate their outfits to complement yours. Ensure that they adhere to the overall theme and color scheme of the wedding.
Squad Goals: Celebrating with the Best Groomsmen Ever!
Plan Ahead and Stay Organized - Make sure to plan and finalize your outfit well in advance of the wedding day. Double-check all the details, including pickup or delivery arrangements, to avoid any last-minute stress.
Dressed to Impress: The Perfect Ensembles for a Happy, Stylish Marriage
Remember, the most important aspect of your groom's outfit is that it reflects your personal style and makes you feel confident and comfortable on your special day. 
These are just a few examples, and there are many regional and cultural variations of groom outfits in India.
At B Anu Designs, we believe that the groom's outfit is a reflection of his personality and sets the tone for the entire occasion. From classic elegance to contemporary flair, our blog series has provided you with a comprehensive guide to curating the perfect groom's outfit for every occasion. With our expert tips and fashion-forward insights, you're now ready to step into the limelight and create unforgettable memories as a groom who effortlessly embodies style, charm, and sophistication. Get ready to captivate hearts and leave a lasting impression wherever you go!
You can get any of these customized by us or choose from our B Anu groom collection. If you are creative enough to know what you want for the special day and have a better idea than the ones we have here, get it customized from us and we'd love to add you to the list.
To all our grooms and esteemed readers, we want to convey that Indian groom outfits are a reflection of respect, tradition, and timeless allure, evoking a sense of regal splendor that truly stands the test of time.
Do tell us in the comments below what wedding outfit you liked the most!
*Picture Courtesy: Instagram, Pinterest.
Tags: #IndianGroomOutfit, #IndianGroomFashion, #IndianGroomweddingdress, #IndianGroomweddingwear, #GroomOutfitInspiration, #TraditionalGroomAttire, #IndianWeddingFashion, #GroomStyleGuide, #GroomFashionTrends, #CustomGroomOutfit, #GroomDressIdeas, #IndianGroomswear, #GroomFashionBlog, #GroomFashionTips, #GroomStyleInspo, #WeddingDayLook, #IndianGroomswearIdeas, #EthnicGroomAttire, #GroomAccessories, #GroomOutfitDesigns, #GroomFashionista, #BespokeGroomOutfit, #GroomFashionSense