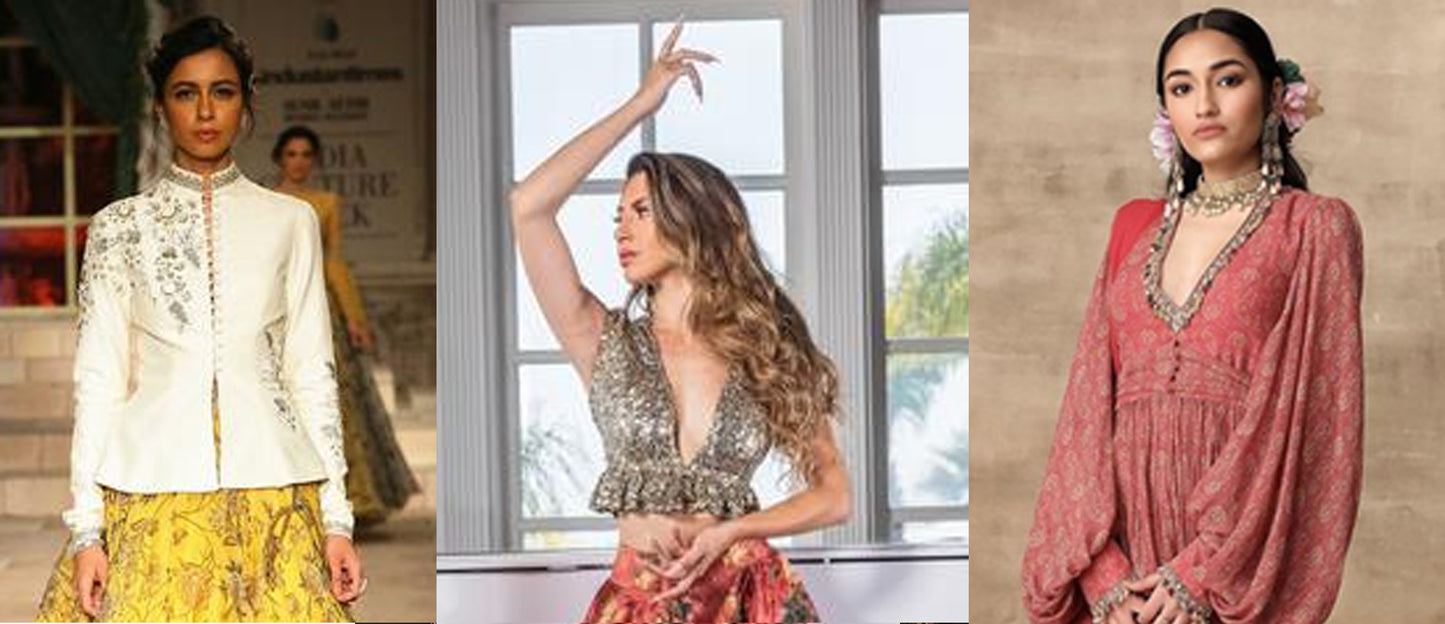 Peplum Blouse Back In Fashion (2020): Ethnic with a Modern Touch
Peplum blouses are back to fashion with a modern touch this wedding season of 2020. Here's a list of beautiful peplum blouses to be worn with saree, dhoti pants, sharara, lehenga skirt and what not! Ethnic peplum jackets for saree and peplum blouses with long sleeves are just a few to start with.
We love the glamour brought in the ethnic fashion industry by all the statement blouses adorned with fringes, feathers, and applique but can't overlook how trendy Peplum blouse has become with an indo-western touch. The style is completely untapped and revolutionary in contrast to the conventional peplum which you ladies would only wear as a sober alternative to the general steamy blouses in a conservative gathering.
But what's there not to love about the Peplum blouse? It goes with everything you'd prefer to wear as a bride or bridesmaid: lehenga, sari, dhoti, sharara, etc. 
Ethnic fashion trend makers like Manish Malhotra and Tarun Tahiliani have already given their perspective of the Peplum blouse to us. So there's no reason for us to not explore this fashion trend and get the best out of it. On this account, I bring to you 11 trendy Peplum blouse designs which have brought the ethnic Peplum back in fashion with a hot innovation. 
1. Intricately Embroidered Peplum Blouse with Long Sleeves 
You'd hardly miss a Peplum blouse unless it's chilling out there and you have to attend a dear one's wedding for which you've been way too excited. In such a case, go for a royal full-sleeved Peplum blouse jacket with intricate zari work. They not only assure protection from cold but also give you the space to highlight the flare of your lehenga. Choose an embellished lehenga skirt of the same color with such a blouse and you're good to go. 
A lehenga of pastel shades of gold or silver matching the embroidery and texture of the Peplum would also go with this style.
 Source: Shayamal & Bhumika
2.  Ethnic Peplum Jacket for Saree
You might sometimes feel the urge to spice up your customary saree with a new style. Consider an ethnic Peplum Jacket your friend then. Not only it might act as a cover-up for a bold blouse but also add a unique elegant touch to your outfit. 
Match an ethnic sheer Peplum jacket with your lehenga or saree and see how you become the spotlight of the special eve.
If you like the look and would want to go a bit more unconventional, you can wear it with a sleeveless choli and use a sharara or palazzo as bottoms. Keep the color and design common for all the elements in such a garb. 
 Source Kalki Fashion
If you want to have a colorful bright outfit for the function, choose a bright colored Peplum jacket with a skirt and blouse of similarly bright but contrasting colors. Find a common color element among the three and pair them all to have this creative combination of a perfect wedding outfit. This one is especially suited for Punjabi weddings whether you're a bride in your sangeet or the bridesmaid.
Source Weddings Only
3. The Ankara Peplum Blouse Design with Mermaid Lehenga 
A fun fact about the Ankara Peplum blouse design is that it's not an indigenous choli. It came from the African Ankara fashion trend which consists of really uniquely designed Peplum tops embellished in colorful prints with bright shades.
We've already seen the rage of Ankara style Peplum tops girls wear when they go clubbing but what you wouldn't have thought of is wearing it with a lehenga to a friend's wedding. The break is that...you can! 
If you are blessed with a voluptuous body figure, it's really time to show off some curves with an Ankara Peplum blouse and a mermaid lehenga. It's for ladies who don't go by the rules and invent their own trends. 
Source Ankara Fashion
This light pink pastel is just an example. You can get it designed even better from a veteran designer who not only understands what you want but can also add her own creative touch to it. Yea, that's me! You can ask me for the same here.

Source
OD9JASTYLES
This maroon Ankara Blouse is a total catch to pair with a matching maroon mermaid lehenga and be the spotlight of the function.
The best thing about the Ankara lehenga-choli is that you would be more than comfortable without the hassle of a dupatta or bushy lehenga. The lighter mermaid lehenga you clad in, the more comfortable you'd be as the blouse won't be an issue anyway.
4. Short Peplum Blouse with V-neck

The time to splash glamour with every move has come with the arrival of short V-neck Peplum blouses in the market and I just couldn't resist releasing my version of it. 
Have a look at this sleeveless gold sequin blouse with jaal patter cutdana work. It's for the cocktail party of a rebel bride. It's embroidered both at the front and the back to make sure that the glamour doesn't fade whichever angle you pose in. 
As the icing on the cake, you can pair it with this rust flared lehenga skirt. It has a silk crepe base and a floral print in contrast to the shimmery blouse making a perfect pair of an Indo western lehenga-choli.
The best part is that It can be customized to adorn you whenever you know you want it.

5. Traditional Peplum with Ruffled or Bell Sleeves
An embroidered Peplum with bell sleeves and gold sequins is all you need as a modern bride who doesn't want to let go of her values. It's the perfect combination of tradition with liberalism. The flowy mesh sleeves and a backless design with doris make it a gorgeous standout statement blouse perfect for your engagement or sangeet ceremony. 
All you need with this one is a similarly embroidered flared lehenga and a mesh dupatta matching the sleeves. 
If you really want to make the bell sleeves a statement of your entire outfit, a tulle lehenga skirt matching the sleeves would also work. 
You can have your customized set here. 
6. Paisley Peplum Blouse with Exaggerated Statement Sleeves
Ridhi Mehra boasts an exquisite collection of Peplum blouses. She has experimented extensively well with them and come out with some lovely pieces that you definitely need in your wardrobe.
For instance, this paisley print Peplum blouse has a very simple look toned up by the exaggerated statement sleeves which make it perfect not only for a wedding party but also for festivities like Ramadan and Navaratri. Pair it with a gharara of the same print and you're ready to look fabulous for any celebration. 
Source Ridhi Mehra
7. Front-slit Peplum Blouse Design
As I stated before, Peplum blouses are no more occasional alternatives as they have been graciously touched by the hands of modernity. 
We already have shown enough love for the front-slit kurtas and suits. The trend hasn't spared the customary Peplum blouse which might win your heart when you pair it with a perfect flared lehenga or dhoti pants.
Source Anushree Reddy
If you want a simpler look, you can have a front-slit Peplum like this one without the flare. It would look dashing with matching earrings and dhoti pants of contrasting colors.
Source Lifestyle Stores

8. Formal Peplum Blouses
If you're more of a professional lady who doesn't like shimmer and sheer, a formal Peplum blouse is all you need. This is perfect for the wedding party of a colleague. Pair it with a designer lehenga skirt or palazzo to complete the look. 
Source Weddings Only
9. Peplum Blouses with Edgy Hem and Round Collars
Allergic to heavy jewelry? No worries… this Peplum blouse with a high round collar will save you from chokers and necklaces. The least you need to do is pair it with some matching statement rings and earrings. 
Wear a flared sharara or lehenga alongside, matching the collars and you're good to go. 
Source Ridhi Mehra
10. Buttoned-up Formal Peplum Blouse
That moment when you don't want to be the sassy limelight of the show but don't want to go all the way formal at the same time...that's when you need a classy button-up Peplum with a little embroidery! This one is perfect when you're the wedding guest of a formal acquaintance.
This one by Anju Modi has button loops of decreasing size setting a formal vibe and little embroidery on shoulders and sleeves toning down the conservative look. 
Source Anju Modi
11. Layered Peplum Blouse Design
If you want to go all the way with modern Peplum blouses and aren't afraid to experiment, get a layered Peplum blouse that gives you a Victorian look when paired with an equally flared lehenga. An illusion neckline that we generally see in the Christian wedding gowns will add to the charm. With this style, be the queen of your reception ceremony.

Source Weddings Only

You can also choose a Peplum with shorter layers adding statement sleeves to it matching the layers. 
Source Saree
12. Peplum Blouse with Puffed Sleeves
Want to vibe like a princess on the special day? A Peplum blouse with puffed sleeves is your partner then. A blue Peplum blouse and flared lehenga like this one will make sure you look like Cinderella at the party. Keep the jewelry limited to a matching necklace and a pair of dangling earrings.


Source Weddings Only

I'm sure the next time you need an ethnic outfit for a wedding party or function, you're sure to get a Peplum blouse stitched. 
I turn this to you now! Let us know which is your favorite Peplum blouse in the comment section below and which one you plan to get stitched in the 2020 wedding season.