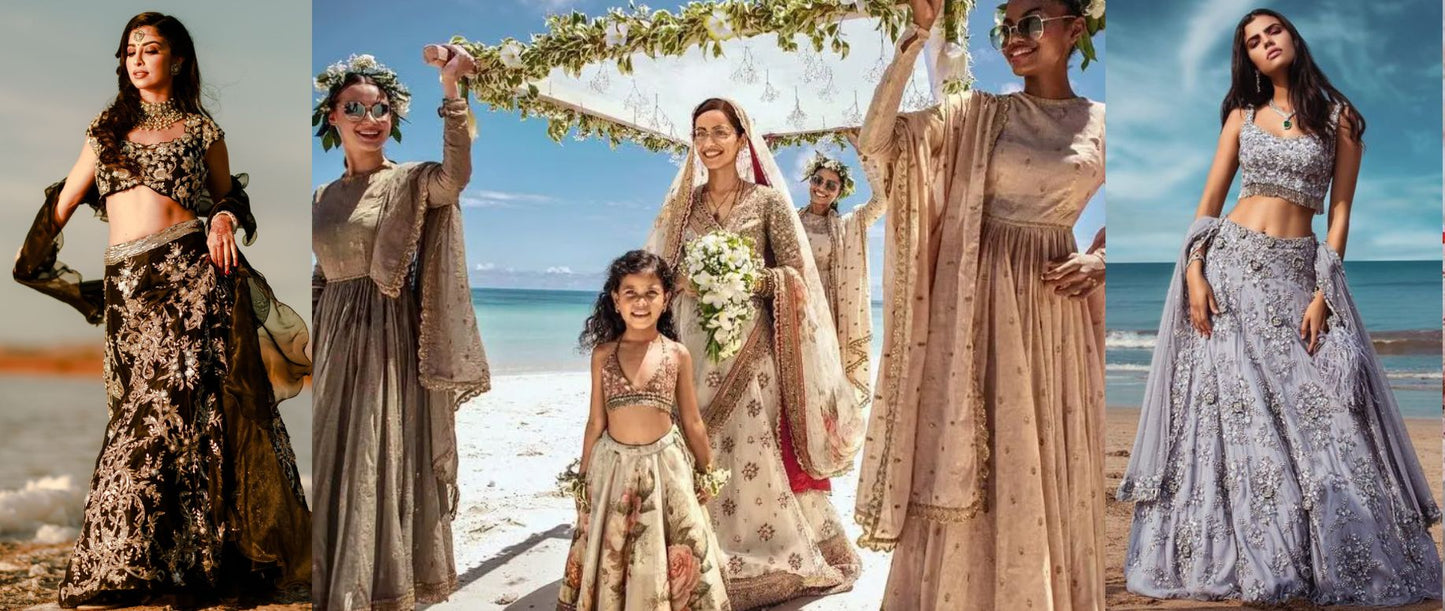 Top 5 Tips for Destination Wedding Fashion: Contemporary Indian Bridalwear!
Wedding bells are indeed one of the most significant & mystical chimes in a bride or groom's journey. As it is an elicited emotion, yet is clearly & undoubtedly personal. 
It is the most awaited opportunity to honor & celebrate the power of love. The ring to it, almost synchronizing to the clink of the glasses while the dear ones raise a toast. However, the urban day bridal entourages take things to the next level when they pick bridal destinations to best suit their special day. Destination wedding planning has been on the rise in recent years, making the bridal trousseau a bit more challenging. Dreamy picturesque forts of India, endless sea horizon of Bali or enchanting gardens of Tuscany, with breath-taking mise-en-scène, it can be just as hard to pack lightly yet do justice to your contemporary Indian bridalwear.

Source: pinterest
The leading designers of the world think destination weddings aren't just a unique experience but also responsible for shaping the future of Indian bridal wear. Additionally, we have luxury labels & social media to thank for acting as an inspiration behind many wedded pair's bridal dreams. Be it high-end couture for the bride & groom or bridal prêt-à-porter for the wedding guests. The aspiration to make wedding outfits look luxurious yet lightweight is every Indian bridal designer's goal. 'How can you effortlessly slay your bridal outfits at the beach or a palace', you ask? Well, that's where we come in to assist you with the situation!

Source: vogueindia
When planning a destination wedding,
Keep in mind the climate & temperature of the area
Learn & understand different types of airy fabrics
Plan your color palette in accordance with the backdrop
Make sure to keep your makeup minimal & waterproof
Pay attention to your hair-do, preferably a bun-up
Top 5 Tips for Destination Wedding Outfits!
1. Sweat Friendly Fabric
Source: weddingsutra
Understanding your fabrics can genuinely help you sit through your wedding effortlessly. Often so, destination weddings can get tricky due to the unpredictable climate. Most bride and groom forget to foresee the location's temperature and end up sweating it out. We are all aware that bridalwear can get heavy. So, sticking to the right kind of fabrics can change the game for your beach wedding wear.
Source: frugal2fab
Linen Bridal Gown & Suits
Source: vasansi
Linen fabric is highly absorbent and light in weight, perfect for humid and more excellent weather conditions. It is a natural fabric that is durable as well as eco-friendly. Linen beach wedding wear is one of the safest options for destination wedding grooms' attire or bride's outfit. It is a breathable fabric for sunnier locations, whereas you could effortlessly layer up your linen outfits in cooler destinations.
Khadi Bridal Lehenga & Kurta
Source: Sabyasachi
Classic Khadi fabric is one of a kind that works perfectly for all sorts of seasonal changes. It is much more durable than synthetic fabrics. This fabric doesn't just hold significant importance of heritage, but its weave is body friendly that doesn't cause any skin irritation.
Click on image to view product details
Cotton Wedding Dress & Suits
Click on image to view product details

It goes without saying that cotton is one of the most preferred fabrics for various reasons. It is an odourless & breathable fabric that makes it the perfect option for your humid day beach wedding. Additionally, it is lightweight, which makes it easier to pack. Cotton lenghas and the groom's cotton suits are an excellent option for any destination wedding.
Source: thebollywoodclosetusa
Kora Organza (Banarasi) Wedding Saree & Kurta

Click on image to view product details
Banarasi Kora is an extraordinary airy fabric made using silk yarn. It is way more breathable than most silk material wedding dresses. The degummed silk yarns don't just make this sheer fabric lightweight but also give it a crisp structure. It is an exquisite and lightweight fabric which is convenient to pack for destination marriages. Muted metallic organza fabric or summer print sarees are a great way to dress up for daytime events. It is super airy and flowy, making organza dresses one of the must-haves in your luggage for a perfect beachy wedding.
Source: Sabyasachi
Chanderi Bridal Lengha & Suits
Source: meghaandjigar
Chanderi bridal dresses are perfect for any temperature, be it a humid day beachside Haldi ceremony or a chilly value night reception. It is sheen and sheers in nature, adding elegance and glamor to your bridal trousseau. Be it the bride, groom or wedding guest, Chanderi is the perfect pick for destination wedding ensembles.

Source: thereviveboutique
2. Color Scheme
Click on image to view product details
Understanding the location of the wedding & its backdrop can you help one tremendously in deciding their color tones. Packing the right kind of shades for a wedding is not just important to help you stand out but helps you in terms of functionality as well. When you wed locally, we're sure you know that pastels are the pre-wedding shade, vibrant are the wedding shade & darker shades are for the reception look. But for a destination wedding, it can be a tad bit challenging due to the unpredictable temperature. Dressing up for a fort or palace bridal destination can still be pulled off in those terms since forts are usually hot in the morning & cool at night. But, what about the beach wedding destination? Don't worry; we can help you out with just that. Here's how!
Pastels Bridal Outfits – Beachy Weddings
Muted shades and calming hues are perfect for beachside weddings. The humidity at the seafront shores can really make or break your look. Often, darker shades can absorb heat on a higher level than pastels. Sticking to pastel-shaded fabrics can help you beat the heat and stay relaxed. The color of your bridal dress is just as important as the fabric of the silhouette. So, if you make sure to use the proper pastel shades with the materials we've mentioned above, you should have nothing to worry about.

Source: Pinterest
Vibrant Bridal Outfits – Garden Weddings
A pop of color for the backdrop of the Tuscanian terrace garden is sure to make anyone look like the blossom in the greens. It is preferable to pick vibrant bridal dresses for the destination wedding with a neutral & breezy temperature. Opting for vibrant shade would not just turn up your aesthetic pursuits but also helps with the dopamine. It is known to have a psychological impact by boosting your mood and shooing away the sight of cold feet.
Click on image to view product details

Dark Shaded Bridal Outfits – Hill Station Weddings
Hill Stations are an excellent spot for a destination wedding! The chilly temperature can really work on your better end during an Indian ritual wedding. Shades like deep maroon, bottle green, brown, royal blue & metallic colors are excellent options for a cooler bridal destination. Darker-shaded bridal outfits can keep you warm at a chilly temperature and help you stand out.

Click on image to view product details

3. Prints and patterns
Digital prints and patterns have been the latest trend of 2022! It can be the perfect option for your wedding overseas as it can be super weight-efficient. They are lighter than most embroideries and can also look really elegant for pre-wedding events. Floral prints & geometrical patterns can work wonders and go without saying that they never run out of style.
 Painted saris have also been on the rise in recent times. All the celebrities and influencers have loved getting themselves a bridal custom-painted saree. The best part? You could also get anything personal like your name, wedding date, or a picture painted onto these custom pieces.
Source: Pinterest
Florals print wedding Sharara
 Floral printed bridal dresses are a great pick. All the brides & grooms swear by it for the Haldi & Mehndi ceremonies over the years. Beautiful digital floral prints can look extraordinarily pleasing and super easy to carry in your bridal trousseau.

Click on image to view product details

 Geometric pattern bridal Gown
Art Deco inspiration gowns have never run out of style. Its opulence and linear patterns don't just look gorgeous but also help with functionality. Linear prints can help you create an illusion of a longer silhouette, making you look tall and thin.

Click on image to view product details

4. Lightweight Embroidery:
Being a desi squad, we understand how vital embroidery on bridalwear is! There is no way one can ditch the embroidery for their wedding, and we don't want you to, either. However, embroidery can be pretty heavy, and nobody wants heavy packing for their destination wedding. So, here are a few of the most opulent & fuss-free embroideries that can make you look like a million bucks yet be super lightweight.
Gota Patti is a luxurious embroidery that's a perfect embellishment for all sorts of bridal dresses. Originating from Rajasthan, this excellent golden handwork can give you a royal touch while being weightless. Gota Patti embroidery is the perfect pick to add the right bling to your attire.

Source: shopkynah
Kashida embroidery is a vibrant thread work of floral & natural motifs. It is also famous for being done on the Pashmina shawls that are adorned worldwide. Originating from the lands of Kashmiri karigars, this embroidery is vibrant, chic and lightweight, all at once.

Source: Pinterest
This Lucknowi embroidery is done on a sheer fabric, making it a weightless luxury. It is one of India's most recognised and famous embroideries for its elegant look. Having a Chikankari embroidered sheer lehenga is another great option for a destination wedding.

Source: perniaspopupshop
5. Game of layered clothing
Layering is the favourite kind of styling for most Indian bridal designers. It can work skillfully and elevate any look, whether the groom's or the bride's attire. But just because we all love adding up to ensembles doesn't always mean it can be luggage friendly for a destination marriage. A pair of a shawl and open jackets can be a great way to keep your layering elegant and weightless. Ditch the layered sets in the daytime and layer up for the relatively cooler nighttime is our best advice for you.
Make-up & Hair-do
We all know that different kinds of climates require you to have another type of approach for clothing. The same goes for makeup & hairstyling. Every designer & stylist suggests you have very minimum and natural-looking makeup for your beach weddings. Also, make sure to use waterproof cosmetic products because you don't want your makeup running down your cheek.
As far as hair is concerned, we suggest you bun up your hair since beaches can be humid, making your loose hair greasy. Using serum, setting spray and heat protection products should also be beneficial to avoid frizziness.

Source: letsexpresso
Footwear
Sticking to bridal jutti & shoes is highly recommended. Wearing heels at the beachside wedding is something you should avoid. And here's the perfect opportunity for you to look like a girl boss while opting for comfort and functionality. You can never go wrong with a perfect pair of wedding jutti or sneakers.

Source: pinterest
Conclusion
Weddings can be one of the most beautiful times in an individual's life, and a destination marriage can be all the more special. It is not just a unique experience but is also responsible for shaping the bridal fashion to being elegant yet sophisticated & comfortable. Looking luxurious doesn't always need you to opt for heavy wedding wear. Having the right knowledge of fabric, color palette & accessorizing can help you slay your bridal look for destination weddings effortlessly.