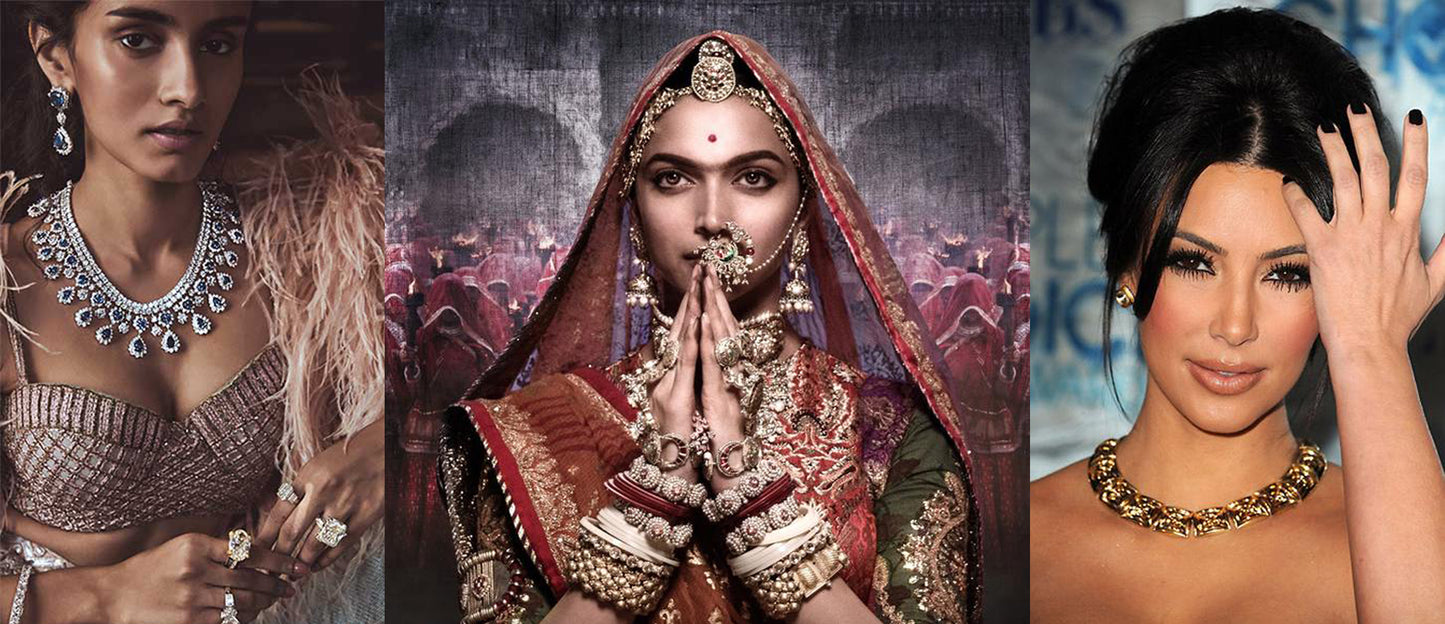 Top Jewelry Brands in India (2020): Fine and High-End Custom Jewelry
You have to be careful who you buy your real jewels from. They stay with you for a lifetime and thus have to be real and designer at the same time. Here's a list of the best and most trusted Indian jewelry brands to follow if you're a fan of authentic gold, silver, diamond, ruby and platinum jewelry! Brands that are worn by celebrities and the elite.
Jewelry is ageless! It's good to have affordable costume jewelry sets on certain occasions but we can't forget about the eternal gemstones, diamonds, gold, and platinum jewels that don't lose their shine over the years. 
Fine jewelry is not something you can get bored with. It would adorn you for years and later adorn your daughters when you pass it on to the next generation. Something so everlasting cannot be traded for anything. In such a case you need to buy something pure, reasonable and designer at the same time and maybe a custom jewelry set of your dreams! 

Here's a list of the best high-end jewelry brands and designers who provide you with the best custom and readymade jewelry pieces for the year 2020, though they are ageless just like their jewelry! 

When you ask an Indian lady where she gets her high-end jewelry from, there are 70% chances that she would say Tanishq. So is their popularity and trust among Indian women when it comes to gold and diamonds!
Tanishq online jewelry store flaunts fine jewelry like chains, necklaces, bangles, rings, earrings, pendants in gold, platinum, rubies, and diamonds. They also make custom jewelry at very reasonable prices. 
Moreover, they have specialized collections like Rivaah which includes jewelry for brides, Aveer presenting jewelry for men, Mia for the working women of the new generation, Glitterati for partywear jewelry, Lavanyam for South Indian women, Utsava including jewelry for festivities and celebrations and many more. 
They even recreated traditional Rajasthani jewelry in collaboration with the affluent blockbuster Padmaavat. 
The Tanishq group makes ten promises to their customers guaranteeing quality, exchange value, novelty, safety, and transparency. They are driven by the policy of purity and quality. 
Consider getting a custom jewelry set or buy from their collection if the quality is as important as style to you. 
Based in Jaipur, Bhuramal Rajmal Surana has existed from the 17th century and is known for its vintage high-end jewelry designing ever since. The fascinating craftsmanship of the Surana designers leaves every woman who adorns in their jewelry feel like a queen. 
Their jewelry designs are inspired by the pre-Britsh Mughal era famous for their Kundan Meena jewelry which is crafted through the time-consuming process of Meenakari that pays off. Kundan Meenakari jewelry is known to be intricate, affluent and hypnotic and is considered to be one of the oldest forms of jewelry. 

They have a range of vintage Victorian, Jadau and diamond jewelry like earrings, bangles, and necklaces that satiate the beauty of brides in their D Day. You can also get custom jewelry made if you fancy something different for the special day.
A set of fine Kundan Meenakari jewelry complements the Indian bride and can be the statement jewelry for any western attire. 
For a highborn bride with a highly refined taste deserves the jewelry of the royals! 
Started in the mid-nineteenth century, the Goenka group of jewelers is a big name among the highly celebrated and illustrious families from across the world. They craft gorgeous high-end masterpieces and fine customized jewelry in precious diamonds and gemstones. 
Their jewels have been adorned by celebrities and elites like Vidya Balan, Kareena and Karishma Kapoor, Mouni Roy, Jacqueline Fernandez, Malaika Arora, Deepika Padukone, Sonam Kapoor, Rakulpreet Sigh and so. 
Rakulpreet Singh wearing Goenka India Emerald and Diamond Necklace
Karishma Kapoor wearing Goenka diamond bangles
Vidya Balan wearing Goenka jewelry 
Kareena Kapoor wearing a Zambian Emerald Necklace by Goenka India

 
Mouni Roy wearing red ruby earrings by Goenka
They have also collaborated with acclaimed designers like Manish Malhotra, Ridhi Mehra, Falguni Shane Peacock India, and Natasha Dalal to create stunning fashion statements for various fashion magazines, shows, and exhibitions. 
Their high-end jewelry is a blend of style with glory.
Another one from Jaipur, Tribe Amrapali is already an acknowledged name in the jewelers' industry. 
Their fine jewelry has embellished Hollywood and Bollywood celebrities like Jennifer Lopez, Sofia Vergara, Anna Camp, Kim Kardashian, Halle Berry, Megan Fox, Scarlet Johansson, Angelina Jolie, Emmy Rossum, Rihanna, Priyanka Chopra, Shraddha Kapoor, Shilpa Shetty, Sonam Kapoor, Sonakshi Sinha, Alia Bhatt and many more. 

Megan Fox in Amrapali earrings
Kim Kardashian wearing Amrapali jewelry set
Sofia Vergara in Amrapali Necklace
Halle Berry in Amrapali gold earrings
Nusrat Barucha wearing Amrapali
Sonam Kapoor in Amrapali jewelry set
Even the Duchess of Cambridge, Kate Middleton was seen wearing a pair of Amrapali diamond earrings when she came to India for a Charity Bollywood Gala. 
That's not all! They even partnered with big-ticket movies like Manikarnika and Baahubali and flaunted a rich collection of antique gold jewelry. 
Amrapali Jewelry in Manikarnika
Amrapali Jewelry in Baahubali
They have gorgeous collections of luxurious jewelry like Nav Chandrika which reflects their signature tribal jewelry, Apsara for wedding jewelry, Navrang showcasing colorful festive jewelry and Atulya for intricate festive jewelry.
They also craft fine custom jewelry sets on order.  
Amrapali even has a jewelry museum in Jaipur that displays body jewelry from every region of India, silver objects and inspirations for craftsmen over time. 
Their fine jewelry aims at reflecting the heritage of India through rare craftsmanship with a modern interpretation of ancient masterpieces. 

Who do you think can provide you with your dream custom fine jewelry set? Let us know in the comments below! 
Haven't thought of it yet? Check out our designs for some inspiration!
Image Courtesy: Amrapali, Goenka India, Tanishq, Suranas, Zerokaata.